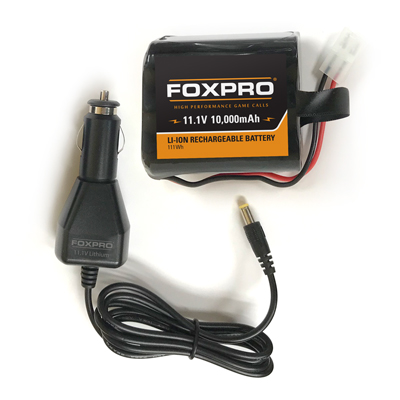 Be prepared in the field with your Super High Capacity Lithium Battery / Car Charger Kit! This 11.1v 10,000mAh Lithium battery will give you maximum run time in the field and is able to be charged "on-the-go" in your vehicle when installed in your compatible FOXPRO unit and plugged into your vehicle's 12v outlet. Compatible only with the FOXPRO X1, X24, X2S. KIT INCLUDES: 12v Car Charger, (1) Super High Capacity Lithium Battery Pack.
IMPORTANT NOTEPlease note that this battery/charging kit is not compatible with any FOXPRO Game Calls other than the ones listed in the product description.
Feature Highlights
10,000mAh Rechargeable lithium battery pack
12v Car Charger with 2.1mm barrel connector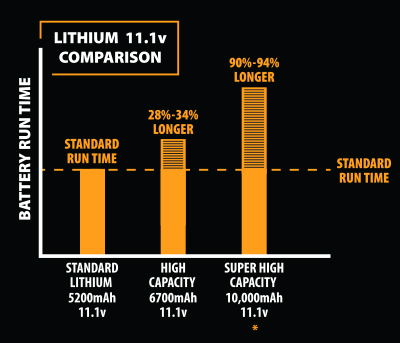 Super High Capacity Battery Kit Accessory Item
| | |
| --- | --- |
| Compatible Products | xone, X24, X2S, X360 |
| Weight | 1.60 lbs. |
| Warranty | |
Limited warranty does not cover damage caused by misuse, abuse, exposure to water, battery damage including leaked batteries, and all other forms of physical damage.
User Reviews
All submitted user reviews are displayed below. Scroll down to view all. To submit your own review, please click here.
Super High Capacity Battery Kit
(
4 stars)
John Shadix in South East on Feb 12, 2022
---
Great kit. But wanted to buy 2 batteries but can't buy a second battery by itself. When traveling to other states to hunt it is nice to know you can have a back up battery without having 2 chargers.
Super High Capacity Battery Kit
(
5 stars)
Longshot in Abbottstown, Pennsylvania on Feb 28, 2021
---
Would have been nice to have the option of a 110 volt charger for backup plus I would have gladly paid extra for the bigger battery if it would have fit in my x wave.