The Banshee utilizes the same horn speaker as the popular CS24 and Hellfire callers, and comes standard with a new long-range remote control (the same remote control that is included with the new Inferno). This new remote control boasts a new large, easy to read LCD screen, easy to navigate interface, sound organization in categories, programmable User Button, FOXBANG, and greatly improved remote control range. Both NiMH and Lithium rechargeable battery packs are available as an option for the Banshee. The Banshee also comes standard with an external speaker jack and auxiliary jack. The Banshee comes standard with 100 FOXPRO sounds of your choice, and has the ability to hold up to 200 sounds. The Banshee is backed by a 3 year warranty, and like all of our digital game calls, is PROUDLY MADE IN THE USA!
Feature Highlights
Banshee remote control with large, easy-to-read screen

Organize your sounds by category
User button with assignable function of your choice
Easy to navigate interface
FOXBANG: With FOXBANG activated, the caller automatically switches to an assignable function (preset 1-5, toggle mute, toggle decoy) after discharging your firearm. This allows for a hands-free sound changing operation to help keep your eyes focused on the field where it counts.

Integrated USB Port Allows you to connect your caller to a home PC for reprogramming!
Stores up to 200 sounds in total (comes with 100)
Order direct to custom pick your own custom sound list
External Speaker Jack for connecting an additional speaker to the Banshee for more volume.
Auxiliary jack for linking-up with a FOXPRO decoy
Pilot Lamp/Low Battery Indicator glows amber while on, and blinks when batteries are getting low.
Made in the USA!
Banshee A Closer Look
The table below has item numbers and descriptions corresponding to the images displayed to the right. This is to help you become familiar with the Banshee and the features.
| | |
| --- | --- |
| ITEM # | DESCRIPTION |
| 1 | Sound list upload jack |
| 2 | Battery pouch |
| 3 | Antenna |
| 4 | Speaker |
| 5 | External speaker jack |
| 6 | Pilot lamp |
| 7 | Auxiliary jack |
| 8 | Charge jack |
| 9 | Power switch |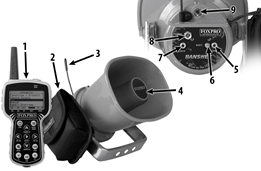 TX915 Transmitter A Closer Look
The table below has item numbers and descriptions corresponding to the image displayed to the right. This is to help you become familiar with the TX915 and the features.
| | |
| --- | --- |
| ITEM # | DESCRIPTION |
| 1 | Power |
| 2 | Select |
| 3 | Volume up & down |
| 4 | Mute |
| 5 | P1 & P2 buttons (presets) |
| 6 | Lanyard loop |
| 7 | Auxiliary button |
| 8 | User button |
| 9 | Sound Up & Down |
| 10 | Back/Menu |
| 11 | Elapsted timer |
| 12 | Battery meter |
| 13 | Sound upload jack |
| 14 | Mute status indicator |
| 15 | Volume level indicator |
| 16 | FOXBANG Status Indicator |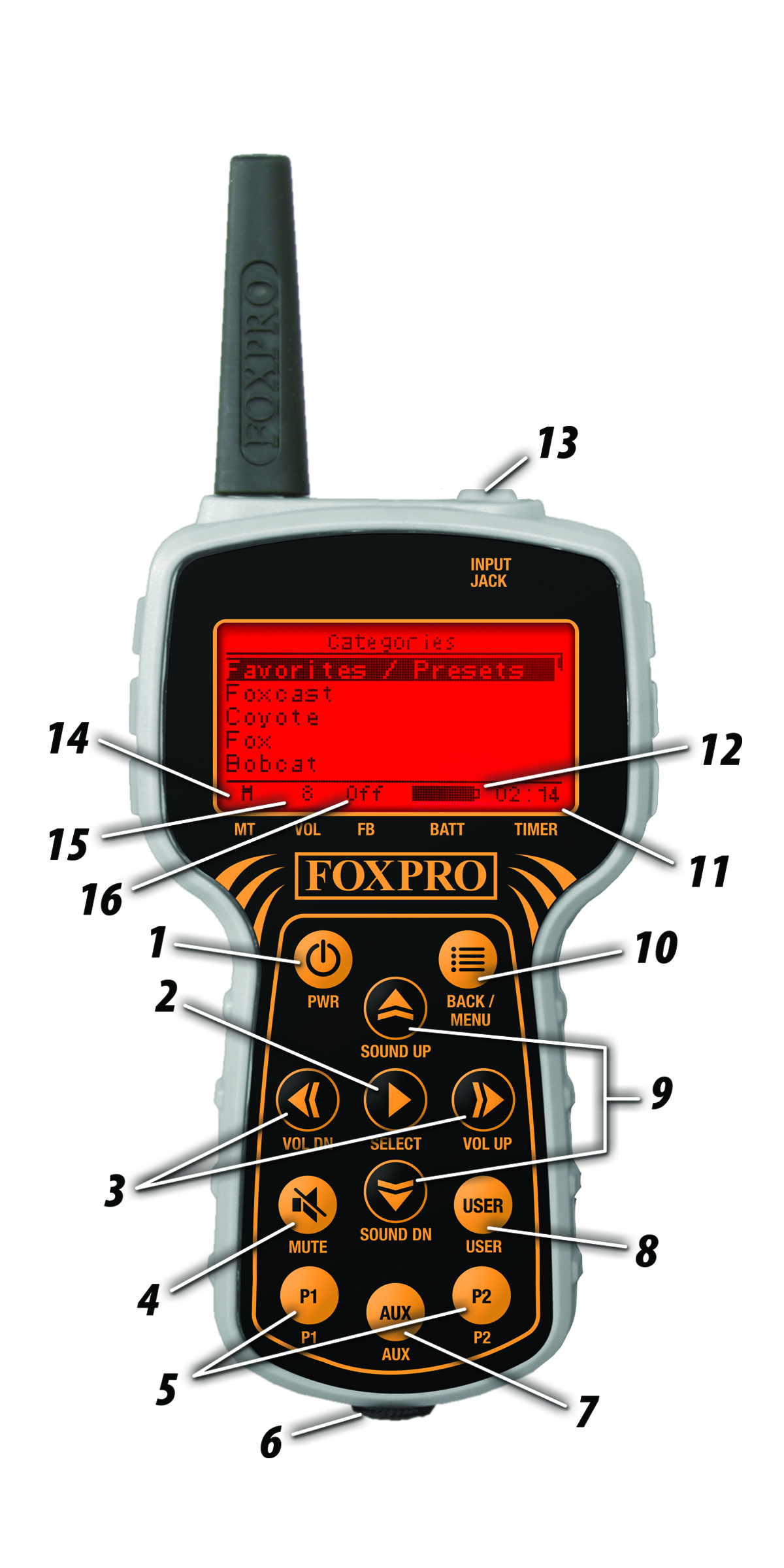 What's in the box?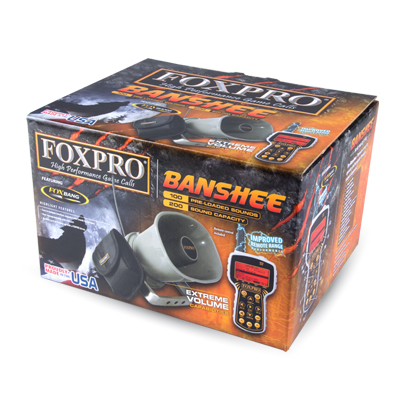 Banshee Digital Game Call
| | |
| --- | --- |
| Dimensions | 9" x 6.5" x 5" |
| Weight | 3.00 lbs. |
| Speakers | (1) Horn Speaker |
| Manual Operation | No |
| Play Modes | Single, Jukebox, Repeat |
| Charge Jack | Yes |
| External Speaker Jack(s) | (1) 3.5mm |
| Auxiliary Device Jack | (1) 3.5mm |
| User Reprogrammable | Yes |
| USB Port | USB 2.0 A/B |
| Sound Capacity | 200 (Comes with 100) |
| Internal Memory | 4GB |
| File Compatability | FXP, MP3, WAV |
| Power | 10AA Batteries |
| Run Time | 3-7 Hours1 |
| Warranty | 3 Year, Limited2 |
| Released | August 2015 |
TX915 Transmitter
| | |
| --- | --- |
| FOXBANG | Yes |
| FOXPITCH | No |
| FOXDATA | No |
| FOXMOTION | No |
| FOXCAST | No |
| FOXFUSION | No |
| FOXGRIP | No |
| Operating Distance | >200 yards3 |
| Dimensions | 8.5" x 3.5" x1" |
| Presets | 10 |
| Sound List View | Categories, Single Sound List |
| Lanyard Loop | No |
| Illuminated Buttons | No |
| USB Port | No |
| Power | 3AA Batteries |
| Warranty | 3 Year, Limited2 |
1 Run times vary depending upon volume level, number of speakers being used (including external), temperature, and sound density. FOXPRO recommends the use of high-capacity rechargeable NiMH batteries for the best overall performance. Please note that alkaline cells are not recommended for use in temperatures below 32°F/0°C.
2 Limited warranty does not cover damage caused by misuse, abuse, exposure to water, battery damage including leaked batteries, and all other forms of physical damage.
3 Optimal range is had by ensuring clear line-of-sight between the game call and transmitter and elevating the game call off of the ground approximately 3 feet. Your results may vary.
WARNING: This product may contain lead, a chemical known to the State of California to cause cancer and birth defects or other reproductive harm.
User Reviews
All submitted user reviews are displayed below.
Banshee
(
5 stars)
Anonymous in Unknown Location on Jan 30, 2018
---
Never had foxpro products let me down! Used the spitfire for couple years decided to upgrade to the banshee. Nice volume easy remote use. Just wish they threw in a decal.
Banshee
(
5 stars)
Brandon Hutto in Columbus GA on Jan 30, 2018
---
I just got the banshee an it works great. It's loud i would recommend this to anyone. Thanks to foxpro
Banshee
(
5 stars)
John Turner in Springfied, MO on Dec 30, 2017
---
Great experience with foxpro staff, order was processed quickly, and the Banshee has performed as advertised, volume is great, would highly recommend their products to anyone!
Banshee
(
5 stars)
Jake Winger in Colorado on Dec 26, 2017
---
This is an amazing product, it hasn't done me wrong! I would recommend this product to anyone that's wanting a FOXPRO game call!
Banshee
(
4 stars)
Jon Duffy in Upstate new york on Nov 07, 2017
---
Awesome caller. Upgraded from a spit fire to the banshee and am very happy so far
Banshee
(
5 stars)
Jim Howard in Kentucky on Nov 05, 2017
---
The Banshee is performing flawless, great clarity and volume. The ability to pick your calls to be loaded is priceless. Remote range seems to be more than adequate and battery life more than expected.Very pleased with my purchase and for a mid price range call totally satisfied, I don't think I will ever need another.
Banshee
(
5 stars)
Carl Durham in Pacific Northwest on Oct 06, 2017
---
Took the Banshee out once so far, no score on coyote but it worked good. The remote was great and worked even when direct line of sight is blocked.
Banshee
(
5 stars)
Dean in Eastern canada on Aug 11, 2017
---
I am so far totally satisfied the the banshee I only used it 4 times so far the volume is excellent and the remote is good and despite what I have been reading the range of the remote is comparable to my icotec
Banshee
(
5 stars)
Seam in Colorado on May 03, 2017
---
This thing is awesome! I've been out with it three times now and have called in six yotes and managed to connect with one little female. I've had no problem figuring out how to use it and program whatever sounds I needed. The fox pain future is badass. I don't think I'll ever go with any other electronic call for predator hunting!
Banshee
(
2 stars)
Brian in Northern Arizona on Mar 19, 2017
---
I recently received my banshee from Midway USA they also had Icotecs for a lot cheaper kinda wishing I went that route I was using a Rigid radio that came free with drill combo connected to iPhone w/ Ruger iHunt for calling I could hear that out to 800 yds on calm days this Banshee for $299.00 doesn't seem worth it also the remote barely works at 40 yds I gotta hold it up in the air above my head pointed at just the right direction to mute, lower volume etc... A coyote would definitely see that movement but I shouldn't have to do all that anyway, other cheaper calls say 150 yd remote range maybe I got a dud but I will contact Midway and ask for exchange. I been wanting a Foxpro for awhile and finally got the extra money to do so, so I want this to work out. But all I can do is give the banshee and the so called improved long range remote 2 stars for the benefit of the doubt that I got a dud unit.
Banshee
(
4 stars)
Anonymous in Unknown Location on Mar 06, 2017
---
Great call overall. Called in 2 coyotes, 4 fox, and a bobcat the first weekend I had the banshee. Only reason I'm not giving it 5 stars is because once in a while the call won't register when I press the mute button on the remote. Sometimes it takes a few attempts before it works.
Banshee
(
5 stars)
sneakyman in Unknown Location on Feb 23, 2017
---
Awesome compact system with huge library of sounds
Banshee
(
5 stars)
C Ryan in South Georgia on Jan 24, 2017
---
I've been running a Foxpro FX3 for years with great success and recently upgraded to the Banshee. We've started entering more predator tournaments which are mostly at night in our area. The Banshee has really stepped our game up big time! The remote is very easy to read in complete darkness and also works from distances that are impressive! Crisp, clear sounds and great volume. Yotes beware!
Banshee
(
4 stars)
Justin N in North Dakota on Dec 05, 2016
---
I was surprised to read Zach's review. The Banshee I ordered from all predator calls.com has great volume and clarity. I do have mine running on two actually rugged and quality built aluminum TOA speakers instead of the cheap plastic knockoff the call comes with however. I also own a CS-24B and I have tested the Banshee side by side with it and it is easily in the same league in volume and clarity. I also love my remote and mine has performed flawlessly. I think Zach should send his in to Foxpro because something isn't right.
Banshee
(
3 stars)
Zach L in Colorado on Nov 28, 2016
---
I was a little discouraged when I played the call the for first time, was hoping for more volume and the remote wasn't working too well. The new "long range remote control" did not impress me. For the money its a decent call. My buddy has a older version of the CS24 and its twice as loud and the remote works farther away.
Banshee
(
5 stars)
Titus in West coast on Nov 15, 2016
---
I've mouthed called coyotes for years and this product is by far the way to go. Not out of breath when they come in and foxbang is a great feature to get a follow up shot. Already had a double because of it. I've had it for 2 weeks and killed 7 animals with it. Thanks Foxpro
Banshee
(
5 stars)
Robbie in gypsum, KS on Jan 24, 2016
---
Just got banshee on Friday got 2 coyotes on Sunday morning!!! Love this call I have an older x6 but this one one is way louder and clearer!!!! The remote is great!!! Can't wait till next weekend!!!!
Successfully added to cart!