The CS24C is a powerful and portable digital game call combining 24-bit audio, big sound, and FOXPRO's exciting TX1000 remote control. Expanding on the original CS24B feature set, the CS24C incorporates FOXDATA, FOXMOTION, FOXCAST, FOXBANG, and a whole lot more!
The CS24C comes with 100 high-quality FOXPRO sounds and is capable of storing up to 1,000 in total. It is powered by 10 AA batteries (click here to view the recommended rechargeable pack). Also featured with the CS24C is the TX1000 remote.
The TX1000 features a full color graphic LCD screen which displays your sound list or sound categories, barometer, moon phase, temperature, battery level, a timer or time clock, and much more. On top of that, FOXCAST allows you to design up to 50 complete stands from start to finish by mapping out sounds, durations of the sounds being played, and volume level for a completely hands-free predator calling experience. FOXDATA allows you to record real time information from each and every stand so you can access the data for future reference.
The CS24C is backed by a 5 year limited warranty and FOXPRO's unmatched customer support and is proudly made in the USA.
Feature Highlights
FOXBANG Automatically maps your caller to a predetermined setting after discharging your firearm. (See instruction manual for FOXBANG options.)
FOXMOTION Mimic moving prey by fading sound from left speaker to right one.
FOXDATA Activate FOXDATA and it records real time information (temp, barometer, moon phase, stand duration, shot time) from each stand. Over time you will be able to predict animal activity/hunting success based on hard data.
FOXCAST Virtually hands-free calling with FOXCAST sequence files.
AUTO VOLUME Automatically ramps up and modulates your volume.
CS24C
The table below has item numbers and descriptions corresponding to the images displayed to the right. This is to help you become familiar with the CS24C and the features.
| | |
| --- | --- |
| ITEM # | DESCRIPTION |
| 1 | Power on/off switch |
| 2 | Pilot lamp/low battery indicator |
| 3 | Battery pouch |
| 4 | Auxiliary device jack |
| 5 | External speaker jack |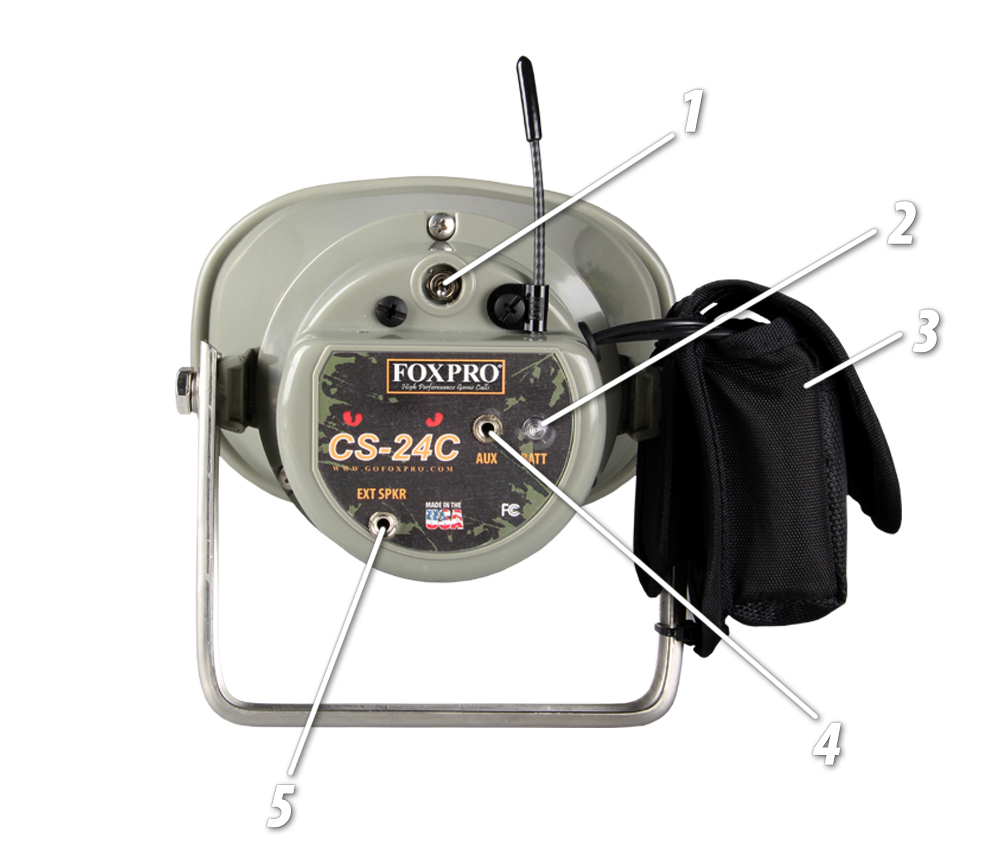 TX1000 Transmitter
The table below has item numbers and descriptions corresponding to the image displayed to the right. This is to help you become familiar with the TX1000 and the features.
| | |
| --- | --- |
| ITEM # | DESCRIPTION |
| 1 | Quick access preset buttons |
| 2 | FOXDATA button |
| 3 | Power on/off button |
| 4 | Scroll up button |
| 5 | Volume down button |
| 6 | Play / select button |
| 7 | Scroll down button |
| 8 | FOXPITCH (not applicable for this model) |
| 9 | USER button |
| 10 | Lanyard loop |
| 11 | Recall button |
| 12 | Auxiliary button |
| 13 | Mute button |
| 14 | Volume up button |
| 15 | Back / menu button |
| 16 | FOXFUSION button (not applicable for this model) |
| 17 | Mini USB Port |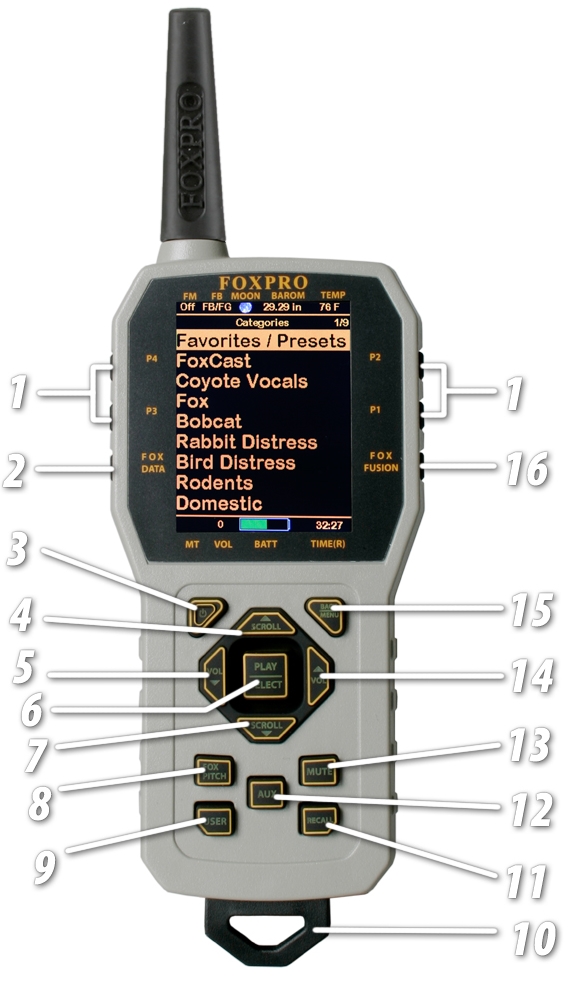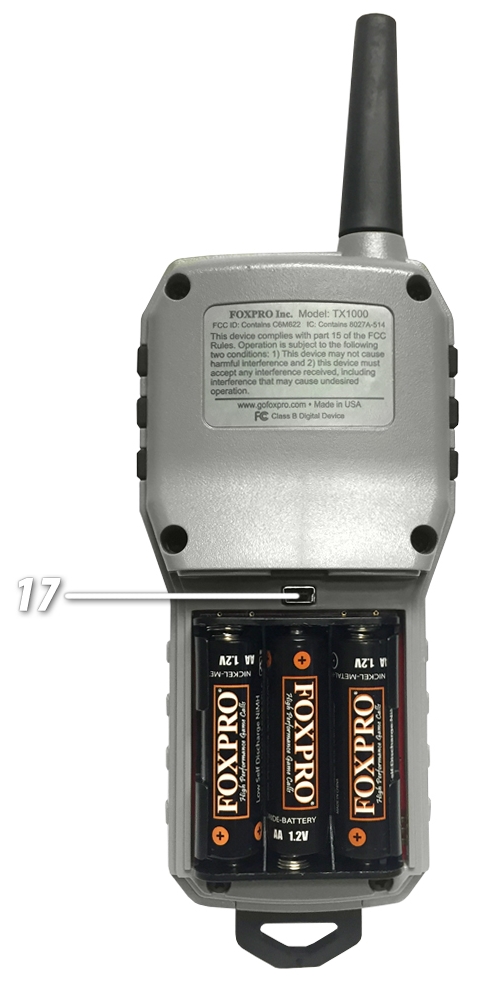 What's in the box?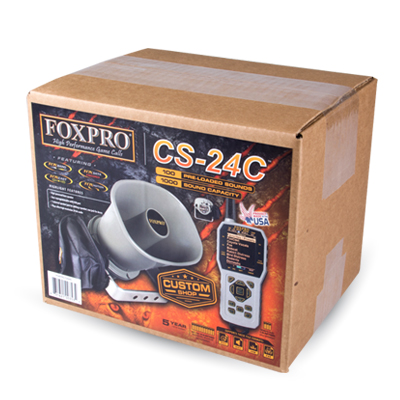 CS24C Digital Game Call
| | |
| --- | --- |
| Dimensions | 9" x 6.5" x 5" |
| Weight | 3.00 lbs. |
| Speakers | (1) SP-60 |
| Manual Operation | No |
| Play Modes | Repeat, Single, Jukebox |
| Charge Jack | Yes |
| External Speaker Jack(s) | (1) 3.5mm |
| Auxiliary Device Jack | (1) 3.5mm |
| User Reprogrammable | Yes |
| USB Port | USB 2.0 A/B |
| Sound Capacity | 1,000 (Comes with 100) |
| Internal Memory | 4GB |
| File Compatability | FXP, 24B, MP3, WAV |
| Power | 10 AA Batteries |
| Run Time | 3-7 hours1 |
| Warranty | 5 Years, Limited2 |
| Released | October 2013 |
TX1000 Transmitter
| | |
| --- | --- |
| FOXBANG | Yes |
| FOXPITCH | No |
| FOXDATA | Yes |
| FOXMOTION | Yes |
| FOXCAST | Yes |
| FOXFUSION | No |
| FOXGRIP | Yes |
| Operating Distance | >100 yards3 |
| Dimensions | 3.18" x 1.17" x 8.78" |
| Presets | 50 |
| Sound List View | Categories, Sound List |
| Lanyard Loop | Yes |
| Illuminated Buttons | Yes |
| USB Port | mini-USB |
| Power | 3 AA Batteries |
| Warranty | 5 years, Limited2 |
1 Run times vary depending upon volume level, number of speakers being used (including external), temperature, and sound density. FOXPRO recommends the use of high-capacity rechargeable NiMH batteries for the best overall performance. Please note that alkaline cells are not recommended for use in temperatures below 32°F/0°C.
2 Limited warranty does not cover damage caused by misuse, abuse, exposure to water, battery damage including leaked batteries, and all other forms of physical damage.
3 Optimal range is had by ensuring clear line-of-sight between the game call and transmitter and elevating the game call off of the ground approximately 3 feet. Your results may vary.
WARNING: This product may contain lead, a chemical known to the State of California to cause cancer and birth defects or other reproductive harm.
User Reviews
All submitted user reviews are displayed below.
CS24C
(
5 stars)
Adam in North Dakota on Feb 21, 2018
---
Love the CS24C, there is a learning curve to set up the remote.
CS24C
(
4 stars)
John R. in Lincoln, NE on Feb 20, 2018
---
Excellent caller but difficult to set up. Had to call for help twice, only to find out my remote had to be rebooted before it would work properly. Nothing in the instructions about that....... I REALLY like the remote now that it's working. I previously had a Primos Alpha Dog and it was impossible to read the screen of the remote if the sun was out. I did notice response time for the Foxpro remote was slower than the Primos, but I can live with it. Overall, I think it's a great caller with a lot of bells and whistles. Can't go wrong with Foxpro.
CS24C
(
5 stars)
Thomas James in Western Oklahoma on Feb 12, 2018
---
I bought the CS24C as an upgrade to my "Wildfire II" and am very pleased with my decision. While it is louder than the previous call I own I don't believe this to be the real advantage of the CS24. The sound is just so much more clear and crisp. Several sounds on my old call distorted badly and therefore I avoided their use. I've not noticed that with the "24" it's sound is remarkable. The BIG advantage to the CS24 is the TX1000 remote! Easy to read screen "tactile" feel control buttons, improved range, easy to navigate categories everything about this controller is leaps and bounds above my previous model. As for "volume" I had already purchased a SP-60 speaker to use in conjunction with my Wildfire so on those windy days when I feel the need for extra volume I just attach the "aux" speaker and yes that setup does do some talking. If you've had one of their lesser calls and now have become quite addicted to predator calling, buy a CS24C as your upgrade. You'll be glad you did!
CS24C
(
5 stars)
I Lardy in North Dakota, USA on Feb 09, 2018
---
Excellent products as expected from an excellent company.
CS24C
(
3 stars)
Ccc in Northwest Wy on Feb 05, 2018
---
Cs24c: this was a "upgrade" form a different companies call and it costs 1/3 price of this unit. I had my call selection loaded and expected great results when i ordered it. Once i got it i was a little disapointed... caller volume is ok not nearly what i hoped for so i am going to have to buy a extra speaker i guess. I like some calls on my old unit much better so hopefully i can transfer them. The remote needs a stop button not just a mute and wished it told me battery/connection status of speaker. Short version is i probably wouldnt buy again at this high price. I need sound for wyoming winds and this isnt loud enough. Plus is it is more portable(until i add needed speaker) and batteries are much easier to change.
CS24C
(
5 stars)
Dusty Hunter in Arizona on Feb 03, 2018
---
FoxPro is #1 in my book, I'm on my sixth caller. Because I travel the state of Nevada and Arizona calling predators I have two FoxPro units with me at all times. I have never had a problem that I needed my spare but it's good insurance when far from home. I now own a Banshee caller and a CS-24C. Both are fine callers in my opinion. I really appreciate the lit remote on the CS-24C. I have used three other brands but won't waste my money or time anymore. Only FoxPro from now on for me. My best day calling is 11 Coyotes called in and seven taken. I went back 2 weeks later and took the four that got away plus one more. (:
CS24C
(
5 stars)
Scott in Wyoming on Jan 30, 2018
---
CS24C Is my go to call ! Highly recommend it to anyone looking for great volume, pack-ability, sound quality and best punch for the money spent ! The TX1000 remote is the perfect companion for this call. Great range, ease of use and categories keep sounds easy to find and easy to read !
CS24C
(
5 stars)
Langerhans in North Dakota on Jan 12, 2018
---
Recently purchased the CS24 and absolutely love it. I had the prairie blaster before this one and i liked the sound but it was such a tank to care in on long walks. The 24 gives me the same sound in a light weight package and the new remote is so much easier to use. FOXPRO is making awesome improvements to there products.
CS24C
(
5 stars)
John in Utah on Oct 26, 2017
---
The CS-24c is an amazing call. By far the best I've ever used. Thanks Foxpro.
CS24C
(
2 stars)
Tyler in Salina, UT on Jun 12, 2017
---
I hate that the call has to be disassembled to connect to computer. Also batteries die to quick there is other battery options but for $400+ I think the unit could be rechargeable. Pros the sound quality is good, volume is loud if you need it to be.
CS24C
(
5 stars)
S. Wilson in damn near canada, USA on Mar 23, 2017
---
great sound and great customer service. I uploaded some of the free sounds when I received it and somehow it erased all of my categories from the remote so I called FoxPro and in about five minutes the fella I talked to helped me get everything setup the way I wanted it Thank You!!
CS24C
(
5 stars)
Nelson in North Texas on Mar 18, 2017
---
The CS24C is my first foxpro purchase and I couldn't be happier, in the first set out we called in 8 coyotes all the way across a thousand plus acre wheat field! Sound quality is awesome, remote is super easy to operate, it's a must have in areas with some size as it has the volume to get out there! Thanks.
CS24C
(
5 stars)
Trav in Midwest on Mar 09, 2017
---
It's by far the best call I've ever owned. I started with a wildfire years ago and thought I'd try another brand, but wasn't so Lucky....this CS24 is amazing and I'd recommend it to anyone.
CS24C
(
5 stars)
Anonymous in Central Texas on Dec 22, 2016
---
I just purchased the CS24C and could not be happier. It is just the right size and plenty of volume to call critters from the neighboring properties into the smaller area I have to hunt. The TX1000 remote is very user friendly and the categories are a huge plus in my book. You will not be disappointed in this unit!!!
CS24C
(
2 stars)
Justin N in North Dakota on Dec 05, 2016
---
I purchased the CS-24C as an upgrade to the CS-24B unit I already own. I conducted side by side testing with my B and found the C was not nearly as loud when playing the same sound at max volume. Foxpro revealed a "gain limiter" was a modification made to the amplifier on the C along with the cheap plastic knockoff speaker which replaced the reputable and more durable aluminum TOA speaker. I sent my unit to Foxpro and requested the amplifier be configured to mirror the B model. I received it back and found while it was noticeably better sounding, it was still not as loud as my B model. I love the TX-1000 remote but I wasn't willing to make such a sacrifice in volume and sound quality for some extra remote functions. I have sent my C back for a refund.
CS24C
(
5 stars)
307coyote in Wyoming on Nov 30, 2016
---
Best high end callers on the market. Foxbang is money for killing multiple coyotes called in on the same stand
CS24C
(
5 stars)
Eric in Wyoming on Dec 19, 2015
---
Best E caller I've ever used bar none. Perfect balance between size & volume. This caller has made me a better coyote hunter. I can't believe the coyote vocalizations this caller produces. Fox cast & Fox bang are awesome. Thanks guys
CS24C
(
5 stars)
Michael Cooper in Springfield, MO on Feb 25, 2015
---
PROs: I had seven successful stands out of the first ten calling stands with the new caller. I usually get about 3 of 10. Maybe it was the 24 bit sounds... not sure. My previous callers were Wildlife Tech and older FoxPros. The CS24C remote is absolutely awesome compared to all others I have used. I already had about 60 sounds calls of my own, some from previous FoxPro callers, and I was able to download them to the new caller and customize the remote calling screen. The whole caller is light and compact, and fits in a small ammo bag I already had. CONs: On the second day in the field, a tiny wire broke on the battery box. Fortunately, I was able to patch it using some tape. When I got home I tried to solder the wire back on, but it was too tiny and I eventually damaged the battery box and had to order a new one. Also the programming of the sound unit and the remote might be a little difficult for a novice computer user, but will be worth it, as the remote alone makes this unit the best I have ever used. The speaker/sound unit absolutely eats batteries, so I strongly recommend buying the rechargeable "welded" rechargeable battery pack and re-charger. Well worth the $70 imho. When the battery on the unit dies, it dies...no advance notice. I wish there was a battery meter on the unit like there is on the remote. Even with the above CONs, I gave it 5 stars. The overall unit is that good. Thanks FoxPro!!
Successfully added to cart!