The HammerJack is portable, lightweight, and easy to operate. It comes standard with 100 high-quality FOXPRO sounds, 100 plus FREE sounds, and has the ability to hold up to 300 sounds. The HammerJack features dual-amplified speakers to deliver incredible volume. The front horn speaker handles your coyote vocalizations and common distress sounds with ease, and the rear cone speaker handles the low frequency sounds such as bear growls, owl sounds, and even mountain lion sounds. When combined, they deliver a crisp, clear, high-quality, realistic sound. If you want even more volume, the HammerJack allows you to connect two external speakers for incredible volume capabilities. It has a charge jack, auxiliary jack, and includes the FoxJack 4 with the FOXPRO Fuzzy Wuzzy topper.
FOXPRO's HammerJack remote is easy to operate and navigation through the sound categories is a breeze. The remote has two preset buttons, a mute button, volume up and down buttons, and much more. All of these features in one amazing, compact, high-quality unit makes the HammerJack an incredible value. It's packed with great features and innovations from FOXPRO.
The HammerJack is backed by a 3 year limited warranty, FOXPRO's unmatched customer support, and is proudly made in the USA!
Feature Highlights
Comes with 100 sounds, and 100 plus FREE sounds (300 sound capacity)
FoxJack 4 decoy (included)
FoxBang
FoxCast
Category sound files
Dual-amplified speaker system
2 external speaker jacks
Auxiliary jack
USB port to reprogram sounds
HammerJack A Closer Look
The table below has item numbers and descriptions corresponding to the images displayed to the right. This is to help you become familiar with the HammerJack and the features.
| | |
| --- | --- |
| ITEM # | DESCRIPTION |
| 1 | Rugged ABS Housing |
| 2 | Rear/Cone Speaker |
| 3 | FOXJACK 4 Decoy |
| 4 | Power Switch |
| 5 | Internal speaker on/off switches |
| 6 | Charge jack |
| 7 | Rear external speaker jack |
| 8 | Auxiliary device jack |
| 9 | Front external speaker jack |
| 10 | Pilot lamp |
| 11 | Front/horn speaker |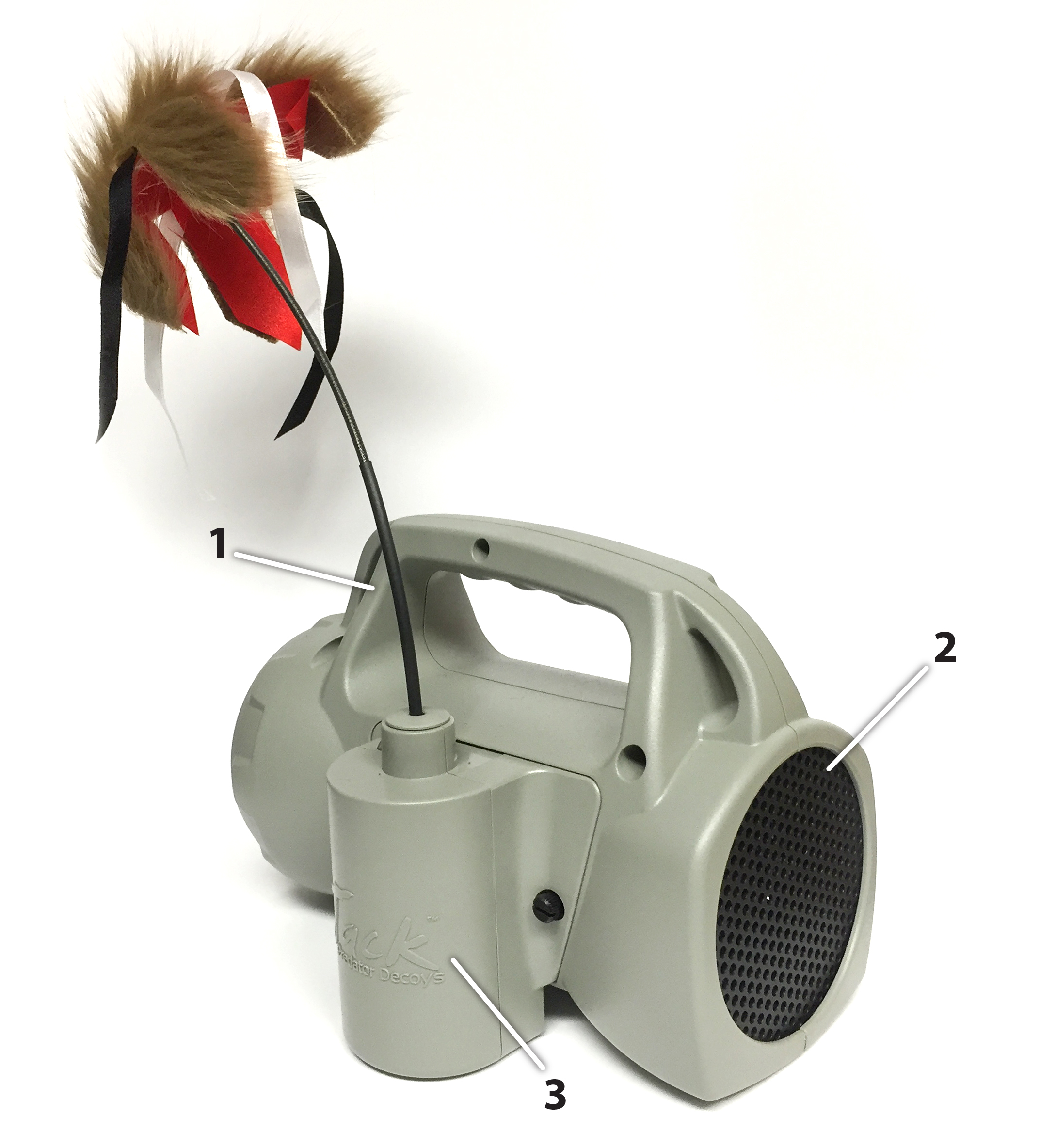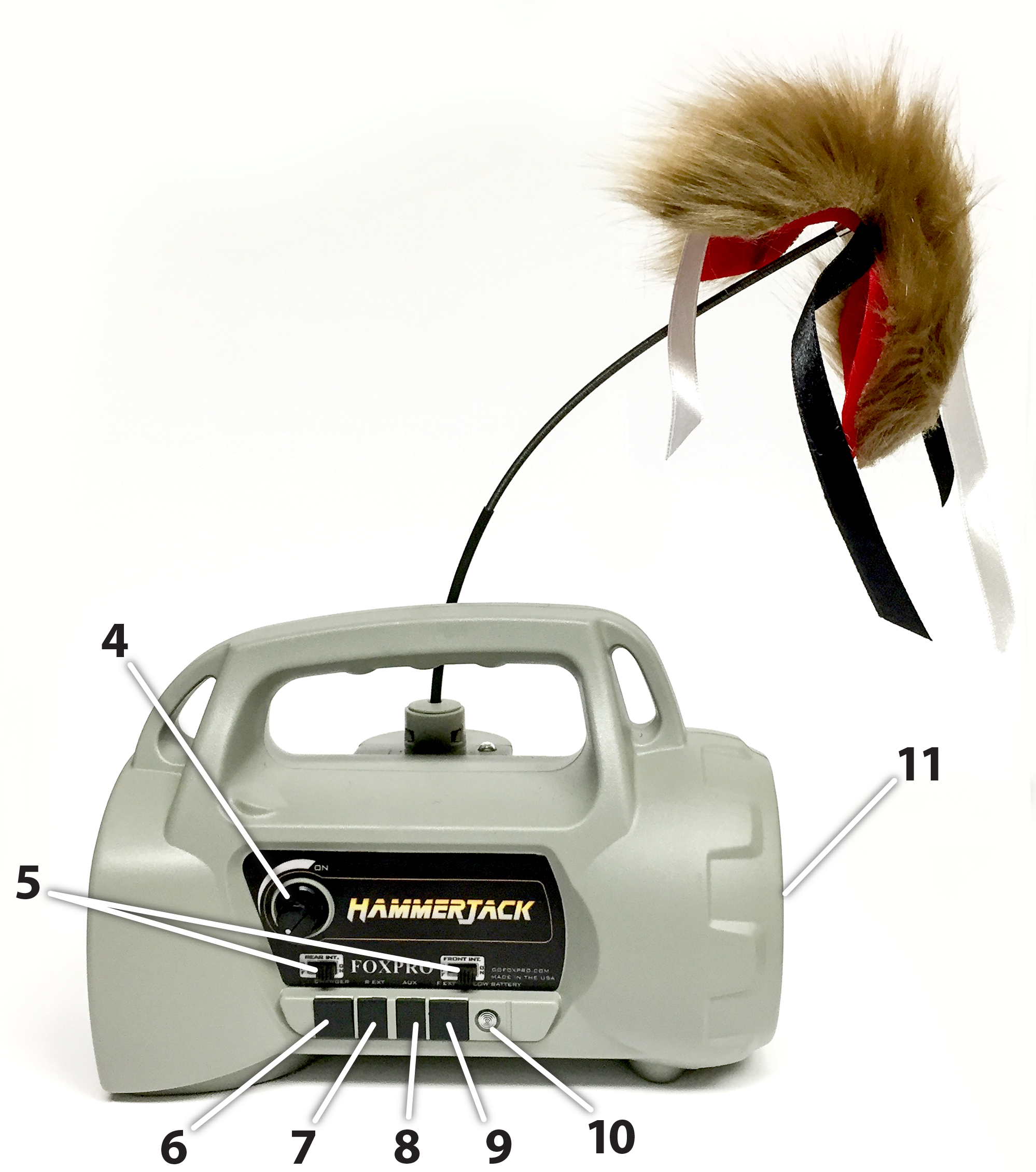 TX915 Transmitter A Closer Look
The table below has item numbers and descriptions corresponding to the image displayed to the right. This is to help you become familiar with the TX915 and the features.
| | |
| --- | --- |
| ITEM # | DESCRIPTION |
| 1 | Power |
| 2 | Select |
| 3 | Volume up & down |
| 4 | Mute |
| 5 | P1 & P2 buttons (presets) |
| 6 | Lanyard loop |
| 7 | Auxiliary button |
| 8 | User button |
| 9 | Sound Up & Down |
| 10 | Back/Menu |
| 11 | Elapsed timer |
| 12 | Battery meter |
| 13 | Sound upload jack |
| 14 | Mute status indicator |
| 15 | Volume level indicator |
| 16 | FOXBANG Status Indicator |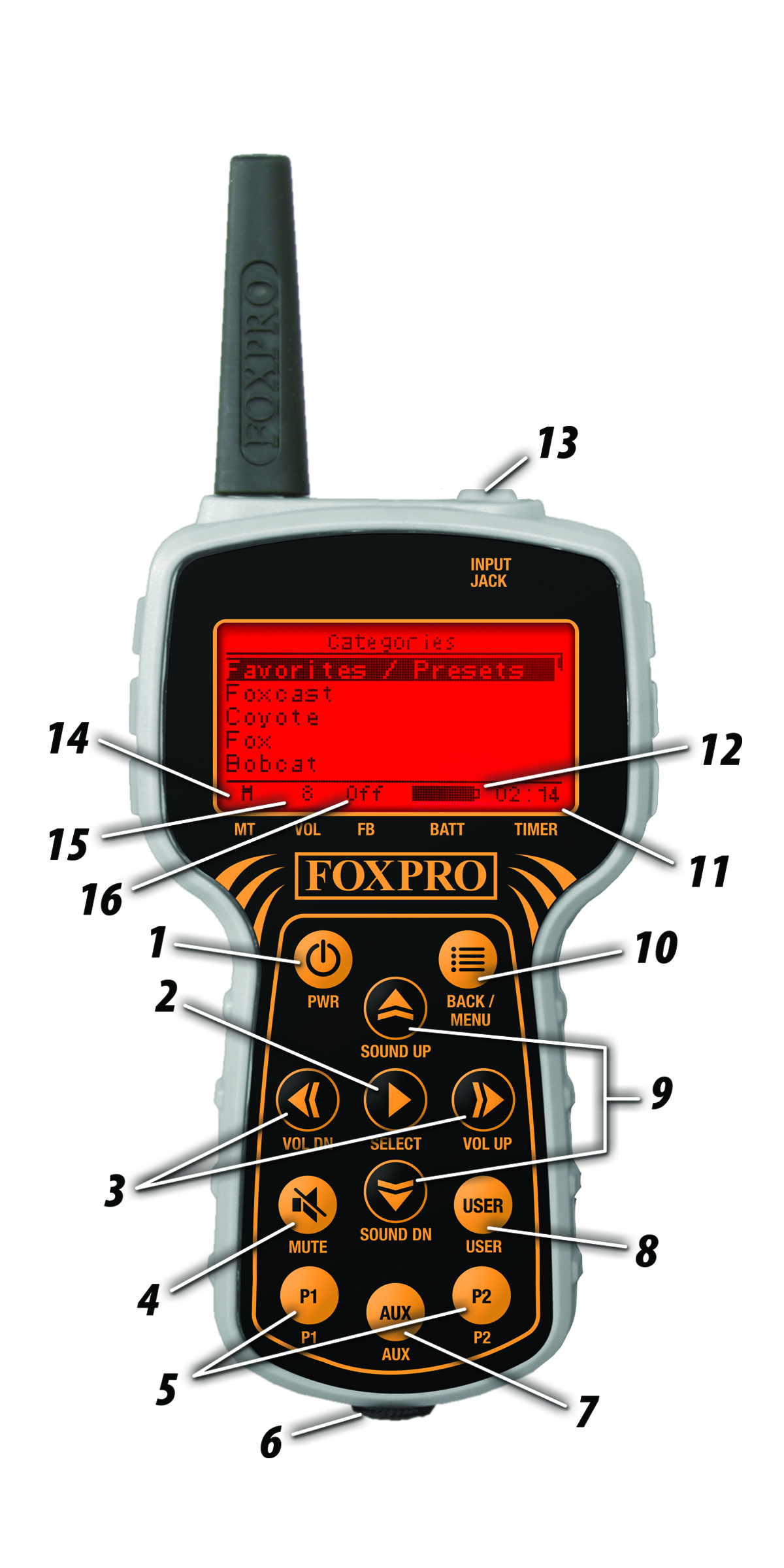 What's in the box?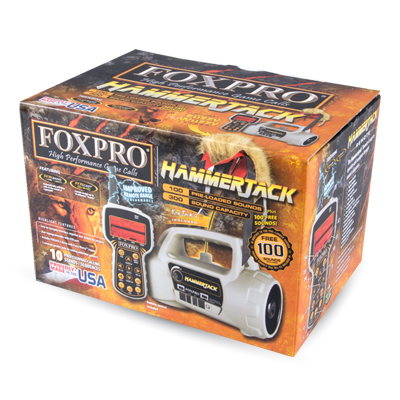 HammerJack Digital Game Call
Dimensions
8" x 5.5" x 6"
Weight
3.50 lbs.
Speakers
Front: Horn speaker
Rear: Cone speaker
Manual Operation
No
Play Modes
Repeat, Single, Jukebox
Charge Jack
Yes
External Speaker Jack(s)
(2) 3.5mm
Auxiliary Device Jack
(1) 3.5mm
User Reprogrammable
Yes
USB Port
USB 2.0 A/B
Sound Capacity
300 (Comes with 100, plus over 100 additional sounds from FOXPRO's Free Sound Library)
Internal Memory
4GB
File Compatability
FXP, 16B, MP3, WAV
Power
8 AA batteries
Run Time
3-7 hours1
Warranty
3 years2
Released
August 2017
TX915 Transmitter
| | |
| --- | --- |
| FOXBANG | Yes |
| FOXPITCH | No |
| FOXDATA | No |
| FOXMOTION | No |
| FOXCAST | Yes |
| FOXFUSION | No |
| FOXGRIP | No |
| Operating Distance | >200 yards3 |
| Dimensions | 8.5" x 3.5" x1" |
| Presets | 10, user configured |
| Sound List View | Categories, Single List |
| Lanyard Loop | Yes |
| Illuminated Buttons | No |
| USB Port | No |
| Power | 3 AA Batteries |
| Warranty | 3 years, limited2 |
FOXJACK 4 Mountable Motion Decoy
| | |
| --- | --- |
| Topper | Fuzzy Wuzzy (rodent) |
| Dimensions | |
| Weight | |
| Connectivity | Interface wire for connecting to the HammerJack |
| Power | Supplied from game call |
| Warranty | 60 days, limited |
1 Run times vary depending upon volume level, number of speakers being used (including external), temperature, and sound density. FOXPRO recommends the use of high-capacity rechargeable NiMH batteries for the best overall performance. Please note that alkaline cells are not recommended for use in temperatures below 32°F/0°C.
2 Limited warranty does not cover damage caused by misuse, abuse, exposure to water, battery damage including leaked batteries, and all other forms of physical damage.
3 Optimal range is had by ensuring clear line-of-sight between the game call and transmitter and elevating the game call off of the ground approximately 3 feet. Your results may vary.
WARNING: This product may contain lead, a chemical known to the State of California to cause cancer and birth defects or other reproductive harm.
No videos available at this time
User Reviews
All submitted user reviews are displayed below.
HammerJack
(
5 stars)
JC in NC on Nov 13, 19
---
Excellent! Easy to set up! Calls sound incredible. Plenty loud enough. Remote works very well. Highly recommend
HammerJack
(
5 stars)
Dave B in Wisconsin on Jul 06, 19
---
Awesome caller. Took it out on my first hunt and called in my first coyote within 5 minutes of calling with the eastern cottontail sound. The coyote came within 5 yards if the caller and circled it twice checking out the decoy before it tried to leave the field and stopped presenting me a shot. Couldnt believe it was that easy. The call sounds great and is easy to use. For the money this call cant be beat in my opinion. Thanks to foxpro for a great product!!
HammerJack
(
4 stars)
Gary Carter in Alabama on Jun 27, 19
---
I'm sure this is going to be a great product for me. I am going a learning curve with the right sounds and trying to get enough volume to reach out but I will get all my issues figured out. It's a great product and I really love it.
HammerJack
(
5 stars)
Heath in Texas - USA on May 07, 19
---
Unbelievably realistic!!
HammerJack
(
5 stars)
Dusty T. in Southwest, USA on Mar 27, 19
---
I received this a few weeks ago and have only used it a hand full of times. Needless to say, this review would be more extensive down the road given more time and use.
Initial thoughts: The ease of using the unit is simple. It is easy to program presets. The sound quality is great from both sides, I hunt land in western Oklahoma/Texas and have used both speakers. Both sound great for sure. I only turn them up to 40% at the highest when calling and, with the larger speaker, have called coyotes from .5 miles away. So far, if I were to make my choice again, I would still buy the Hammerjack.
HammerJack
(
4 stars)
Anonymous in Northeast on Mar 12, 19
---
Called in big grey in 15 minutes with cotton tail sound. Would only come within 150 yards. First time I ever hunted with a caller.
HammerJack
(
5 stars)
John in Texas on Mar 02, 19
---
I really liked having the option to order my Hammerjack with a customized list of sounds, so that I didn't end up with a lot of sounds that wouldn't be useful to me! Great sound quality and projection. Easy to program and use. The first time used it, I had a coyote come in during the middle of the afternoon. I'm glad I bought it and I'm looking forward to many successful hunts!
HammerJack
(
5 stars)
Steven in So cal on Feb 24, 19
---
Love this machine it is my 3rd fox pro and I would say its the best! I have called in right around 13 yotes and a bobcat it the 3 weeks ive had it love it
HammerJack
(
5 stars)
BIGERN in CT. on Feb 18, 19
---
Works great!! My only problem with the unit is it calls WAY to many OWLS! I had my fuzzy stolen twice and need a new one now.
HammerJack
(
5 stars)
R Brink in Iowa on Feb 17, 19
---
Easy to use!!
HammerJack
(
5 stars)
Ryan Stauffer in Pennsylvania on Feb 12, 19
---
Great calls and easy to use.
HammerJack
(
5 stars)
Anonymous in Pa on Feb 11, 19
---
Had a fox attack the fuzzy wuzy topper the other morning, put on a great show. The caller is loud and clear couldn't ask for anything better.
HammerJack
(
4 stars)
AJ Pellerin in Upstate NY on Feb 04, 19
---
I ve only used it once -- but I like it -- it was a bad day for hunting coyetes, but it worked -- I had a couple of crows come in to check things out --
HammerJack
(
4 stars)
Anonymous in Pennsylvania on Feb 02, 19
---
Great product. Could use more volume for windy conditions.
HammerJack
(
5 stars)
Farmer in Northeast Texas on Jan 30, 19
---
The hammerjack has work good on the few hunts its been on. Not just super loud but loud enough for the areas we have to hunt. It's been on 5 hunts, 3 of which were successful. And have yet to run down batteries.
HammerJack
(
5 stars)
Greg Smith in Southwestern Ohio on Jan 20, 19
---
Excellent caller even better with the integrated decoy easy to use great sounds which does not get distorted through the speakers
HammerJack
(
5 stars)
Anonymous in Southern Virginia on Jan 31, 2018
---
The hammerjack is very easy to use. The battery life is better than expected cant go wrong with this e caller. Definetly worth every penny
HammerJack
(
5 stars)
H.B.S in East Tn. on Dec 31, 2017
---
This call works right out of the box. Excellent sounds and easy to operate remote. Made in the USA so you can't go wrong. Hammer Jack with decoy works for me.
HammerJack
(
5 stars)
Jonny P in Northern MN on Dec 20, 2017
---
Another product from FoxPro and another happy guy. Customers service is above and beyond.
HammerJack
(
5 stars)
Anonymous in Texas on Dec 17, 2017
---
Easy to use, great selection of calls, with good volume. One of the best calls I've used in 17 years of calling.
HammerJack
(
5 stars)
Justin P. in South Texas on Aug 17, 2017
---
Took it out the other night to play. Called in grey fox- several of them. Coons and some coyote. I've been using a mouth call for years and have always wanted an electronic call. Very pleased with it. I didn't kill anything, I was just playing around for about 45 min to 1 hr. Lots of fun. Do not regret the purchase. I just hope that if I have an issue later on, foxpro will treat me right. I'm sure they will. I get more enjoyment in just seeing the critters come to the call than anything else. Will be playing around again soon. No regrets. Just didn't want to spend so much $$$. But now I've got it and couldn't be happier. The wife doesn't know yet, it's my little secret. My 8 year old enjoyed seeing the critters also.
Successfully added to cart!