FOXPRO Pro Staff: Abner Druckenmiller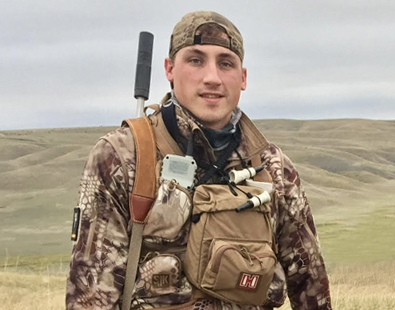 It was a bitter bone chilling December 1, 1985 and the migrating mallards were pitching into a flooded field on the farm that was protected from the howling winds. But before their arrival came the arrival of a new member to the Druckenmiller family. Abner's auspicial birth prophesied of a passion that would permeate his life from childhood to his current volition. Childhood days were spent playing out great excursions to harvest trophy bucks, turkey or successful duck hunts with his brothers.
Whether stuck in the house due to inclimate weather or out in the yard, Abner more often than not could be found backed up against a wall or chair in the house or a tree in the yard awaiting the quarry that he and his brothers where pursuing that day. Their imagination included being both the hunter and the hunted, sometimes playing the part of the quarry or the expert caller foiling his quarry. Dad accommodated their imaginations by supplying hand carved wooden guns to bag their quarry with. As time passed imagination would turn to reality and the rush of killing his first buck, an eight point, with a bow would instill a great passion for hunting. It would include successfully bagging turkeys, ducks, and other game birds with dad and brothers.
Early on he had made the prophetic statement, as just a four year old, to his mother stating that one day he would live in the mountains and hunt and fish for a living. Along the way hunting would prove to be a good school master to teach ethics, character and values. Now as a young man these same character traits, values and ethics are part of the person and personality these times afield have forged. All this is enveloped in his deep understanding that what is enjoyed in the great outdoors is a privilege given to him by his God and Savior. That what is seen in the mountains and fields is the fingerprint of Almighty God's handiwork to be enjoyed, respected and honored.
Abner takes seriously his privilege to enjoy what God has given to him both as a hunter and as a representative for the FOXPRO team. It is an even greater passion of Abner's to share the great outdoors and the reality of his God's handiwork with others and so now you can often find him afield accompanied by a young hunter passing on the legacy and values he has learned.