Please allow 3-5 business days before this item will ship.
Experience a whole new level of predator calling with the FUSION from FOXPRO. The FUSION comes with 100 high quality FOXPRO sounds and can store and access up to 1000 sounds. The FUSION features dual amplified speakers to deliver incredible volume. The front horn speaker handles your coyote vocalizations and common distress sounds with ease. The rear cone speaker handles the low frequency sounds such as bear growls, owl sounds and even mountain lion sounds. When combined they deliver a crisp, clear, high quality and realistic sound. If you want even more volume, the FUSION allows you to connect two external speakers for incredible volume capabilities, has a charge jack, and auxiliary jack to connect an approved device such as a FoxJack decoy. You can operate the FUSION manually or with the TX-1000 remote control.
The TX-1000 features a full color graphic LCD screen which displays your sound list or sound categories. It also has a barometer indicator, moon phase indicator, temperature indicator, battery level indicator, timer or time clock, FOXBANG technology and much more. FOXMotion allows you to fade the sound from the left speakers to the right speakers to help sell the reality of your call sounds. FOXFusion allows you to mix and match any two sounds at the same time during your calling sequence. FOXPitch allows you to manipulate the pitch of the sound in an effort to trigger a response. FOXData allows you to record real time information from each and every stand so you can access the data for future reference. The FUSION is available in FOXPRO Kryptek Highlander Camo and is backed by a 5 year limited warranty and FOXPRO's unmatched customer support and is proudly made in the USA.
Feature Highlights
The Fusion is available in sage green or Kryptek Highlander Camo finish.
FOXBANG Automatically maps your caller to a predetermined setting after discharging your firearm. (See instruction manual for FOXBANG options.)
FOXMOTION Mimic moving prey by fading sound from left speaker to right one.
FOXFUSION Mix and match any two sounds of your choice.
FOXPITCH Lets you manipulate the "pitch" of any sound in an effort to trigger a response.
FOXDATA Activate FOXDATA and it records real time information (temp, barometer, moon phase, stand duration, shot time) from each stand. Over time you will be able to predict animal activity/hunting success based on hard data.
FOXCAST Virtually hands-free calling with FOXCAST sequence files.
AUTO VOLUME Automatically ramps up and modulates your volume.
Fusion A Closer Look
The table below has item numbers and descriptions corresponding to the imagesdisplayed to the right. This is to help you become familiar with the Fusion andthe features.
| | |
| --- | --- |
| ITEM # | DESCRIPTION |
| 1 | Rugged ABS housing |
| 2 | Rear cone speaker |
| 3 | Battery compartment door |
| 4 | Power switch and manual volume control |
| 5 | Front/rear internal speaker on/off switch |
| 6 | Charge jack |
| 7 | Rear external speaker jack |
| 8 | Auxiliary device jack |
| 9 | Front external speaker jack |
| 10 | Low power indicator |
| 11 | Front horn speaker |
TX1000 Transmitter
The table below has item numbers and descriptions corresponding to the image displayed to the right. This is to help you become familiar with the TX1000 and the features.
| | |
| --- | --- |
| ITEM # | DESCRIPTION |
| 1 | Quick access preset buttons |
| 2 | FOXDATA button |
| 3 | Power on/off button |
| 4 | Scroll up button |
| 5 | Volume down button |
| 6 | Play / select button |
| 7 | Scroll down button |
| 8 | FOXPITCH |
| 9 | USER button |
| 10 | Lanyard loop |
| 11 | Recall button |
| 12 | Auxiliary button |
| 13 | Mute button |
| 14 | Volume up button |
| 15 | Back / menu button |
| 16 | FOXFUSION button |
| 17 | Mini USB Port |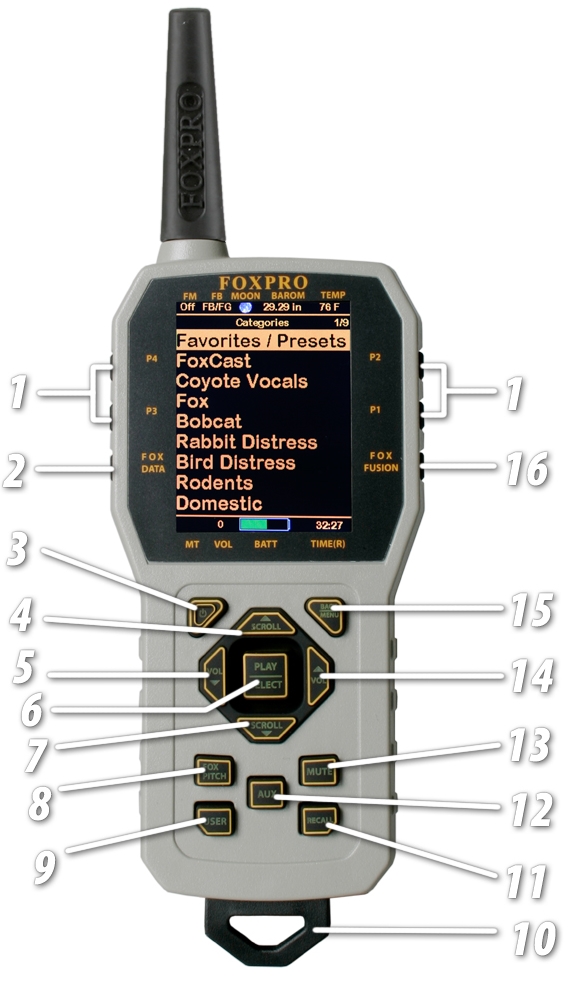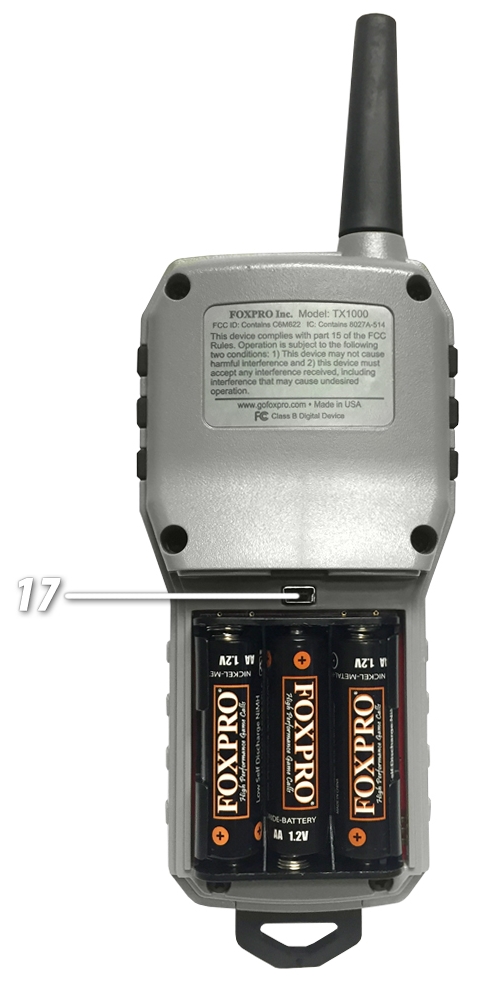 What's in the box?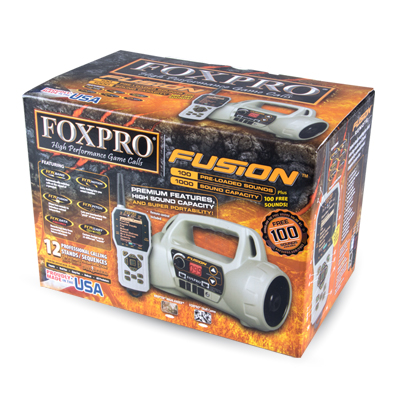 Fusion Digital Game Call
Dimensions
8" x 4" x 6"
Weight
3.50 lbs.
Speakers
Front: Horn speaker
Rear: Cone speaker
Manual Operation
Yes
Play Modes
Singe, Jukebox, Repeat
Charge Jack
Yes
External Speaker Jack(s)
(2) 3.5 mm
Auxiliary Device Jack
(1) 3.5 mm
User Reprogrammable
Yes
USB Port
USB 2.0
Sound Capacity
1,000 (Comes with 100)
Internal Memory
8GB
File Compatability
MP3, WAV, FXP, and 24B (16B playback)
Power
8AA Batteries
Run Time
3-7 Hours1
Warranty
5 Years, Limited2
Released
February 2014
TX1000 Transmitter
| | |
| --- | --- |
| FOXBANG | Yes |
| FOXPITCH | Yes |
| FOXDATA | Yes |
| FOXMOTION | Yes |
| FOXCAST | Yes |
| FOXFUSION | Yes |
| FOXGRIP | Yes |
| Operating Distance | >100 yards3 |
| Dimensions | 3.18" x 1.17" x 8.78" |
| Favorites/Presets | 50 |
| Sound List View | Categories, Single Sound List |
| Lanyard Loop | Yes |
| Illuminated Buttons | Yes |
| USB Port | Mini USB |
| Power | 3AA Batteries |
| Warranty | 5 Years, Limited2 |
1 Run times vary depending upon volume level, number of speakers being used (including external), temperature, and sound density. FOXPRO recommends the use of high-capacity rechargeable NiMH batteries for the best overall performance. Please note that alkaline cells are not recommended for use in temperatures below 32°F/0°C.
2 Limited warranty does not cover damage caused by misuse, abuse, exposure to water, battery damage including leaked batteries, and all other forms of physical damage.
3 Optimal range is had by ensuring clear line-of-sight between the game call and transmitter and elevating the game call off of the ground approximately 3 feet. Your results may vary.
WARNING: This product may contain lead, a chemical known to the State of California to cause cancer and birth defects or other reproductive harm.
User Reviews
All submitted user reviews are displayed below. Scroll down to view all.
Fusion
(
5 stars)
Jon in Carterville, IL on Aug 04, 20
---
This is the most packable call I've ever hunted with. It is surprisingly loud for it's small size. I've harvested more coyotes with the Fusion than any other call I own. The FoxFeatures are awesome!
Fusion
(
4 stars)
Anonymous in Iowa on Jul 06, 20
---
I've used my fusion caller only a couple of times, so far I'm very impressed with the sound quality. I ordered from fox pro directly so I could select the sounds I wanted, the process was simple and very straight forward. I had a couple of questions after my fusion arrived and customer service was prompt and very courteous with their response. I only gave 4 stars because I thought the caller would be louder.
Fusion
(
5 stars)
Drew Born in Michigan on Jun 26, 20
---
It was time for a replacement. My old foxpro was about 10 years old. I was given another brand and it just couldn't keep up. I've never been happier with my Fusion. And I got all the sounds I wanted. Only had It a couple weeks and had a few coyotes fall with it.
Fusion
(
5 stars)
Jason__G in Bend, OR on Apr 02, 20
---
Light enough to pack, and still loud enough to be heard. Programming is a odd, but workable. Love building FoxCast files for long call sets.
Fusion
(
4 stars)
Jesse in Northeast on Mar 24, 20
---
The sounds are great, very realistic. Compact size to be able to pack it in a small pack. Volume is adequate for where I call (woods not open prairie). Tx1000 remote feels good in the hand and buttons have a good feel when you push them. Things I would change is putting a tripod nut on the bottom. Foxbang is too sensitive even on the lowest setting. I have tapped the remote against my gun and ruined my set because it's gone off more then once, so now I just keep it muted (can't actually turn it off). Programming should be updated to be easier, drag and drop maybe. I would also like to see a timer for each specific call so I know how long it is. I would like the call to pause as opposed to just muting. I have not had a chance to really dive into these issues in the manual as there may be a way to change a few of those things. Sound quality is great and plenty of sounds to choose from but I would like to see more user friendly programming and options on the remote.
Fusion
(
5 stars)
Anonymous in Pennsylvania on Feb 06, 20
---
Great call a lot of features easy to use
Fusion
(
5 stars)
Michael Melland in Havre, Montana on Jan 25, 20
---
I have own several Foxpro game calls and have enjoyed them all. Great product and Great company.
Fusion
(
5 stars)
Anonymous in Western Pennsylvania on Jan 22, 20
---
Great call
Fusion
(
5 stars)
Bob Brown in Black Hills on Jan 19, 20
---
I have been using an older model for years and it just didn't have the distance and versatility that I was wanting. I recently bought the fushion and had foxpro put only the calls I wanted on it. With the new fushion I can set the speaker 150 yrds away and use the sounds that I think are good. So far I am happy with it.
Fusion
(
5 stars)
Ryan LeVan in Pennsylvania on Jan 16, 20
---
Excellent call and excellent service!
Fusion
(
5 stars)
Tony Griffith in Midwest, USA on Jan 16, 20
---
A GREAT call with may unbelievable features. The FoxBang, FoxMotion, FoxFusion, FoxCast, & FoxData make this call a hunter's favorite.
Fusion
(
5 stars)
Anonymous in Unknown Location on Jan 13, 20
---
Fusion
(
5 stars)
Anonymous in Unknown Location on Jan 10, 20
---
Fusion
(
5 stars)
Michael Horton in Malden mo on Dec 28, 19
---
Only used it twice so far but love it
Fusion
(
5 stars)
Keith Swinford in South on Dec 25, 19
---
I purchased a Fusion for my nephew as a Christmas present. I've had a Fusion for over a year and it has been a great caller. I knew he was due for an upgrade from his old FX3, and would really like a Fusion. The Foxpro guys were really helpful with a few questions ref: picking some sounds. Foxpro has great customer service and made in the USA is another good reason to buy Foxpro. He was very happy with his present!
Fusion
(
5 stars)
Kjell Hvamb in Kongsberg - NORWAY on Jul 17, 19
---
Great value for money. Intended use....fox hunting. A tad short transmitting range (the remote) otherwise great. Easy to understand the settings and use of the device. Customer service: Excellent
Fusion
(
5 stars)
Anonymous in Ohio on Apr 04, 19
---
What is there to really say... all other E callers are 2nd to foxpro and as for this specific unit... all other foxpro units are 2nd to this one.
Fusion
(
1 stars)
Jaron in Fayetteville, WV on Mar 31, 19
---
I have used my Fusion in one Coyote Tournament so far. I went to take my son hunting last night, and the call wont come on or work at all. Have fully charged Foxpro batteries before trying to use. Even tried switching with Duracells. A $400 call should work longer than one night.
Fusion
(
4 stars)
Coach in Southeast on Mar 11, 19
---
Amazing sound and features. I was using another company's call and was having limited success. Okay no success. I killed a coyote the very first time using the Fusion. I knew the sound was ultra realistic when a hawk stole the decoy topper within 2 minutes of turning on the call. About 10 minutes later two coyotes were heading directly toward the call. Something I hadn't been able to do in a month using another company's call. However, my biggest complaint is the remote. The range isn't as good as it should be and it's way too bright for night hunting. I have the display turned as low as possible and the backlight turned off-still too bright and the backlight randomly turns on. I've had to stuff it into a hat when making changes. The Foxcast feature fixes this issue sometimes, but prevents quick changes when a coyote starts coming to the call for fear of the light spooking it.
Fusion
(
5 stars)
Anonymous in Florida on Mar 07, 19
---
Love fox pro calls will never use any other company. I've killed several dogs with mine already
Fusion
(
5 stars)
Russell Shelton in Quebeck , Tn on Feb 10, 19
---
Great product with great sound quality. Really like the foxbang, foxfusion , easy to use and easy to download sounds on too. Killed a nice bobcat on the 5 stand using my fusion. It's a night and day difference in the Fox pro and other e-callers I have had. Keep up the good work Foxpro!
Fusion
(
5 stars)
Cody in Central Minnesota on Nov 06, 18
---
Super cool unit. Clear realistic loud and crisp sounds. The Fusion is my first FoxPro product but certainly will not be my last. I've had good success with it with no problems. The only gripe I have is the rubber tab cover over the charging port does not stay closed. I put a piece of tape over all the ports so it's not too much of a big deal. But overall it's a high quality American made product.
Fusion
(
5 stars)
Josh Becker in Pennsylvania on Sep 29, 18
---
I have used my fusion since 2015 with a lot of successful hunts one of the best calls on market this year I left the batteries in my remote and the battery acid leaked out and damaged it I contacted foxpro and for a small fee they had my remote back to my in 4 days amazing service Department they really do a great job taking care of their customers
Fusion
(
5 stars)
Dustin toy in Readyville tn on Jan 31, 2018
---
The fusion is awesome the only thing I would like to know do y'all have anymore down loads you can put on the call
Fusion
(
5 stars)
Steve in WV on Jan 31, 2018
---
Awesome service, awesome product!
Fusion
(
5 stars)
Hazer in Utah on Jan 30, 2018
---
I just bought the fox pro fusion. It is by far one of the best calls. I have called in 3 dogs the 3 times I have went out this is a awesome product.
Fusion
(
4 stars)
Del Smith in Teneessee on Jan 26, 2018
---
I like the call sounds great . haven't called in a coyote yet . only hunted with it one time and i am inexperienced. I plan to hunt some this weekend. What I was very dissappointed in was that for the cost of this call Foxpro didn't offer free shipping. and when you order from the website it did not give the option of a camo pattern. work on customer service and you may have gotten a 5 star rating. There are so many products to choose from today customer service is what seperates you.
Fusion
(
5 stars)
Jonas Lee in Pennsylvania on Jan 25, 2018
---
I'm just a young beginner but I cudnt b happier with my new fusion!!!!great volume an some really awesome features such as foxbang !!!!u can't go wrong with one!!!!
Fusion
(
5 stars)
Anonymous in Penna. on Jan 25, 2018
---
No comments to share.
Fusion
(
5 stars)
Matt in Port hope ,Ontario, Canada on Jan 21, 2018
---
Bought the foxpro fusion as a upgrade from the firestorm that i had for years and what a amazing call been out 3 times with it and shot 3 coyotes sounds are realistic thanks foxpro for coming out with such a good product
Fusion
(
5 stars)
Ben in Midwest on Jan 16, 2018
---
Awesome call. Used a buddies, and decided to buy my own. I will be buying new sounds for it soon. Foxpro is the best
Fusion
(
5 stars)
Jason M in Tennessee on Jan 04, 2018
---
The Fusion is a great call well built easy to use great sound quality
Fusion
(
5 stars)
L Bags. in Michigan on Dec 31, 2017
---
Foxpro fusion with out a doubt hands down great accessory to have in your predator bag. Easy to use. Calls predators in. First night using it had 3 come in to us. It's up to you to be able to shoot them though!
Fusion
(
5 stars)
Michael in South Georgia on Dec 27, 2017
---
Amazing call and amazing customer service! I've had a foxpro call sense I started hunting coyotes nearly ten years ago. Started with the spitfire and upgraded to the fusion about 2 years ago. Sound quality and remote range are amazing and to top it off with all the added features it simply can't be beat! I had an issue with the call not being able to be reprogrammed, called tech support and after it was all said and done had my call repaired free of charge (under warranty) and back to me in about 7 days!!!! The dual speakers make this thing as realistic as it gets and the remote is easy to operate and understand. I waited two years before doing this to make sure my review was going to be 110%. This call has never let me down up until the warranty issue but that was resolved very quickly and I got my baby back in the blink of an eye!! If your a demanding hunter and want nothing but the best look no further! Thank you foxpro for making such a great product and backing it up!!!!
Fusion
(
5 stars)
Anonymous in Ontario on Dec 19, 2017
---
Call works amazing
Fusion
(
5 stars)
Doghunter in Michigans West Coast on Dec 19, 2017
---
This caller is incredibly advanced yet easy to use. And I can read the remote in Any light. Wish I had replaced the Firestorm sooner. Which was a fine caller, just old eyes couldn't read remote in certain conditions. Will be giving the Fusion a full 10 day hard work out in NM in Jan.
Fusion
(
5 stars)
Mike in Upper Plains on Dec 17, 2017
---
The main reason I purchased the Fusion was the remote! I am far from a pro just a weekend worrier that can't see crap anymore without glasses, fogging up glasses. In my case I can read the display pretty well without my glasses opposed to my Wild Fire 2 remote. The awesome remote features and the great sound of the call itself was a bonus. I know, why buy something for the remote? Well I already knew the quality Fox Pro puts out so it was a no brainer. Can't go wrong with Fox Pro!!
Fusion
(
5 stars)
Anonymous in NE South Dakota on Nov 26, 2017
---
Great call! Used this morning and found some success! Remote is handy to have.
Fusion
(
5 stars)
Dave K in Pennnsylvania on Nov 06, 2017
---
Bought directly from FoxPro so I got to pick my 100 sounds. Only used once so far but sounds great. My old Dennis Kirk call was louder but also often had static transmitted which was annoying. I am looking forward to many winter hunts in PA over the next few months.. he
Fusion
(
5 stars)
Rassy in Queensland on Sep 20, 2017
---
Great caller called in many wild dogs accidently run caller over with Toyota landcruiser minor damage still works good
Fusion
(
5 stars)
Wayne in Florida on Aug 07, 2017
---
Fantastic product !! My first electronic call was the Inferno. I enjoyed it so much that I up graded to the Fusion and it has more volume than the Inferno. The tec support is fantastic at FoxPro. I purchased 16 sound pack and had trouble getting it to work. Contacted the support team and in no time Logan had the problem fixed and running fine. Thanks for a great product and support team. One is no good without the other.
Fusion
(
5 stars)
Maxwell in South Africa on May 22, 2017
---
The Fusion is a excellent product.
Fusion
(
4 stars)
ncfiretiger in southeast on May 11, 2017
---
excellent product (Fusion)...only issue is volume.....the Fusion has less volume than my old 532....used a digital sound level meter and decibel levels is 5-10 less than what is needed
Fusion
(
5 stars)
J. Hall in S. Michigan on Mar 29, 2017
---
Amazing call. It does everything. I upgraded from the Inferno which was an OK call. The Fusion has it all. Only one minor thing, I wish the remote had a belt clip.
Fusion
(
5 stars)
Anonymous in Unknown Location on Mar 29, 2017
---
Although I just received this unit over the last couple of weeks, I believe this is one of the most impressive e callers on the market. This call has so many capabilities, is of the highest quality and I will be chomping at the bit to use it next predator hunting season. I really am excited about the quality and functionality of this call.
Fusion
(
3 stars)
John Jessup in Garland, TX on Mar 09, 2017
---
I have not had a chance to use my new FoxPro Fusion caller yet. I can tell you the instruction handbook is not very helpful, it should be simpler to understand with larger pictures and you have too many extras on the Fusion like - date, time, weather, moon phase, etc. and all of this stuff is in the handbook. The picture of the Remote is so small you cannot read the buttons.
Fusion
(
5 stars)
TR in East Freedom, PA on Mar 06, 2017
---
Very good call... Very pleased with... Can't wait to try it out in the field
Fusion
(
5 stars)
D Stroud in Texas on Feb 27, 2017
---
I use the Fusion along with my old External speaker I bought years back in a custom bag designed to hold both facing opposite directions. This gives big volume when needed and directional sound too. Love the remote too.
Fusion
(
5 stars)
Roy in Sandy hook , KY on Feb 26, 2017
---
I've used a lot of calls different brands and types NOTHING matches a Foxpro Fusion!
Fusion
(
5 stars)
Chad in Kingston, PA on Feb 10, 2017
---
I absolutely love my Fusion, it's amazing. The TX1000 remote is the top of the line, you couldn't ask for anything more in a remote. My only complaint, if it even is one, is that it doesn't have a hole in the bottom to place it onto my little tripod to keep it off of the ground.
Fusion
(
4 stars)
Dominic in QC Canada on Jan 29, 2017
---
Very proud of my new hunting partner. Foxpro fusion. I'm from the north of Canada and here we got lots of snow. 3 minutes after the fist call 2 big owls came to see where those calls was from. The only reason why i give 4 stars is i ordered the "skull camo" but i recieved the "kriptek highlander". But it's the same machine. With all the sounds you can put in it, you can call all what you want.
Fusion
(
4 stars)
John P in New Zealand. on Jan 22, 2017
---
This is a great product, exceeding expectations and very easy to set up and get started. One slight fault though is one of the rubber bungs which fills plugs into or fills the accessory ports does not fit which means you cannot seal one port leaving it open to water or dirt which is a concern. Otherwise it would rate 5 stars.
Fusion
(
4 stars)
V Gillock in Oklahoma on Jan 01, 2017
---
My only complaint is how easily the remote goes out of mute or too a previous sound if you move a little or as you walk up to move sets. Otherwise I love my new calll.
Fusion
(
5 stars)
Scottie in Kentucky on Dec 27, 2016
---
Quick service and GREAT customer service
Fusion
(
5 stars)
Conagher Wright in Central wyoming on Dec 07, 2016
---
I live in central wyoming, some of the best coyote country around is just right down the road. The fusion has amazing sound quality and is plenty loud enough for all of the open country windy days. With the foxjack attached I was able to start getting cats in. I was fortunate enough to call in lion, but no tag. I bought a tag that night and when I went back to some nearby blm. I hiked in about a mile, started calling 24 minutes into the set what do you know another lion. I'm 20 years old and I can honestly say that foxpro has helped me check one of the top things off my hunting bucket list. Would definitely spend the money for the best. Don't go cheap get a foxpro.
Fusion
(
5 stars)
Loan Shark in Eastern New Mexico West Texas panhandle on Dec 05, 2016
---
Only got to use it 2 times. called 2 coyotes on first call zero on second call. I've used fox pro in the past and think highly of your products.
Fusion
(
5 stars)
Frank in Alabama on Dec 01, 2016
---
Great calls & service. I enjoy the quality of the Fox pro calls. The service from Fox pro is second to none. Thanks for a great product.
Fusion
(
4 stars)
Austin in Wisconsin, USA on Nov 29, 2016
---
Great product easy to use
Fusion
(
5 stars)
Ian Cooper in VIC Australia on Nov 20, 2016
---
After a few discussions with Rick Johnston, foxpro field staff in Australia, i wasnt hesitant to go the foxpro fusion.... He was a wealth of infomation and answered all the questions i had thoroughly... I am yet to use it in the field, but initial trials have been very good....I would also like to commend Foxpro for their service and extremely prompt delivery to me here in Australia....It is a pleasure to deal with them.
Fusion
(
5 stars)
The huntinghobo. in Unknown Location. Central calif. on Oct 19, 2016
---
Got to try it for the first time today,,, called in a gray fox , he pounced my cottontail decoy ,, so I would say that so far I'm liking every thing about the fusion ,,, I'll keep u up to speed on my progress on it as I learn to completely use it,,, thanks for a great product so far. George/ the huntinghobo.
Fusion
(
5 stars)
BW in Central TX on Feb 21, 2016
---
Purchased my new Foxpro Fusion in January of 2016. I am very pleased with it. Having used it about a month now I have called up several coyotes, fox, crows and a few hawks. I like that I can easily carry it in my back pack, the remote has excellent range, and the call has plenty of volume. It sure is a great call.
Fusion
(
5 stars)
Mark in League City, TX on Jan 21, 2016
---
Just purchased a Fusion last week and took it hunting this past weekend. After 45 minutes into my second stand I had a boar hog charge the call. I am sold on this call and would highly recommend. It has plenty of volume and is very clear.
Fusion
(
5 stars)
Mike Burgess in Maryland on Jan 19, 2016
---
Great product! On the first set I called in 2 red fox! The remote is fantastic and very user friendly. I can't wait to go out and call in some more.
Fusion
(
5 stars)
Mark in Canada on Jan 12, 2016
---
I've owned an Fx3, Fx5, Firestorm and now the Fusion. By far the best I've ever used! This call has all the great features , A+
Fusion
(
5 stars)
Kyler Lane in Central Illinois on Jan 06, 2016
---
All I gotta say is wow. The most user friendly coyote call i have ever had. Its so easy to operate. And the fox data is awesome its nice being able to see when you have the best luck all the sounds are clear and not muffled. First time using the call was the first time i got my first double. I dont think ill ever buy another call unless its got fox pros name on it. Im super impressed....
Fusion
(
5 stars)
Warren Mignerey in Upstate NY on Jan 04, 2016
---
This call is amazing. It has all the bells and whistles. I started with the FX3 yrs. ago then upgraded it too the FX5. I can't see me upgrading from the Fusion realistically.
Fusion
(
5 stars)
Snowman in Bowman ND on Nov 30, 2015
---
Excellent product. Called in coyote in 25 minutes on first setup. Very easy to work with. Remote controlled unit flawlessly at 130 yds.
Fusion
(
5 stars)
Mike in Southeast, VA on Jul 01, 2015
---
This is by far the best electronic call I've owned. Its compacted enough to throw in my bag and can be as loud as you want it to be. First time I used it I called in 5 different coyotes in two stands and had the rest howling out to about 500 yards away. Couldn't ask for a better call. The sound fusion feature is amazingly simple to use and equally as effective.
Fusion
(
5 stars)
Dana Lajoie in berwick, ME on Apr 17, 2015
---
Does not get any better my new fusion called 5 dogs in within 15 Minutes.This was the first time using the newly purchased call in January of 2015 Although i missed due to over excitement i got a tongue lashing from my son. We should have got a double,however buck or dog fever got the best of me. I tuned out him telling me there we more coming in on the call from his left. this week the 14th of April i called 7 toms within shooting distance in less then an hour of call time. I was not even in camo just setting within my vehicle at one of my hunting locations. They were coming to the call which was setting on top of my white truck in or on the dirt road. Incredible response. You cant make this stuff up. Thank you Fox Pro.
Fusion
(
5 stars)
Anonymous Reviewer in New York on Apr 14, 2015
---
First season ever hunting predators in NYS decided to go with the FoxPro Fusion. Killed three fox and one Coyote. First time out had coyotes run to the call 90 seconds after starting. Remote works well at 100 yards and is easy to operate day or night with winter gloves. Unit itself is very portable even with FoxJack decoy installed. I used premium Lithium Ion Ultimate batteries for 3 months in the unit and standard alkaline in the remote for the whole time only replacing the remote batteries once. Came with 100 sounds custom ordered which was plenty for hunting Fox/Coyote/Crow/Hogs. The remote alone is worth the extra money. I've had some of the most exciting and rewarding hunts this year. Thanks FoxPro!
Fusion
(
5 stars)
Timothy Richardson in Roanoke Rapids, NC on Jan 27, 2015
---
Wow! I am a beginner Predator hunter. I bought my Fusion on the 15th of Jan and as of this date I have successfully taken two Bobcats on two different stands and I am hooked! Just seeing seeing how both cats was approaching the caller and decoy in their hunt mode blew me away. The guys at FoxPro helped me with all my questions that lead me to my Fusion. Like I said, "I'm impressed".
Fusion
(
5 stars)
Kyle Householder in Huntingdon, PA on Jan 08, 2015
---
Foxpro is a great company! Bought my Foxpro Fusion on January 7 and it got here in 1 day! Great people to deal with and the Foxpro works great! I now own 2 calls and they are both outstanding! This is the best call by far. There's no better game call, company, or people to deal with than Foxpro!
Fusion
(
5 stars)
Stan Judy in Hindsville, AR on Dec 16, 2014
---
This is my 3rd Foxpro caller, each time I upgraded to a newer model with better features, but the fusion is by far the best one yet. The new TX1000 remote is awesome. If you guys come out with a model to out do this, I will truly be amazed. Keep up the great work on your innovation of new products. I can't wait to see what you guys will think of next.
Fusion
(
5 stars)
Todd Davis in chesnee, SC on Dec 06, 2014
---
the Fusion is the 6th FoxPro call I have bought and used, and while I have been well pleased with them all I have to say that the Fusion is the best one yet. It has the size and ease of carry as the Fury but the new remote and features are just Awesome . Another great hit for the FoxPro team
Fusion
(
5 stars)
michael barkdull in spring crek, NV on Oct 08, 2014
---
This is by far one of the best FoxPro calls I have used the remote is great and the functions are outstanding. The first stand i used this one we called in 3 dogs. FoxPro shipping and customer service is next to now thank you for a great product!
Successfully added to cart!