The FOXPRO Hi-Jack is a completely re-engineered unit made for big volume in a small package. This lightweight powerhouse, which includes a decoy, also comes with the most sought-after remote control on the market, the TX-1000. It comes standard with 100 high-quality FOXPRO sounds, plus the FOXPRO FREE SOUND LIBRARY (100 plus sounds), and has the ability to hold up to 1000 sounds. Enhance the realism by attaching the included Hi-Jack decoy and Fuzzy Wuzzy topper to the back of the Hi-Jack. The Hi-Jack comes complete with a lithium battery and charger kit in the box! The TX-1000 features a full color graphic LCD screen, which displays your sound list or sound categories. It also has auto-volume, wireless upload to the remote, a battery level indicator, timer or time clock, FOXCAST and FOXBANG technology. The Hi-Jack is backed by a 5 year limited warranty, FOXPRO's unmatched customer support, and is proudly made in the USA.
Feature Highlights
Comes with 100 sounds, plus FOXPRO Free Sound Library (100 plus sounds), 1000 sound capacity
Hi-Jack decoy with Fuzzy Wuzzy Topper (included)
Color remote display
Elastomeric remote keypad
1 external speaker jacks
Auxiliary jack
USB port to reprogram sounds
2 user buttons
Hi-Jack Digital Game Call
| | |
| --- | --- |
| Dimensions | |
| Weight | 3.00 lbs. |
| Speakers | (1) Horn speaker |
| Manual Operation | No |
| Play Modes | Single, Jukebox, Repeat |
| Charge Jack | Yes |
| External Speaker Jack(s) | (1) 3.5mm |
| Auxiliary Device Jack | (1) 3.5mm |
| User Reprogrammable | Yes |
| USB Port | mini-USB |
| Sound Capacity | 1000 (Comes with 100, plus over 100 additional sounds from FOXPRO's Free Sound Library) |
| Internal Memory | 8GB |
| File Compatability | 16B, MP3, WAV |
| Power | (lithium kit included) |
| Run Time | |
| Warranty | 5 Years, Limited2 |
| Released | April 2021 |
TX1000 Transmitter
| | |
| --- | --- |
| | Yes |
| | No |
| | No |
| | No |
| | Yes |
| | No |
| | No |
| Operating Distance | >100 yards3 |
| Dimensions | 3.18" x 1.17" x 8.78" |
| Favorites/Presets | 50 |
| Sound List View | Categories, Single List |
| Lanyard Loop | Yes |
| Illuminated Buttons | Yes |
| USB Port | mini-USB |
| Power | 3 AA Batteries |
| Warranty | 5 Years, Limited2 |
Hi-Jack Decoy Mountable Motion Decoy
| | |
| --- | --- |
| Topper | Fuzzy Wuzzy (rodent) |
| Dimensions | |
| Weight | |
| Connectivity | Inferface wire for connecting to the HiJack |
| Power | Supplied from game call |
| Warranty | 60 days, limited |
1 Run times vary depending upon volume level, number of speakers being used (including external), temperature, and sound density. FOXPRO recommends the use of high-capacity rechargeable NiMH batteries for the best overall performance. Please note that alkaline cells are not recommended for use in temperatures below 32°F/0°C.
2 Limited warranty does not cover damage caused by misuse, abuse, exposure to water, battery damage including leaked batteries, and all other forms of physical damage.
3 Optimal range is had by ensuring clear line-of-sight between the game call and transmitter and elevating the game call off of the ground approximately 3 feet. Your results may vary.
WARNING: This product may contain lead, a chemical known to the State of California to cause cancer and birth defects or other reproductive harm.
No videos available at this time
Reccommended Accessories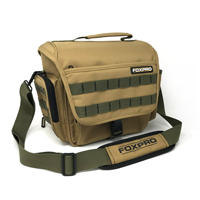 Coyote Brown Carrying Case
The FOXPRO Carry Bag is specifically designed to fit the X1, X2s, and X24 (all with mounted X-Decoy). It will also fit all other FOXPRO game calls (except all Prairie Blaster models, Shockwave, XWAVE, and all Krakatoa models).
$54.95USD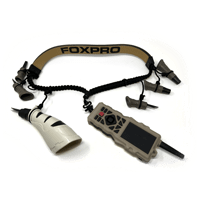 XD8 Lanyard
NEW ITEM
The XD8 Lanyard from FOXPRO keeps your favorite predator calls and remote organized and easily accessible while hunting. Attach your remote with the new hassle-free swivel connection and add up to six hand calls with the tier loop design.
$32.95USD
User Reviews
All submitted user reviews are displayed below. Scroll down to view all. To submit your own review, please click here.
Hi-Jack
(
5 stars)
Kyle in Middle Tennessee on Jan 23, 2023
---
Great call. Crisp and clean sound. Had a dog run up on me after 2 minutes of calling.
Hi-Jack
(
5 stars)
Anonymous in Unknown Location on Jan 12, 2023
---
No comments to share.
Hi-Jack
(
4 stars)
Lou in east coast USA on Jan 11, 2023
---
Just got the Hi-Jack a couple weeks ago. Unit is very well built & seems it will hold up for years. The sounds the call came with from FP sound great. The only reason I don't give a 5 star is I feel FP can do a better job with explaining the programming aspect of the unit. I will admit I am not the most technically versed guy in the world but I am also sure many hunters that buy FP products aren't either. It would be nice if there we more "how to" videos when it comes to programming. Sometimes it's a lot easier to watch someone doing it step by step rather than reading print & trying to figure it out....anyways just a thought other than that its a fantastic product
Hi-Jack
(
3 stars)
Anonymous in Unknown Location on Nov 22, 2022
---
Get with the times and get rid of the mini usb.
Hi-Jack
(
5 stars)
Billy W Woods in Texas on Nov 04, 2022
---
This dog will hunt
Hi-Jack
(
5 stars)
christopher roth in Missouri (MO) on Mar 14, 2022
---
At age 72 this is my second Fox Pro liked the first one Inferno but this is by far well worth the bucks. Remote is the best and caller with decoy attached big plus. Recommend by far.
Hi-Jack
(
5 stars)
Anonymous in Indiana on Feb 08, 2022
---
Wonderful sound quality and remote. Compact size and great movement on the decoy.
Hi-Jack
(
5 stars)
Anonymous in Northwest on Jan 17, 2022
---
I have yet to get out and use my new call but it seems very well built. Biggest reason to go with fox pro is to support an American company..
Hi-Jack
(
5 stars)
Kurt in Texas hill country on Dec 08, 2021
---
Worked great, sounded super real, easy to use good all the way around
Hi-Jack
(
5 stars)
josh lapp in Newmanstown, PA on Oct 29, 2021
---
This call is awsome.I have harvested quite a few animals with it.
Hi-Jack
(
5 stars)
Ricky Beadle in Bemidji MN on Oct 01, 2021
---
Bemidji MN. I was testing it out. A bald eagle 🦅 showed up to see what all the fuss is about. Honestly if a fox pro is good enough for Tim Wells it's good enough for me
Hi-Jack
(
5 stars)
Mark Morgan in Uk on Jun 24, 2021
---
Great smaller type unit with a hell of a sound coming out of it
Successfully added to cart!