Please allow 5-7 business days before this item will ship.
The FOXPRO Inferno gives you a lot of "bang for your buck" with a compact design, 75 high quality FOXPRO sounds, and an upgraded remote control with FOXBANG technology. The Inferno weighs in at only 1.5 lbs with batteries. This unit offers maximum portability with extreme volume and sound quality. Connect an external speaker to the jack on the side of the unit for even more volume. FOXPRO's Inferno remote is easy to operate and navigate through sound categories. The Inferno remote has two preset buttons, a mute button, volume up and down, and much more. All of these features in one amazing, compact, high quality unit makes the Inferno an incredible value. It's packed with great features and innovations from FOXPRO. The Inferno is backed by a 3 year limited warranty and FOXPRO's unmatched customer support and is
proudly made in the USA
.
Feature Highlights
Inferno remote control with large, easy-to-read screen

Organize your sounds by category
User button with assignable function of your choice
Easy to navigate interface
FOXBANG: With FOXBANG activated, the caller automatically switches to a assignable function (preset 1-5, toggle mute, toggle decoy) after discharging your firearm. This allows for hands free sound changing operation to help keep your eyes focused on the field where it counts.

Integrated USB Port Allows you to connect your caller to a home PC for reprogramming!
Stores up to 200 sounds in total (comes with 75)
Order direct to custom pick your own custom sound list
External Speaker Jack for connecting an additional speaker to the Inferno for more volume.
Internal Speaker "On/Off" Switch allows you to turn your internal speaker on or off.
Auxiliary jack for linking-up with a FOXPRO decoy
Pilot Lamp/Low Battery Indicator glows green while on, blinks when batteries are getting low.
Tripod Mount located on the bottom of the unit.
Made in the USA!
Inferno A Closer Look
The table below has item numbers and descriptions corresponding to the imagesdisplayed to the right. This is to help you become familiar with the Inferno andthe features.
| | |
| --- | --- |
| ITEM # | DESCRIPTION |
| 1 | Rugged injection molded ABS housing |
| 2 | Horn speaker |
| 3 | Power on/off slide switch |
| 4 | Speaker on/off slide switch |
| 5 | Auxiliary device jack |
| 6 | External speaker jack |
| 7 | Pilot lamp/low battery indicator |
| 8 | Tripod mount |
| 9 | USB port access door |
| 10 | Battery compartment |
TX915 Transmitter A Closer Look
The table below has item numbers and descriptions corresponding to the image displayed to the right. This is to help you become familiar with the TX915 and the features.
| | |
| --- | --- |
| ITEM # | DESCRIPTION |
| 1 | Power |
| 2 | Select |
| 3 | Volume up & down |
| 4 | Mute |
| 5 | P1 & P2 buttons (presets) |
| 6 | Lanyard loop |
| 7 | Auxiliary button |
| 8 | User button |
| 9 | Sound Up & Down |
| 10 | Back/Menu |
| 11 | Elapsted timer |
| 12 | Battery meter |
| 13 | Sound upload jack |
| 14 | Mute status indicator |
| 15 | Volume level indicator |
| 16 | FOXBANG Status Indicator |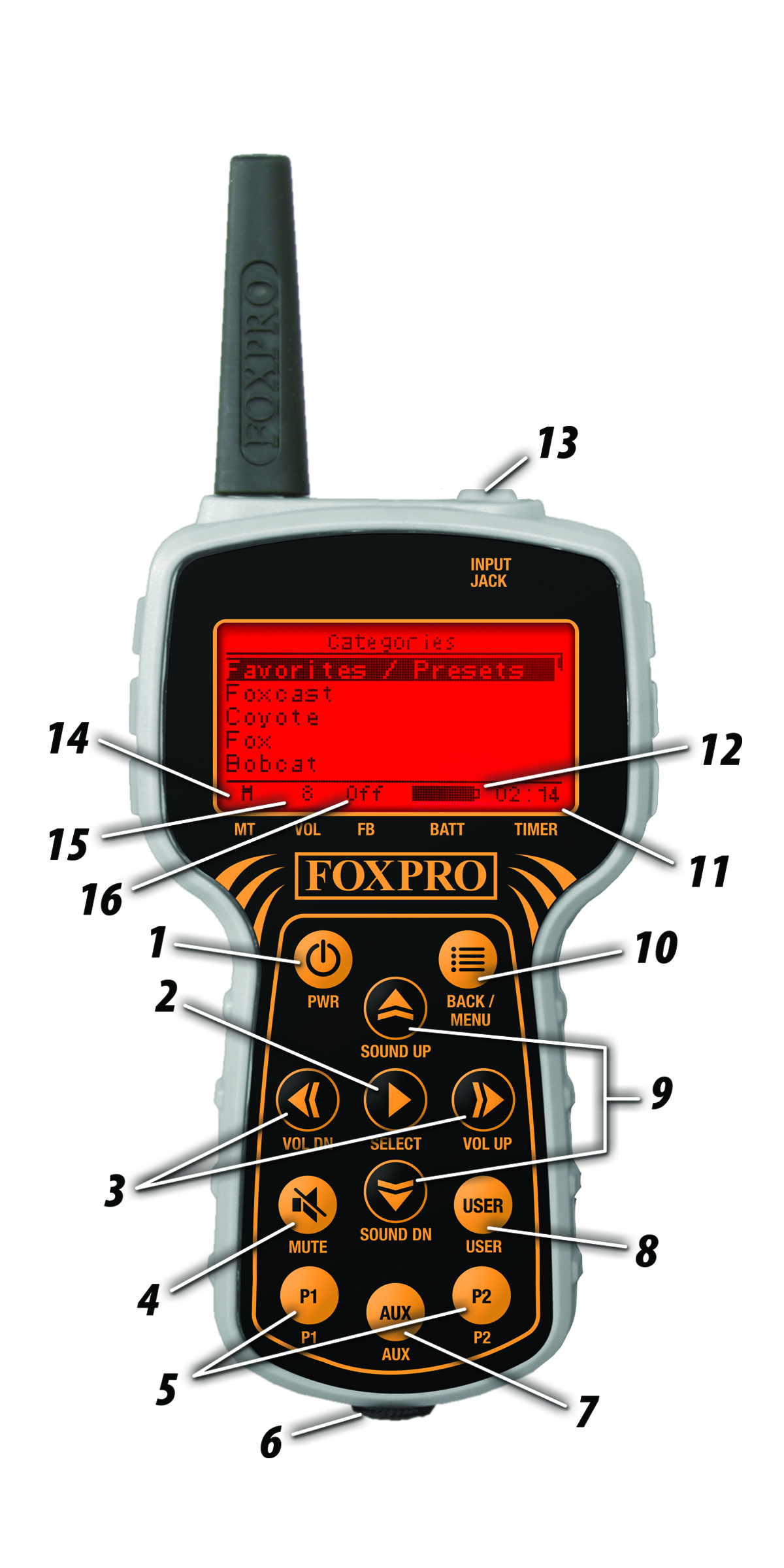 What's in the box?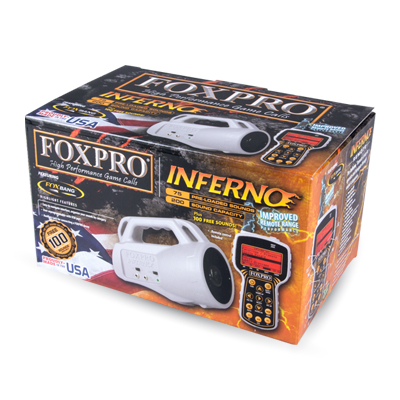 Inferno Digital Game Call
| | |
| --- | --- |
| Dimensions | 7.5" x 3.75" x 5" |
| Weight | 3.00 lbs. |
| Speakers | (1) Horn Speaker |
| Manual Operation | No |
| Play Modes | Single, Jukebox, Repeat |
| Charge Jack | No |
| External Speaker Jack(s) | (1) 3.5mm |
| Auxiliary Device Jack | (1) 3.5mm |
| User Reprogrammable | Yes |
| USB Port | USB 2.0 A/B |
| Sound Capacity | 200 (Comes with 75) |
| Internal Memory | 4GB |
| File Compatability | FXP, MP3, WAV |
| Power | 4AA Batteries |
| Run Time | 3-7 Hours1 |
| Warranty | 3 Year, Limited2 |
| Released | March 2015 |
TX915 Transmitter
| | |
| --- | --- |
| FOXBANG | Yes |
| FOXPITCH | No |
| FOXDATA | No |
| FOXMOTION | No |
| FOXCAST | No |
| FOXFUSION | No |
| FOXGRIP | No |
| Operating Distance | >200 yards3 |
| Dimensions | 8.5" x 3.5" x1" |
| Favorites/Presets | 10 |
| Sound List View | Categories, Single Sound List |
| Lanyard Loop | No |
| Illuminated Buttons | No |
| USB Port | No |
| Power | 3AA Batteries |
| Warranty | 3 Year, Limited2 |
1 Run times vary depending upon volume level, number of speakers being used (including external), temperature, and sound density. FOXPRO recommends the use of high-capacity rechargeable NiMH batteries for the best overall performance. Please note that alkaline cells are not recommended for use in temperatures below 32°F/0°C.
2 Limited warranty does not cover damage caused by misuse, abuse, exposure to water, battery damage including leaked batteries, and all other forms of physical damage.
3 Optimal range is had by ensuring clear line-of-sight between the game call and transmitter and elevating the game call off of the ground approximately 3 feet. Your results may vary.
WARNING: This product may contain lead, a chemical known to the State of California to cause cancer and birth defects or other reproductive harm.
Reccommended Accessories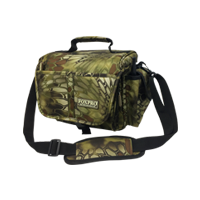 Mandrake Carrying Case
Protects your caller while in transit, keeping everything together and in its place. Includes a remote control side pouch to provide a safe and convenient place to store your remote transmitter.
$49.95USD
Fox Jack 5
Now you can turn your current FOXPRO digital game call into an all-inclusive and portable predator-calling machine. Simply replace your existing battery door with the FoxJack 5, connect the batteries and 3.
$64.95USD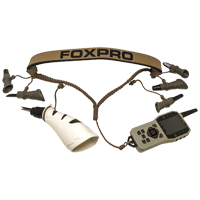 Lanyard
This premium lanyard is perfect for wearing around your neck and securing your transmitter, plus six hand calls in the field. Note: transmitter and hand calls not included.
$29.95USD
User Reviews
All submitted user reviews are displayed below. Scroll down to view all.
Inferno
(
2 stars)
Dwayne in Cutler, OH on Jan 09, 21
---
The buttons on the call have to be pushed hard to get it to work, been like that since I got it new, thought it would get better after some use , boy was I wrong, it's worse the more I've used it, sometimes it takes 10 minutes to get it to even get it working to call , once I get it working I leave it turned on the whole night just to keep from spending another 10 or so minutes trying to get it working again,
Inferno
(
5 stars)
Anonymous in Alberta, Canada on Jan 08, 21
---
Got this on Christmas day. Took it out for one stand and called in two coyotes to 25 yards with the pup in distress. Hope that success continues.
Inferno
(
5 stars)
Powerlounger in Texas, USA on Jan 07, 21
---
I recently took my Inferno caller out to the field, after downloading some MP3 format Axis calls I purchased from a 3rd party. The download went flawlessly by following the user manual directions. I was able to call in 6 Axis bucks. Very satisfied with the caller!!!!!
Inferno
(
5 stars)
Anonymous in Minnesota on Jan 02, 21
---
Great entry level caller. Comes with a great selection of sounds to start out with. Speaker has really good sound for its compact size. I had an issue with my remote right out of the box but Foxpro customer support sent me a new remote right away. They were great to work with.
Inferno
(
5 stars)
Bryce Seal in Oklahoma on Dec 25, 20
---
Excellent and easy to use
Inferno
(
5 stars)
Anonymous in Central PA on Oct 29, 20
---
Good call for the money...I wish it was a tad louder for calling coyotes but for the price it is good.
Inferno
(
5 stars)
Anonymous in Pennsylvania on Oct 23, 20
---
The Inferno is simple to use and light wt. I ordered direct and FoxPro loaded my requested sounds. It was a matter of inserting the batteries, orienting yourself to the handheld transmitter, and activate the FOXBANG. You should pay attention to the FoxPro instructions about the FOXBANG sensitivity. Even on the medium setting, I inadvertently activated the FOXBANG without a gunshot. The sounds were clear. The volume has 20 levels and I ran most sounds on the upper, 12-18, volume settings, but I was on a hardwood ridge. I realize the foliage, trees, slopes, hollows, and breeze will all be factored in the sound. Hunting open fields will be different and of course, some sounds are designed louder than others. Vol squeaks are not as loud as Coyote Pair, etc. It easily fits in my daypack and I would definitely recommend it.
Inferno
(
4 stars)
Joshua Isaac in West/South Texas. on Sep 29, 20
---
This is great caller. I primarily hunt in South Texas and have had great luck calling in fox and 2 mtn lions. Also have used it up in Ohio to call crows and ravens also with great success. I will only use Foxpro callers. The only complaint is the dim light on the handheld controller for the buttons as I almost always call at night. Otherwise extremely pleased with how many predators I've called in. Great product. Thanks
Inferno
(
5 stars)
John in Auburn , PA on Jul 23, 20
---
This call is awesome, but acquiring more than the 75 sounds is annoying and difficult. Couldn't get utility programmer to download. Other than that 100% recommend.
Inferno
(
5 stars)
James Bradley in Eastern shore of Maryland on Jul 19, 20
---
Great price and easy to use for beginners like me
Inferno
(
5 stars)
Emil Tsintsov in Bulgaria on Mar 08, 20
---
Inferno
(
4 stars)
Anonymous in Wv on Jan 09, 20
---
Great call. Love the sounds and the small size of the speaker. Could be a little louder but it will do the job
Inferno
(
5 stars)
Make guide in Western Maine on Jan 07, 20
---
So far so good. Good quality, great sounds at a good price. Maine is a hard state to call coyotes but this call has helped kill!
Inferno
(
5 stars)
chris R in Brookfield Mo on Jan 03, 20
---
best call I have ever owned and for a great price.
Inferno
(
5 stars)
Anonymous in Unknown Location on Dec 15, 19
---
No comments to share.
Inferno
(
4 stars)
Dave in North West Indiana on Dec 12, 19
---
Very good product would definitely recommend
Inferno
(
4 stars)
Anonymous in Unknown Location on Dec 02, 19
---
So far so good. Clear and crisp sound but I'd like a little more volume.
Inferno
(
4 stars)
Anonymous in Unknown Location on Nov 27, 19
---
Inferno
(
4 stars)
Anonymous in NEPA on Oct 30, 19
---
Perfect for what I'm using it for. I usually hunt with a friend who has a Shockwave, which is top notch, but I wanted a caller of my own for the nights that he can't go. The first night out with I called a coyote in to 75 yards and the second night pulled one in to 140 yards. No complaints whatsoever.
Inferno
(
5 stars)
Justin in Southeast, USA on Aug 16, 19
---
Finally was able to order an inferno and love it. The range is great, the sound is clear but still loud enough to reach out far and the sounds available are top of the line. Can't wait to try it out this season! Would highly recommend!
Inferno
(
5 stars)
Justin in Southeastern, USA on Aug 04, 19
---
Got my new FoxPro Inferno in a few days ago. Have not really tried for max range with it yet, but the sound clarity is great, sounds much better than the Deadbone I started with. The remote simple enough to use. Can't wait to try it out this fall and winter. Will post a review after the season to see how it holds up!
Inferno
(
5 stars)
Scott D in Texas on Jun 20, 19
---
Fantastic call. I was worried about the quality for the price but was definitely happily surprised! Works great on coyotes, fox, and even called in a few hogs.
Inferno
(
5 stars)
Anonymous in Texas on Mar 13, 19
---
This call is exactly what I needed. Plenty loud, clear sounds, and easy to use. Remote works great from 50yds away. Haven't had a reason to put it farther away.
Inferno
(
5 stars)
Anonymous in Unknown Location on Mar 07, 19
---
Inferno
(
5 stars)
Chris in Northeast Ohio on Feb 24, 19
---
Great call for the money. I would consider this an entry level with options of higher end calls. I bought factory direct in order to select my 100 calls. I really liked this option. Little on the quiet side for long range calling... but there is a speaker jack.
Inferno
(
5 stars)
Anonymous in Great Plains on Feb 18, 19
---
We have called in one coyote and a bunch of crows so far. It seems to work well. We probably have 6 hours on it and the first set of batteries are still going strong. It is small enough to put in a small plastic ammo case along with a tripod, the remote and a couple spare sets of batteries. It works well and seem like a good deal for $199.
Inferno
(
4 stars)
Emil in Pernik, Pernik. Bulgaria on Feb 13, 19
---
Inferno
(
3 stars)
AZhunter85 in Arizona on Aug 11, 18
---
Not the quality I would expect for the price, speaker clicks when you turn it on and power light blinks for the first minute of being turned on and the power button is so sensitive if I shake the caller it turns its self off. Not sure if I would buy another Fox pro product
Inferno
(
3 stars)
Austin Newsome in Omega Georgia on Feb 20, 2018
---
After buying the e-caller I've got to say I was a little disappointed in the calls that I chose and the prIce it would cost me to download new sounds. I have always heard great things about FoxPro but I had no idea it would cost me this much to add new sounds. I guess I'll survive
Inferno
(
4 stars)
Anonymous in Maryland on Feb 20, 2018
---
The caller is compact, lightweight and built well. Used the call for the first time coon hunting in 20 mph winds. Within a min of turning the call on I had a coon pop out of a den tree. I wish the caller was louder. Overall worth the money
Inferno
(
4 stars)
Ron Masquelier in Western Oklahoma on Feb 16, 2018
---
I have not had much of a chance to use the Inferno, but the one time I did use it I was able to call a 300 pound boar hog in. He came running like a fireman to a fire. was able to get him within 50 yards in the daylight. I mean from my pickup I the wide open space. So far so good. Thanks for the help with my hog problem.
Inferno
(
4 stars)
Anonymous in Unknown Location on Feb 11, 2018
---
Sometimes the speaker won't play any sounds. Have to turn it off and back on or take the batteries out of it when it does this. Only happened twice. Other than that it's a great call
Inferno
(
5 stars)
Austin goddard in North central Kansas on Feb 05, 2018
---
I've had this call a little over a month and to be honest. It's one of the easiest and most reliable call I have ever used. First 5 times out got 4 coyotes and one bobcat great for beginners or the experienced caller
Inferno
(
5 stars)
Giddy Flores in Texas on Jan 30, 2018
---
The Foxpro Inferno was my first predator electric call. I truly don't know how to explain the excitement it brings when I turn the caller on. It's really unbelievable how it attracts the animals. By far one of the best callers out there!
Inferno
(
5 stars)
Anonymous in Utah on Jan 28, 2018
---
This call is amazing. Took it out for the first time yesterday, called in 4 coyotes and killed 2 of them. All within a few hours. I would definitely recommend this call.
Inferno
(
5 stars)
Anonymous in Southwest, USA on Jan 27, 2018
---
Called in a bobcat in the daylight first time out of the box
Inferno
(
5 stars)
Anonymous in Missouri on Jan 24, 2018
---
I really like this call. Has awesome sound and easy to use. Also built in the USA!
Inferno
(
5 stars)
John Barresi in Catonsville Maryland on Jan 22, 2018
---
Everything works great . I purchased the rechargable batteries to use on the inferno but package says can not use on the inferno could you please clarify .
Inferno
(
4 stars)
A happy hunter in Europe/Africa on Jan 17, 2018
---
I've used the inferno on many hunts in Namibia ( mainly lion, Cheetah hyena and jackal) reason that I wanted a set at home in holland is to take the set on overland trip trough Botswana, zambia Zimbabwe and spice up the camp visits during our trip. sound volume could be louder, and some other african sound would be welcome, Elephant, Hippo, leopard,more of the spotted hyena,honey badger growling,and baboons. overall quality is good, made in USA (Like), done with Chinese s..t .
Inferno
(
5 stars)
Anonymous in Ohio on Sep 23, 2017
---
Got my second Foxpro caller first one lasted better then 8 yes and 2 teenage boys hands down best ecallers on the market my new inferno is absolutely everything I wanted and more .....can't say enough about the quality of Foxpro calls and it was shipped super fast
Inferno
(
5 stars)
Heath in Southeast on Jun 03, 2017
---
The first day out with my new Inferno I went to a 100-acre field and started calling. I called up two bobcats and shot a coyote that ran the bobcats off. The next day, I called up another coyote and killed it. It's given me great results so far! I won't ever use another brand besides FOXPRO.
Inferno
(
3 stars)
Anonymous in Australia on Mar 30, 2017
---
My order arrived quickly and correct. I have not had a chance to use the device yet. I did find selecting the correct decoy to go with the callers a bit tricky
Inferno
(
5 stars)
Daniel McCord in Southeast USA on Mar 28, 2017
---
No comments to share.
Inferno
(
5 stars)
Mike G in Nicholson, PA on Mar 19, 2017
---
Recently decided to try my hand at to Coyote hunting, I purchased the Banshee caller from FoxPro. It works great and is easy to use. You will need to practice with it before hunting at night to learn the location of all the buttons, but that only takes a minute. I have not bagged a coyote but I have called some in. The sound is great and its very easy to use. I'm happy with my purchase and can't wait to get back out.
Inferno
(
4 stars)
Anonymous in Texas coast. on Mar 17, 2017
---
I have only owned this unit a few weeks. Previously I have owned e-calls going back to 4-track cartridges. During the period I have owned this unit, I mostly worked on presets, understanding the various calls and learning the controls. I have called in a couple of crows. At this time, I would say the electronics are superior to the explanations and manual. This company could make their products more attractive and aid customer success with improved written material.
Inferno
(
4 stars)
Keith in Northwest Wisconsin on Mar 13, 2017
---
Sounds are very realistic and have called in many coyotes in Northwest Wisconsin, not the most ideal terrain as far as open visuals! The only thing that isn't perfect the the remote range. I need to be within 80 yards of the call if there isn't a direct line of sight. Great unit and I enjoy it, just need to put the time in to see how far away you can sit!
Inferno
(
5 stars)
George Williams in Eastern,NC on Mar 12, 2017
---
Purchased the inferno after researching predator calls online and the foxpro units had the best features in price ranges. The sounds were clear and realistic. Chose the inferno since I only have timber and heavy cover to hunt in. Unit is light and fits in the large pockets of my jack and only takes a few batteries to operate. The unit preformed as I expected for the price range the volume is plenty loud for my location and the custom programming was a big plus in my decision. I have used it at 250yds in timber with no problems. At least 10 hrs on unit with no battery change. A huge upgrade from corded JS unit and cost the same. Very pleased with the inferno. If I need another upgrade it will be a foxpro. Thanks
Inferno
(
5 stars)
Aaron Blake in Ohio on Mar 12, 2017
---
This is the one of the best calls I've ever had. I left it in a rain storm for three days as I forgot to grab on accident and only thing that had was the batteries died. It got filled with water and it drained out and there was absolutely nothing wrong. Used it last night and shot two at about 15 yards!
Inferno
(
5 stars)
JHedrick in Virginia on Feb 07, 2017
---
The caller works great remote is awesome grate sound quality its just great all the way around package
Inferno
(
5 stars)
Dillon Randolph in Gaffney S.C on Feb 01, 2017
---
Love the inferno caller! Compact and easy to use. If you are looking for a great call look no further the FOXPRO brand is all you need to know !!
Inferno
(
5 stars)
John Birdwell in Eastern Tennessee on Jan 26, 2017
---
I recently purchased the foxpro inferno and love the call. The sound clarity is awesome, sounds are great. Speaker could be some what louder but all around an awesome call. Thanks foxpro we are killing them yotes
Inferno
(
5 stars)
Anonymous in Unknown Location on Jan 22, 2017
---
Great product. Loud speaker with great sound quality. Also easy to add or delete sounds.
Inferno
(
5 stars)
Anonymous in eastern USA on Jan 11, 2017
---
Very good customer service! I bought the FoxPro Inferno for my husband for Christmas. He loves it!
Inferno
(
4 stars)
Brad Krauss in Northeast, USA on Jan 04, 2017
---
The call is a nice unit, just wish it was louder is all.
Inferno
(
5 stars)
Trent in South East Kansas on Jan 03, 2017
---
Bought the inferno, took it out first day to a stand an called in a triple, couldn't believe the quality and realness of the sounds. Very pleased with the new remote as well, so easy to use.
Inferno
(
3 stars)
Casey steiger in Waupaca,Wisconsin on Dec 18, 2016
---
Speaker keeps making a clicking sounds won't make any other sounds ... don't it
Inferno
(
3 stars)
Anonymous in Topeka, Kansas on Dec 18, 2016
---
Isn't very loud and goes through batteries very fast. Also doesn't do good in snow. I began my setup and not 10 minutes into my hunt the foxpro quits working. I cleared off the snow and turned it off then on and it worked again but only for another 10 minutes. I also had to have it at full blast for me to faintly hear it only 20 yards away. I want to buy another speaker but if do that then the total money spent on this call will be almost equal to the banshee. I will continue to use it and leave more reviews
Inferno
(
1 stars)
Kyle in Wisconsin on Dec 05, 2016
---
Garbage. Didnt even work for more than 1 minute before the speaker stopped working and makes clicking noise every time i push a button. No sound at all besides clicking. First time buying a fox pro and now the last
Inferno
(
5 stars)
Elliott in Southeast, USA on Nov 28, 2016
---
Product worked very well for a first time user of electronic calls. It called in two coyotes the first evening as I was testing it; they actually ran into the yard much our surprise. The next day it called in a large flock of crows within ten minutes. Not bad - for a novice. It is easy to use, and it is loud enough. However, western open spaces might benefit from more volume.
Inferno
(
5 stars)
carmen marranca in luzerne county pa on Nov 16, 2016
---
only thing i would change would be for the volume and other buttons to be lit up.hard to see at night.this is a huge upgrade from my old equipment
Inferno
(
5 stars)
Matthew Wyatt in Central, Oklahoma on Oct 10, 2016
---
I am absolutely pleased with the FOXPRO Inferno that my wife bought me for my birthday. I hunted crows with my Dad and family when I was a kid and always wanted to get back into it. Now there are no excuses! It come with 6 of the crow sounds already on it and I loaded 6 more. This thing is worth your money! Now if I was only as good a shot as my call is at calling...........
Inferno
(
5 stars)
Ronnie Vail in Ruston LA on May 18, 2016
---
After retiring in January 2016, I wanted to return to some of the outdoor activities that I have always loved. Living just 10 miles from a 25,000 acre wildlife mgmt. area, I knew there was plenty of action to be had just out my backdoor. So I purchased a new rifle for predators, a game camera, a rangefinder, and the Inferno game call. The first time I used my Inferno, using the "coyote locator" call, I had 2 different packs of coyotes respond on either side of me, east and west ...I was surrounded by coyotes! The one that came in closest was about 70 yards from me. It was dusk dark, so I did not take a shot. The Inferno is an awesome game call!!! It certainly has my recommendation!
Inferno
(
5 stars)
William Penrod in Central Valley, UTAH on Feb 02, 2016
---
Tough, easy to use and effective! And if that wasn't enough, it's made here in the USA and backed with customer service! I called their customer service before buying, got a live person that spoke English and even answered my questions. As they say, "It don't git no better than that".
Inferno
(
5 stars)
Terry F in NW Illinois on Jan 16, 2016
---
Initial use of my new inferno is all positive.. I was surprised at it's smaller than expected size. I was concerned if it has enough volume. For me, it does just fine. It's very lightweight and easy to carry along with everything else I drag along. It's easy to reprogram from the website too. It suits my hunting needs exactly. Thanks!
Inferno
(
5 stars)
Randy in BC on Jan 12, 2016
---
Sold my ICOtec GC300 because I didn't like the pop or clicking noise when starting or stopping sounds. The Inferno not only sounds MUCH better it has 75 sounds. I am very happy with Inferno. In my mind this is the best bang for the buck caller out there. Great volume, Great sounds and an excellent remote all in a small light package. Foxpro is the gold standard in the electronic caller business. I would still buy a Foxpro Inferno Vs an ICOtec even at twice the price. No comparison on sound quality.
Inferno
(
3 stars)
Jeff in Poolville, Tx on Dec 24, 2015
---
Its a good call as you would expect from Foxpro but for 200 bucks you should be able to recharge your batts in the call. Goes through batt juice FAST.
Inferno
(
5 stars)
Robert in Kentucky on Dec 04, 2015
---
Call in 3 coyote and 1 Fox first time out. Very easy to use.
Inferno
(
5 stars)
Anonymous in Nebraska on Nov 14, 2015
---
Ordered an inferno from fntpost, received it 3 days later. picked the calls that came on the call. Only used it twice, first time called 4 coons out of trees, and second use didn't call in a coyote but had a bunch of them howling back. The remote is absolutely amazing. A HUGE advantage over the wildfire and the range is amazing too. Also it comes with 75 calls not 35 so spend the extra and get an inferno. Insanely cheap for how much you get with this call
Inferno
(
5 stars)
Steve in O Fallon, IL on Nov 12, 2015
---
Screamin' baby rabbit brought in two chicken killers. Although coming in downwind, they locked up on the caller. One down, one got away. Excellent piece of gear.
Inferno
(
5 stars)
Doug Fellman in Central Montana on Nov 05, 2015
---
Sold my fx3 to purchase the Inferno! Remote works great with excellent range. Great sound selections also. Highly recommend!!
Inferno
(
5 stars)
Scott in Tucson Arizona on Oct 18, 2015
---
Bought this call yesterday, took it out tonight. 18min on PUBLIC LAND, called in a yote that actually knocked the call of the rock it was sitting on. FANTASTIC sound quality. Great remote range, great product.
Inferno
(
5 stars)
George in East Texas on Aug 21, 2015
---
Never used an electronic call in my life but old age, bad lungs, and a couple of gift cards convinced me to buy this one. Knew nothing about it before I bought it. Took it to the local gravel pit to do a range check on the remote device and within 5 minutes called in a coyote in a spot I never dreamed a coyote would be. Next day I took it to a rather large freshly mowed hay field and had 4 in view at one time. This thing does work as advertised and is pretty easy to use. I figured it out in about 2 minutes. It is lightweight, very portable, and does exactly what it says it will do. I have not tried to load any new sounds on it as I am a boob when it comes to computers and that will wait for the 9 year old grandson to come over so no comment on the ease of doing that.
Successfully added to cart!