Please allow 5-7 business days before this item will ship.
The FOXPRO X2S is a powerful and compact unit that features a positional Xtreme High Definition (XHD) speaker. The XHD speaker is a horn speaker with an added tweeter for improved frequency response. The XHD speaker system allows for extreme volume capabilities and realistic sound clarity. The X2S handle folds out into a positional stand to provide elevation over various terrains that you might encounter. The FOXPRO X2S also features Bluetooth® compatibility, so the user can connect wirelessly via their Bluetooth® device and play animal sounds from their own library or even play music during a camp setting or recreational activity. There is 1 external speaker jack if you desire even more volume, an auxiliary jack to connect an approved device such as a Jack Predator Decoy, and a charge jack. The X2S comes with 100 high-quality FOXPRO sounds and over 100 sounds from FOXPRO's Free Sound Library, with the ability to store and access up to 1000 sounds. The X2S comes complete with a lithium battery and charger kit in the box!

The TX-1000 features a full color graphic LCD screen, which displays your sound list or sound categories. It also has a barometer indicator, moon phase indicator, temperature indicator, battery level indicator, timer or time clock, FOXBANG technology and much more. FOXMotion allows you to fade the sound from the left speakers to the right speakers to help "sell" the reality of your call sounds. FOXFusion allows you to mix and match any two sounds at the same time during your calling sequence. FOXCast allows you to play a pre-set custom sequence to include your favorite sounds, volume levels, and even pauses. FOXPitch allows you to manipulate the "pitch" of the sound in an effort to trigger a response. FOXData allows you to record real time information from each and every stand so you can access the data for future reference. The X2S is backed by a 5 year limited warranty and FOXPRO's unmatched customer support and is proudly made in the USA.


Feature Highlights
Bluetooth® compatible.
FOXBANG Automatically maps your caller to a predetermined setting after discharging your firearm. (See instruction manual for FOXBANG options.)
FOXMOTION Mimic moving prey by fading sound from left speaker to right one.
FOXFUSION Mix and match any two sounds of your choice.
FOXPITCH Lets you manipulate the "pitch" of any sound in an effort to trigger a response.
FOXDATA Activate FOXDATA and it records real time information (temp, barometer, moon phase, stand duration, shot time) from each stand. Over time you will be able to predict animal activity/hunting success based on hard data.
FOXCAST Virtually hands-free calling with FOXCAST sequence files.
AUTO VOLUME Automatically ramps up and modulates your volume.
What's in the box?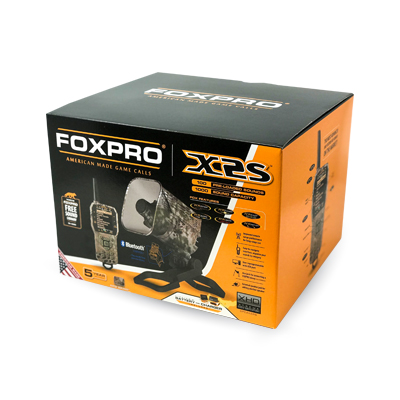 X2S Digital Game Call
Dimensions
8.25" x 11.5" x 10.5"
Weight
5.00 lbs.
Speakers
(1) Horn speaker
(1) Tweeter
Manual Operation
No
Play Modes
Single, Jukebox, Repeat
Charge Jack
Yes
External Speaker Jack(s)
(1) 3.5mm
Auxiliary Device Jack
(1) 3.5mm
User Reprogrammable
Yes
USB Port
USB 2.0 A/B
Sound Capacity
1,000 (Comes with 100, plus over 100 additional sounds from FOXPRO's Free Sound Library)
Internal Memory
16GB
File Compatability
MP3, WAV, FXP, and 24B (16B playback)
Power
(lithium kit included)
Run Time
3-7 hours1
Warranty
5 Years, Limited2
Released
September 2019
TX1000 Transmitter
| | |
| --- | --- |
| FOXBANG | Yes |
| FOXPITCH | Yes |
| FOXDATA | Yes |
| FOXMOTION | Yes |
| FOXCAST | Yes |
| FOXFUSION | Yes |
| FOXGRIP | Yes |
| Operating Distance | >100 yards3 |
| Dimensions | 3.18" x 1.17" x 8.78" |
| Favorites/Presets | 50 |
| Sound List View | Categories, Single List |
| Lanyard Loop | Yes |
| Illuminated Buttons | Yes |
| USB Port | mini-USB |
| Power | 3AA Batteries |
| Warranty | 5 Years, Limited2 |
1 Run times vary depending upon volume level, number of speakers being used (including external), temperature, and sound density. FOXPRO recommends the use of a high-capacity rechargeable lithium battery pack (included with this item) for the best overall performance. Please note that alkaline cells are not recommended for use in temperatures below 32°F/0°C.
2 Limited warranty does not cover damage caused by misuse, abuse, exposure to water, battery damage including leaked batteries, and all other forms of physical damage.
3 Optimal range is had by ensuring clear line-of-sight between the game call and transmitter and elevating the game call off of the ground approximately 3 feet. Your results may vary.
WARNING: This product may contain lead, a chemical known to the State of California to cause cancer and birth defects or other reproductive harm.
No videos available at this time
User Reviews
All submitted user reviews are displayed below. Scroll down to view all.
X2S
(
5 stars)
Colby Lankford - CCS Outdoor in Oregon on Jan 14, 21
---
Everything you'd expect from Foxpro, but the new HD speaker is a game changer. Foxfusion has never sounded better!!! Only thing that can make the call any better would be a Foxjack attachment. Knowing Foxpro I'm sure that will be coming soon.
X2S
(
5 stars)
Leyander T Chee in Shiprock NM 87420 on Jan 08, 21
---
awesome.. 5 star. I already called in double on Sunday morning. 2 dog's down. Just need to purchase mandrake bag.
X2S
(
5 stars)
Robert B. in Wisconsin on Dec 23, 20
---
Wonderful power packed unit. The X2S has way more calls than I'll ever need, but the good thing is they are removable or I can download whatever I need for free from their website. If your thinking about getting a coyote, deer, turkey or whatever your game animal may be this it the call for you.
X2S
(
5 stars)
Alex Neitling in Villa Park, IL on Dec 12, 20
---
Easily the best caller I've owned. No need for an external speaker, this is the do-it-all Caller. The built in stand makes eliminates the headache of trying to find a good spot off the ground...set it up anywhere! The X2S guarantees a response every time out. Love this product!
X2S
(
5 stars)
Alexander in Villa Park, IL on Dec 12, 20
---
This caller is the best I've owned. You're almost guaranteed a response every outing. You can hear sounds echo for miles. Very durable and charge lasts quite some time.
X2S
(
5 stars)
Chris sorensen in Cygnet Ohio on Dec 03, 20
---
Your Service call In guys all I remember is the name started with a T is great very knowledgeable friendly and helpful
X2S
(
5 stars)
Darin fry in Indiana - IN on Nov 28, 20
---
Has worked very well so far. Killed 2 coyotes and called in several others since receiving my x2s. Sound is clear and many useful features
X2S
(
5 stars)
Jay in Wisconsin on Nov 15, 20
---
Absolutely love this unit. I switched and can not be more happy with my decision. Just buy one and you will see.
X2S
(
4 stars)
Anonymous in Alabama on Oct 30, 20
---
So far so good. Customer service A+++
X2S
(
5 stars)
Dave Franks in Southern New Mexico on Oct 26, 20
---
Outstanding Call....Easy to use and the quality of the sounds is unmatched. Called two days last week in the wind and heat. Called in five and shot five...it works!
X2S
(
5 stars)
Steve in CA on Oct 11, 20
---
Compact unit with great sound. TX1000 remote great to use, great range, nice extra features. (Fox Bang, Fox Fusion, Fox Cast, etc.)
X2S
(
5 stars)
Jason. T in Northeast, USA on Oct 11, 20
---
FOXPRO X2S is amazing very well made and they stand behind there products. This is why I continue to do my business with FOXPRO!!!!!
X2S
(
5 stars)
Chip Van Buskirk in Las Vegas on Aug 31, 20
---
I bought this last spring. Waited till now to write review. I called in several with and enjoying the success. Speaker is very loud, gets the volume out there for coyotes to hear. Called one today from a half mile away.
X2S
(
5 stars)
R.G. in Wild West Utah! on Aug 20, 20
---
Over the past 14 years I have been lucky enough to hunt over many calls but nothing as incredible as the X2S! The XHD speaker is the most realistic and pure sounding speaker. Rodents, coyote vocals, and especially the bird sounds are so clear that you will second guess if its the call or the real deal. Last the remote range is awesome and nothing beats the features of the TX1000. The folks in Lewiston PA have done it again!!
X2S
(
5 stars)
Vince in Utah on Aug 18, 20
---
I bought this to replace a Hellfire I have had since 2014. The volume is louder than my hellfire and it its a lot more clear. Not sure if that is thanks to the speaker or 24b but either way its a lot better than the hellfire and I loved that call. Thanks!
X2S
(
5 stars)
Alex Neitling Anonymous in Illinois/ Michigan on Aug 09, 20
---
Hands down, THE BEST caller I've ever owned. First howl out of the X2S resulted in some outstanding responses. This thing continues to impress me with how it brings them in and triggers responses.
X2S
(
5 stars)
Jon in Carterville, IL on Aug 04, 20
---
If you liked the CS-24c you'll love the X2S. The same portability as the CS-24, but with a juiced up speaker and added clarity. My favorite part about this call is FoxFusion, you can now play two sounds at once! This is no doubt my go to call now, you won't be disappointed. Check out the video Mike Dillon's son put together that toured the FoxPro factory, this thing is as built in the USA as you can get! I feel confident that I will be able to replace ANY part on this call if it should fail.
X2S
(
5 stars)
BD3 in AZ on Jul 14, 20
---
Nice, well thought out features on this new X2S call .
X2S
(
5 stars)
Anonymous in Unknown Location on Jul 08, 20
---
This is the best call that has ever been made! Loud, compact, all the foxfeatures and uses the tx1000 remote.
X2S
(
5 stars)
Scott S. Field Staff in Wyoming on Jun 12, 20
---
Incredible sound quality, easy to charge, transport and use. This call has great volume and retains the great sound quality ! It's truly a game changer !! The addition of the tweeter makes this call great for the high tones and the HD speaker makes the vocals and low tones really care. two thumbs up from me !
X2S
(
4 stars)
Ryan in Indiana on Mar 18, 20
---
Love the call and it sounds great ! But I do have trouble with the caller and the remote connecting. Usually have to flip the caller on and off a few times to get it to work.
X2S
(
5 stars)
Kyle in VA on Mar 15, 20
---
I've been using the x2s for a couple months and the volume and clarity is unmatched. If your looking for a louder cs24c with the option to play two sounds this is the call for you!
X2S
(
5 stars)
Rick A in Holland, MI on Feb 29, 20
---
Was quite Happy when it was delivered, Great packing! No shipping damage at all. Really nice to open and look at. Charged battery and started learning how to operate. More to this than my Inferno unite. At this point I am sure that I purchased the correct unite. With two callers I am ready for the weather as it comes with my hunting travels.
X2S
(
5 stars)
Anonymous in Central USA on Feb 24, 20
---
This product is exactly what I was hoping it would be. It is LOUD, Foxbang works great, I can move recordings of my own sounds directly into the call folder, and the battery lasts all day.
X2S
(
5 stars)
Anonymous in Minnesota on Feb 13, 20
---
great call loud and clear. like the handles on it make it easy to get off the ground and in any direction that you need it. like the light weight and easy ability to carry it in and out of stands.
X2S
(
5 stars)
Joe in Minnesota on Feb 11, 20
---
Overall I love my new X2S! Very clear, great remote reach, great battery life. Iv hunted with it now for about a month and have no regrets. Loaded some TT sounds and was even more impressed on clarity! I have used in in temps near and below 0 with no issue. I have not used the bluetooth yet though. Other than that this call does everything i need it to!
X2S
(
5 stars)
Scott S. in Wyoming on Feb 06, 20
---
Incredible sound, easy to use, great volume, easy to add sounds, loaded with great features !! Highly recommend it !!
Successfully added to cart!