Please allow 3-5 business days before this item will ship.
The FOXPRO XWAVE features 2 positional Xtreme High Definition (XHD) speakers. Both XHD speakers are a horn speaker with an added tweeter for improved frequency response. The XHD speaker system allows for extreme volume capabilities and realistic sound clarity. The FOXPRO XWAVE also features Bluetooth compatibility, so the user can connect wirelessly via their Bluetooth® device and play animal sounds from their own library or even play music during a camp setting or recreational activity. There are 2 external speaker jacks if you desire even more volume, an auxiliary jack to connect an approved device such as a Jack Predator Decoy, and a charge jack. The XWAVE comes with 100 high-quality FOXPRO sounds and over 100 sounds from FOXPRO's Free Sound Library, with the ability to store and access up to 1000 sounds. You can operate the XWAVE manually or with the TX-1000 remote control. The XWAVE comes complete with a lithium battery and charger kit in the box!
The TX-1000 features a full color graphic LCD screen, which displays your sound list or sound categories. It also has a barometer indicator, moon phase indicator, temperature indicator, battery level indicator, timer or time clock, FOXBANG technology and much more. FOXMotion allows you to fade the sound from the left speakers to the right speakers to help "sell" the reality of your call sounds. FOXFusion allows you to mix and match any two sounds at the same time during your calling sequence. FOXCast allows you to play a pre-set custom sequence to include your favorite sounds, volume levels, and even pauses. FOXPitch allows you to manipulate the "pitch" of the sound in an effort to trigger a response. FOXData allows you to record real time information from each and every stand so you can access the data for future reference. The XWAVE is backed by a 5 year limited warranty and FOXPRO's unmatched customer support and is proudly made in the USA.
Feature Highlights
Bluetooth® compatible.
FOXBANG Automatically maps your caller to a predetermined setting after discharging your firearm. (See instruction manual for FOXBANG options.)
FOXMOTION Mimic moving prey by fading sound from left speaker to right one.
FOXFUSION Mix and match any two sounds of your choice.
FOXPITCH Lets you manipulate the "pitch" of any sound in an effort to trigger a response.
FOXDATA Activate FOXDATA and it records real time information (temp, barometer, moon phase, stand duration, shot time) from each stand. Over time you will be able to predict animal activity/hunting success based on hard data.
FOXCAST Virtually hands-free calling with FOXCAST sequence files.
AUTO VOLUME Automatically ramps up and modulates your volume.
What's in the box?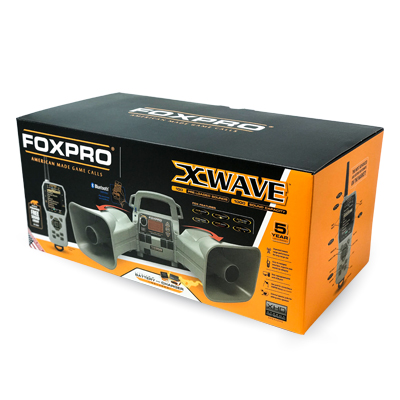 XWAVE Digital Game Call
Dimensions
8" x 18.5" x 9.5"
Weight
5 lbs.
Speakers
(2) Horn speakers
(2) Tweeters
Manual Operation
Yes
Play Modes
Single, Jukebox, Repeat
Charge Jack
Yes
External Speaker Jack(s)
(2) 3.5mm
Auxiliary Device Jack
(1) 3.5mm
User Reprogrammable
Yes
USB Port
mini-USB
Sound Capacity
1,000 (Comes with 100, plus over 100 additional sounds from FOXPRO's Free Sound Library)
Internal Memory
16GB
File Compatability
MP3, WAV, FXP, and 24B (16B playback)
Power
(lithium kit included)
Run Time
3-7 hours1
Warranty
5 Years, Limited2
Released
September 2019
TX1000 Transmitter
| | |
| --- | --- |
| FOXBANG | Yes |
| FOXPITCH | Yes |
| FOXDATA | Yes |
| FOXMOTION | Yes |
| FOXCAST | Yes |
| FOXFUSION | Yes |
| FOXGRIP | Yes |
| Operating Distance | >100 yards3 |
| Dimensions | 3.18" x 1.17" x 8.78" |
| Favorites/Presets | 50 |
| Sound List View | Categories, Single List |
| Lanyard Loop | Yes |
| Illuminated Buttons | Yes |
| USB Port | mini-USB |
| Power | 3AA Batteries |
| Warranty | 5 Years, Limited2 |
1 Run times vary depending upon volume level, number of speakers being used (including external), temperature, and sound density. FOXPRO recommends the use of a high-capacity rechargeable lithium battery pack (included with this item) for the best overall performance. Please note that alkaline cells are not recommended for use in temperatures below 32°F/0°C.
2 Limited warranty does not cover damage caused by misuse, abuse, exposure to water, battery damage including leaked batteries, and all other forms of physical damage.
3 Optimal range is had by ensuring clear line-of-sight between the game call and transmitter and elevating the game call off of the ground approximately 3 feet. Your results may vary.
WARNING: This product may contain lead, a chemical known to the State of California to cause cancer and birth defects or other reproductive harm.
Reccommended Accessories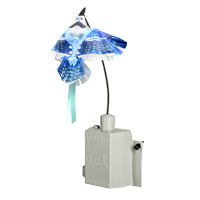 Fox Jack 3
FOXPRO is proud to present the FoxJack 3 electronic decoy. Turn your current FOXPRO Shockwave or XWave digital game call into an all-inclusive and portable predator calling machine.
$64.95USD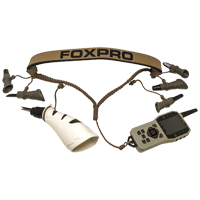 Lanyard
This premium lanyard is perfect for wearing around your neck and securing your transmitter, plus six hand calls in the field. Note: transmitter and hand calls not included.
$29.95USD
User Reviews
All submitted user reviews are displayed below. Scroll down to view all.
XWAVE
(
5 stars)
Cliff M in Pa on Aug 27, 20
---
I got to use this call this Spring soon after it was released. The added volume is awesome, and the sounds are crystal clear and loud. Looking forward to trying it more this Fall.
XWAVE
(
5 stars)
Anonymous in Unknown Location on Aug 10, 20
---
XWAVE
(
5 stars)
Corey in Houston, MO on Aug 05, 20
---
I have been using the Xwave and new sounds from Foxpro for the past several months. I can definitely tell a difference in my upgrade to the XHD speakers and the new mix of sounds. The sound cuts the wind far better then any other unit I have used before. A great reliable product with a great warranty. Foxpro also added a battery and charger.
XWAVE
(
5 stars)
Jon in Carterville, IL on Aug 04, 20
---
If you liked the Shockwave this thing is it's big brother on "roids". The caller's profile is a little bigger than the Shockwave but it is well worth the added volume and clarity. If the wind is howling, or it's pouring down rain, this is the call I take to the field. If you're looking for something lighter and more compact check out the X2S, it has all the same FOX features and TX-1000 remote. In my opinion the X-Wave and X2S are the best two calls on the market.
XWAVE
(
5 stars)
Erik Hammond in Huntington Vermont on Aug 04, 20
---
The X Wave is a power house! Has all the volume power u will need and the clarity is crystal! Great call would highly recommend it
XWAVE
(
5 stars)
Shawn Martin in NY on Jul 05, 20
---
Extremely loud! Definitely going to be a grey fox killer with the volume! So far so good! Can't wait to put it to work! I won't ever buy another type of predator caller! #Foxpro4Life!
XWAVE
(
5 stars)
John C in Parker, Co. on Jun 22, 20
---
Fantastic caller, super loud, tons of options to trick up ole Wiley. Very easy to program and great new sounds available
XWAVE
(
5 stars)
Stewart in AZ on Jun 20, 20
---
I am really impressed with the volume range and clarity on this call. It is like having 2 of my CS24B calls combined with a better remote. Only thing I would change is not having the USB port near ground.
XWAVE
(
5 stars)
Brent in Lives outside Lancaster hearts in lycoming on Jun 17, 20
---
absolutely love the new xwave with the volume levels and sound quality are awesome also the Bluetooth feature is a very neat idea and I am working on making my own sounds and other things for use on the xwave. Great customer service as always and very fast shipping very pleased with products purchased
XWAVE
(
5 stars)
Jim in Saxton pa on Jun 02, 20
---
As usual foxpro has set the bar again with this unit. This call gives you the extra volume you need on the windy days/nights to keep you in the game. The Bluetooth feature is also a very welcomed addition for me.
XWAVE
(
5 stars)
John J Smith in PA and NJ on Apr 11, 20
---
My first electronic caller. High quality, easy to use. Out three times so far, killed one coyote so far. Only complaint is the batteries fit too loosely in the remote and easily slip out of place during use so that the device doesn't function till opened and batteries adjusted. A pain when calling.
XWAVE
(
5 stars)
Scott Wittwer in California on Mar 15, 20
---
This is the 2nd call I have bought from fox pro the call work GREAT I would recommend this product to anyone looking to up there game in predator hunting.
XWAVE
(
5 stars)
Billy Tucker in Veribest TX on Mar 05, 20
---
luv it great sound my son has killed many fox and cats already with it
XWAVE
(
3 stars)
Doug in Georgia on Feb 29, 20
---
I'm a huge fan of foxpro, I have 3 units in my call rotation. However, for the price tag of the XWAVE, I was expecting more. The dual speakers are nice but over sized. Is an improvement over the shockwave... yes but only slightly. Would I suggest anyone fork over $700 that already owns a shockwave.... absolutely not. No real changes to the TX1000 remote that's been out forever, namely range. This call has great clarity and range. The directional speakers give it an advantage over competitors. I do like the bluetooth feature. The new software is an improvement but could be much easier.
XWAVE
(
5 stars)
Paul M.Maas in Va on Feb 26, 20
---
Best call for your money!!! Sound quality is great!!! Has preformed flawless!!!
XWAVE
(
4 stars)
Clint in Crescent Lake Oregon on Feb 25, 20
---
great caller, have set up twice called in 3 woodpeckers, 2ravens and 1 coyote. I bought the x wave with the jr jack decoy. Disappointed that it didn't come with cord to attach decoy to caller. For the money spent the cord should've been included.
XWAVE
(
5 stars)
R. G. in Utah USA on Feb 21, 20
---
The Xwave is very impressive so far that I have seen. The clarity the XHD speakers put out even on high volume are by far the best sounding that I have heard. Looking forward to the next trip out with my Xwave. Thanks Foxpro for building a high quality call!
XWAVE
(
5 stars)
Ryan U in South Dakota on Feb 20, 20
---
Excellent caller with crisper/clearer sounds and big improvements over the previous model! Hopefully there is a new carrying bag released soon that will accommodate the larger caller.
XWAVE
(
5 stars)
Ross Shores in Arizona on Feb 18, 20
---
I have been a die hard fan of FOXPRO for over 10 years and the XWAVE does not disappoint. Sound volume falls somewhere between the Shockwave and Krakatoa. Love the size vs volume you get out of the unit. Now I can just bring one call with me regardless of the wind. Also the lithium batteries so far have lasted two calling days without recharge. Awesome!
XWAVE
(
4 stars)
Sweetness in Wisco on Feb 17, 20
---
Happy the battery came with it, can charge it thru the device. Still distorts at high volume and I've had issues with it making wierd chirping noises requiring me to restart the sound. My 3rd foxpro and 2 of 3 had some sort of issue. Frustrating when you pay $700 dollars for something and it doesnt have bose sound quality.
XWAVE
(
5 stars)
Anonymous in Unknown Location on Feb 11, 20
---
I have owned and used (MULTIPLE) foxpro calls for 10plus years and the xwave is outstanding! The clarity is excellent and sound projection/decibel is a huge upgrade over my previous caller(shockwave). The bluetooth is something I have played around with alittle bit and can see the pros and cons about it, mostly towards a radio because it's lacking base. Overall the battery that comes with it is fantastic and the unit itself is topnotch quality that I expect from foxpro!
XWAVE
(
5 stars)
Allen B in Texas on Feb 11, 20
---
Looking at cost vs options, worth every penny. Durable, great construction, forward instructions and call programming. Really impressed with fox pitch, foxmotion they renew older sounds that predators may have become deftone too. The capability to move sounds and volume between speakers and the ability to play just one or more speakers is great. Also, being able to set foxbang at the appropriate level for your caliber is great....Since I hunt alone I really like the "caution/warning" sound clip you can play if for some reason you become unable to move. Has data entry and moon phase capabilities. I haven't gotten into data entry yet. Battery options are great, you can use just about any type of battery in accordance with manual specs. Overall extremely impressed. Thanks foxpro
Successfully added to cart!