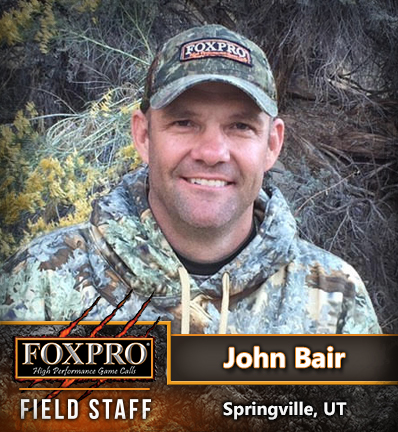 Location
Springville, UT USA
Favorite FOXPRO Sound
Coyote Pup Distress 3
Favorite FOXPRO Unit
CS24C
Weapon of Choice
22-250 or AR suppressed
Favorite Species to Hunt
Coyote
Favorite Location
Sagebrush flats, big brush pastures
Facebook
https://www.facebook.com/john.g.bair
Instagram
Not provided
YouTube
Not provided
Biography
John enjoys hunting deer, elk, sheep, and virtually all big game. Hunting predators, however, has always been his passion.
Now a married father of three, John enjoys taking family and friend's coyote calling, and loves to introduce new people to the great sport of predator hunting.
Because of his passion for the outdoors, John has become very involved in wildlife management and has served in various capacities for over fifteen years. He served on the Utah Central Region Advisory Council for eight years, the Utah Black Bear management committee, the Utah Elk Management Committee, and the Utah CWMU committee. He has been a member of the Utah Wildlife board for four years, and currently serves as chair of the board.
John is an electrician by trade, a custom knife maker, and is also a professional auctioneer. As an auctioneer, John has raised over $50,000,000 for wildlife conservation and sportsmen's issues. He always works hard to promote hunting at all of his events.
John enjoys hunting predators, especially coyotes year round. One of John's favorite predator hunts is summer time and high country coyotes with his White Mountain cur decoy dogs. John's favorite e-call is his CS-24C because of its tough compact design and utility. It fits every calling situation from the wide open deserts, to the high mountains, from Canada to Mexico and everything in between. John also enjoys using hand calls and prefers an open reed style call and diaphragm. John says it is an honor to be part of the FoxPro family. They truly are the industry leader in e-calls, hand calls, and all things predator hunting.
Upcoming Events/Semiars
No seminars or other events are scheduled for John Bair at this time.
Featured Images
Click on an image to view a larger version.