This item will be available soon. If you wish to order please email sales@gofoxpro.com or call 1-866-463-6977.
The FOXPRO Foxlamp gives you convenient hands-free scanning for nighttime predator hunting and other activities. Easily select white, red, or green light with the patented center axis rotary system to access the color that best suits your situational needs. No more fumbling around with multiple LED modules. The center axis rotary system keeps the LED centered on the spherical lens, giving maximum potential light output and preventing artifacts and distortion in the light beam. Its extreme brightness allows you to quickly locate and identify your target. The easily accessible dimmer rheostat knob offers precision brightness control to increase or decrease light intensity. The pivot base system provides quick vertical beam adjustment. Focus the beam to a specific spot or open it up to flood the field by rotating the beam focus ring. Check your battery level at any time with the press of a button and conveniently recharge the Foxlamp without the hassle of removing batteries via the quick connect charge system. The Foxlamp is backed by a three-year LED warranty and FOXPRO's unmatched customer support.
Feature Highlights
3 Color Selection
Hands-free scanning
Extreme Brightness
Dimmer Rheostat Knob
Quick Charge Connection
Battery Level Indicator
Pivot Base System
Beam Focus Ring
Removable Shroud
3 Year LED warranty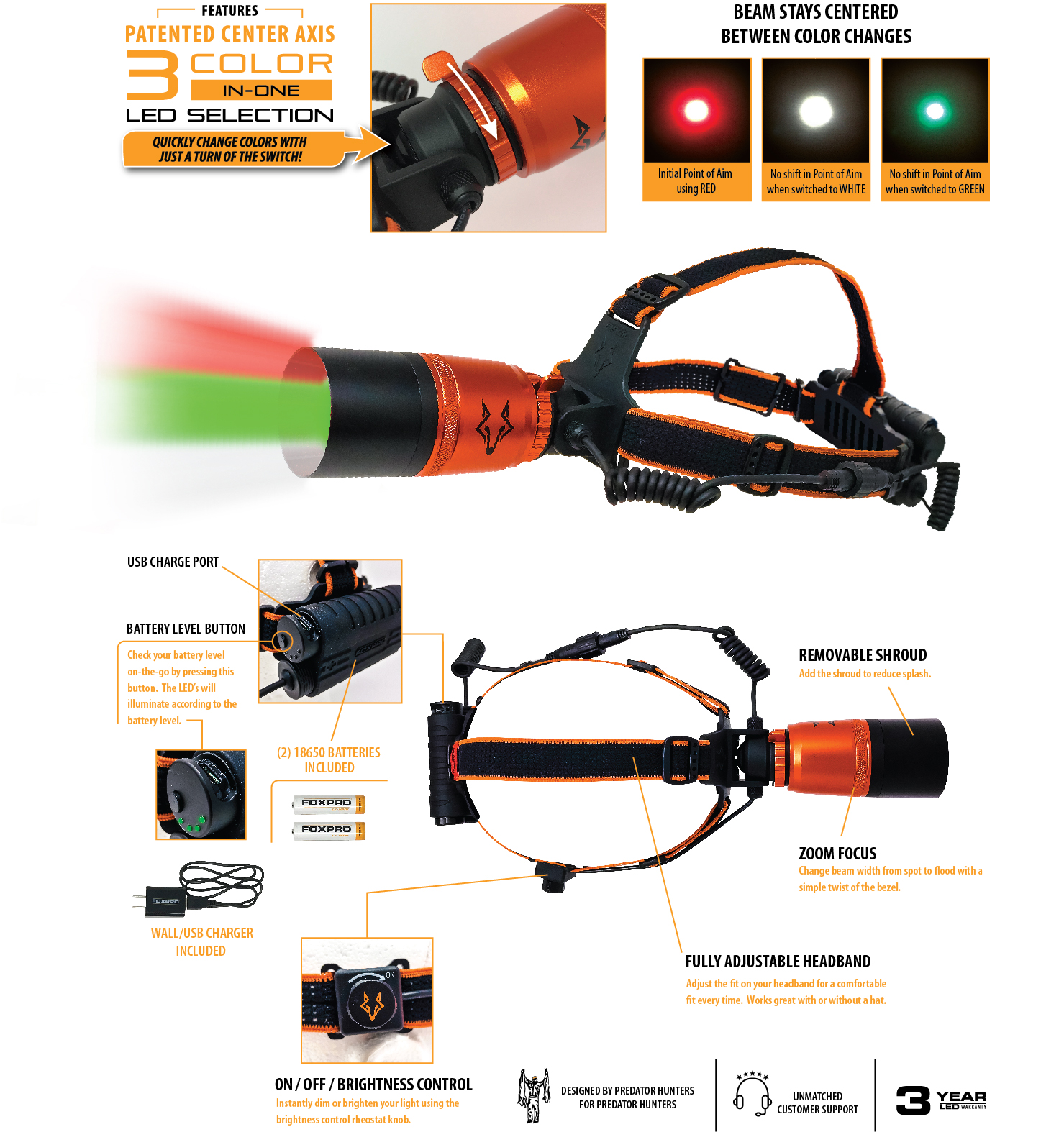 FoxLamp Hunting Light
| | |
| --- | --- |
| Weight | 1.20 lbs. |
| Warranty | 3 Years, Limited2 |
2 Limited warranty does not cover damage caused by misuse, abuse, exposure to water, battery damage including leaked batteries, and all other forms of physical damage.
WARNING: This product may contain lead, a chemical known to the State of California to cause cancer and birth defects or other reproductive harm.
User Reviews
All submitted user reviews are displayed below. Scroll down to view all. To submit your own review, please click here.