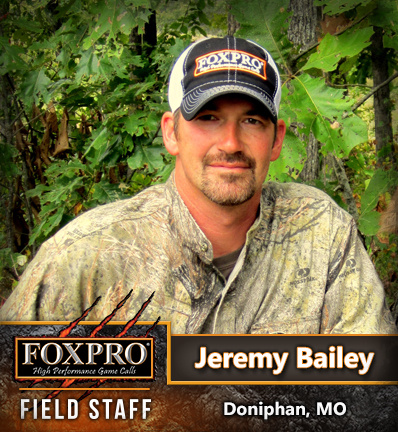 Biography
Jeremy started hunting with his dad when he was 4 years old and acquired an absolute passion for the sport. He started with squirrels and accompanied his dad on deer and turkey hunts. His first encounter with a coyote was around 9 years old while sitting next to his dad on a squirrel hunt. He was fascinated by the animal as it slipped through the thick timber. He later received a closed reed deer fawn distress for his 12th birthday. He was using it during deer season later that year to try and call a doe for some freezer meat and called in his first coyote then his second a few days later. Once he figured out the coyotes came to the distress sound, things haven't been the same since. "It's hard to sit in a tree stand for hours waiting for deer when I know I could be calling predators." Jeremy has since become an avid predator hunter spending his winters traveling to different states to hunt. "I've made some amazing friends that share the same passion for predator hunting and I look forward to the new friends I will meet in the future." Jeremy decided to try his luck at contest hunting in January of 2015 where he and his partner took 1st place in the "Kansas Predator Challenge" with the help of his FOXPRO Fury. He took a 5th place finish, with Fieldstaff Clay Reid as his partner, in the 2016 Arizona Coyote Calling Championship. He took 3rd place, with partner Ray So, in the 2018 Navajo Nation Coyote Calling Championship. Jeremy is extremely adamant about hunting, with predator hunting being his favorite. He looks forward to each and every season that he can spend in the outdoors with friends and family. He loves meeting and talking to new people so feel free to follow him on social media and say hello. Watch for highlights of his hunting adventures on Facebook and Instagram.


Upcoming Events/Semiars
No seminars or other events are scheduled for Jeremy Bailey at this time.
Featured Images
Jeremy Bailey does not have any featured images at this time.