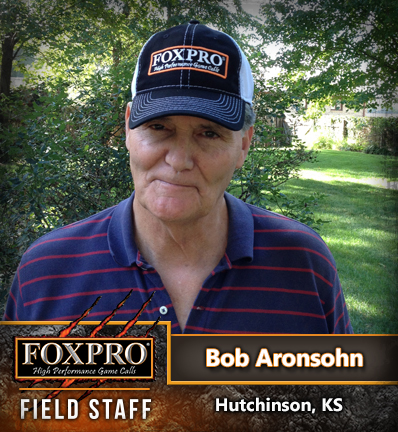 Location
Hutchinson, KS US
Favorite FOXPRO Sound
Crow
Favorite FOXPRO Unit
Snow-Crow Pro
Weapon of Choice
Beretta Ukira 12ga. w/ 26
Favorite Species to Hunt
Crow
Favorite Location
USA
Facebook
https://www.facebook.com/bob.aronsohn
Instagram
Not provided
YouTube
Not provided
Biography
Bob Aronsohn (left) was born and raised in Long Island, New York. He lived there until he was 26 years old and then moved to Kansas. Bob started out as a duck hunter and hunted mainly sea ducks with an occasional mallard or black duck once in a while. He had been coming to Kansas since 1968 to hunt crows and finally moved there in 1974.
Bob's father Leo got him into crow hunting. They would hunt crows both on Long Island and upstate New York. Bob shot his first crow flying at the tender age of 11 1/2 years old. Only a year before that, Bob became the youngest person to ever shoot a Kodiak bear on Kodiak Island in Alaska. This was before Alaska was even a state - 1958. He used a .270 for the job.
Bob served in the USN and made two tours to Vietnam. He was on a Navy skeet team and had his own shotguns on the ship. They were kept in the ships Armory. He said, "those were good days, you shot all the ammo you wanted to without having to pay for it!" Bob was a gunners mate on board ship but says he didn't like the muzzle blast of the "big guns" - he liked small arms much better.
Bob has hunted big game in Africa but readily admits he is more of a shotgunner than a rifleman.
Bob is also an international wingshot. He has hunted both waterfowl and upland birds in Africa and South America. He thoroughly enjoys hunting birds in South America because of the volume of the shooting you get to do.
Bob became more interested in hunting crows because he liked to shoot. The duck hunting was a lot of fun. The only downfalls where factoring in all the money for equipment such as decoys, duck boat and leases and getting up in the middle of the night to only "Legally" shoot 6 birds. It just wasn't worth the time and effort for him. Bob still hunts ducks on occasion here in the states but his heart lies with the crow hunting.
What is the reason? He doesn't have the constraints of a bag limit on crows.
Bob uses both a hand call and an e-caller to hunt crows. During the past 31 years Bob has shot over 113,000 crows by himself! He never kept track prior to 1974. He keeps a hand counter in the blind and every time he knocks a crow out of the air he hits the hand counter. He also made a video which is now a DVD about crow hunting - it's called "The Art of Crow Hunting" and is sold through
www.crowbusters.com
and
www.duckzone.net
.
In October of 2005, Bob teamed up with FOXPRO when he and Mike Dillon struck a deal to sell Bob's crow calling sounds that Bob has been using for the past 31 years. Bob feels very good about getting in on the ground floor of what will soon become a world leader in the game calling industry.
From October 1974 to January 2015 Bob has shot over 154,000 crows. He uses a 12 gauge trap load in either 8's or 7 1/2 shot on crows. Bob has been seriously hunting crows since 1968 but never kept track until 1974. Congratulations, Bob on this milestone! Bob has two DVD's on the market, one is called "Crow Shooting" and the other is called "The Art of Crow Hunting" both sold at the crow buster store on
crowbusters.com
Upcoming Events/Seminars
No seminars or other events are scheduled for Bob Aronsohn at this time.
Featured Images
Bob Aronsohn does not have any featured images at this time.