FOXPRO Programming Software for Windows
This application is provided for users of Microsoft Windows (XP, Vista, 7, 8, 8.1,10 & 11) at no charge. The Sound Programming Utility is an easy-to-use application that assists you in managing the sounds in your FOXPRO game call. With this software you can: add new sounds, remove sounds, reorganize sounds, manage your sound categories (only for models that feature a TX1000 remote), print sound labels, backup your sounds, and more.
Installing the Software
Click the download link shown above to begin downloading the installer.
After the installer has been downloaded to your computer, you must launch it in order to install the software on your computer. To launch it: open your 'Downloads' folder and double-click on the file called "FOXPRO_Programmer_x64-2.1.36.exe".
The installation process is very straightforward. For simplicity, keep all of the default options as they are. When the installation is complete, you will receive a message indicating it was completed successfully.
After the installer is finished, you will be able to find it in your Start Menu under "Applications." You simply click on the "FOXPRO Programmer" icon in your Start Menu to launch it.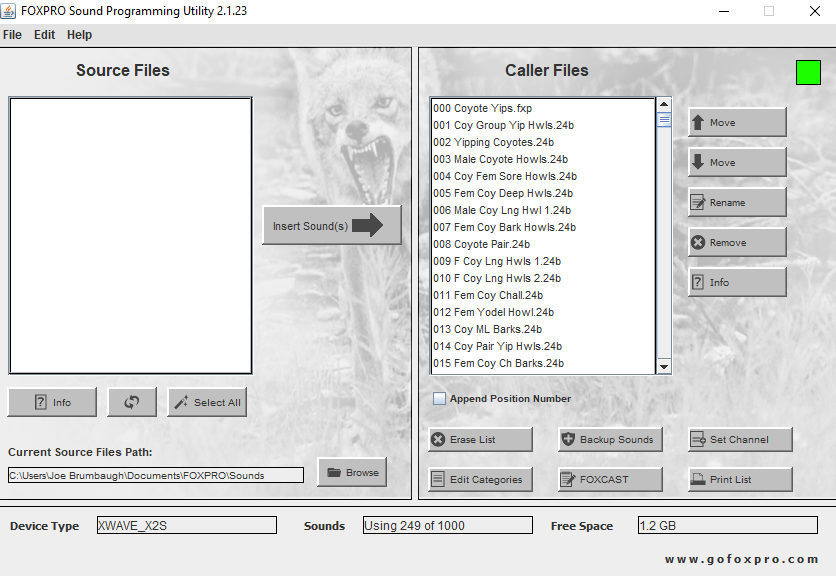 Using the Software
For additional help using the software, please take a look at the Programming Support Center. There, you will find a complete guide that teaches you how to use the software to install new sounds into your FOXPRO game call.