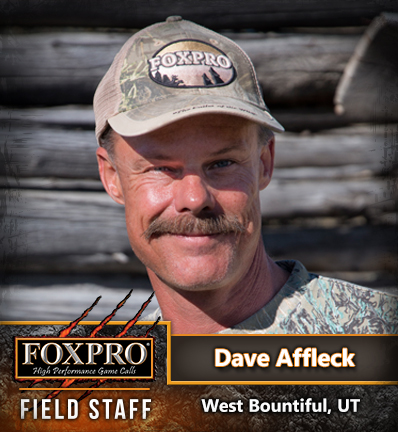 Location
West Bountiful, UT USA
Favorite FOXPRO Sound
Jackrabbit Distress
Favorite FOXPRO Unit
Fury
Weapon of Choice
Bolt Action Rifle
Favorite Species to Hunt
Coyote
Favorite Location
Utah
Facebook
Not provided
Instagram
Not provided
YouTube
Not provided
Biography
Dave Affleck was born and raised in Utah, where he still lives and is raising a young family of his own. His father got him started varmint hunting at a very young age and his lifelong love of hunting and accurate rifles eventually led him to start producing varmint hunting videos.
Dave got his first taste of predator calling as a young boy during the mid '70s, accompanying his father on many weekend predator hunting trips. His biggest role on these hunts was to carry the battery powered tape deck to and from each stand. Those early years of carrying a heavy tape machine left a mark.
As Dave started calling predators on his own, he used mouth calls exclusively for many years. Dave says he just didn't want to carry a heavy caller and deal with unwinding and rewinding speaker wire on every stand. But several years ago when he had the chance to hunt with a borrowed FOXPRO, the small size, light weight, ease of use and the greatly increased versatility in setting a stand instantly sold him on this new digital caller and he ordered one as soon as he got home!
Dave says, "The added versatility in setting my stands that the caller and the remote give me has definitely translated into more animals on the ground. Many times, I find terrain features that would make it tough to set a good stand using a hand call, but I can use the FOXPRO to set the stand in such a way that any animal responding is going to have a hard time leaving".
When asked about his role as a FOXPRO field staff member, Dave said "I'm just really honored that FOXPRO asked me to be a part of their field staff. I've been a big believer in their callers since the first time I used one, and the customer service I've received from them over the years has been just incredible. It's just really exciting to be involved with helping them develop newer, even better products."
Upcoming Events/Seminars
No seminars or other events are scheduled for Dave Affleck at this time.
Featured Images
Click on an image to view a larger version.