The FOXPRO Gunfire light is a gun mounted, quick color change, 3 color LED predator hunting light, using the brightest LED's available today. The Gunfire is all metal construction, yet extremely lightweight. As such, it can handle the toughest in-field use while adding as little weight as possible to your setup. Quickly switch between the 3-color LED's by rotating the color selector switch without having to take your eye out of the gun. Turn the light on and off or adjust the brightness of the light by operating the dimmer switch on the tail cap. Focus the beam to a specific spot or open it up to flood the field by rotating the beam focus ring at the end of the light. Keep the light off of your gun and better concealed by screwing on the included metal shroud to the end of the lens of the Gunfire. The FOXPRO Gunfire light comes complete with an 18650 battery and charger. Additional accessories that offer more versatility of use are available for the Gunfire. The FOXPRO Gunfire is backed by a 3 year LED replacement warranty, a 1 year tail cap and accessories warranty, and FOXPRO's unmatched customer support.
Feature Highlights
3 color LED selection
Brightness control
Focus ring
(1) 18650 battery
Wall charger
3 year LED replacement warranty
1 year tail cap and accessories warranty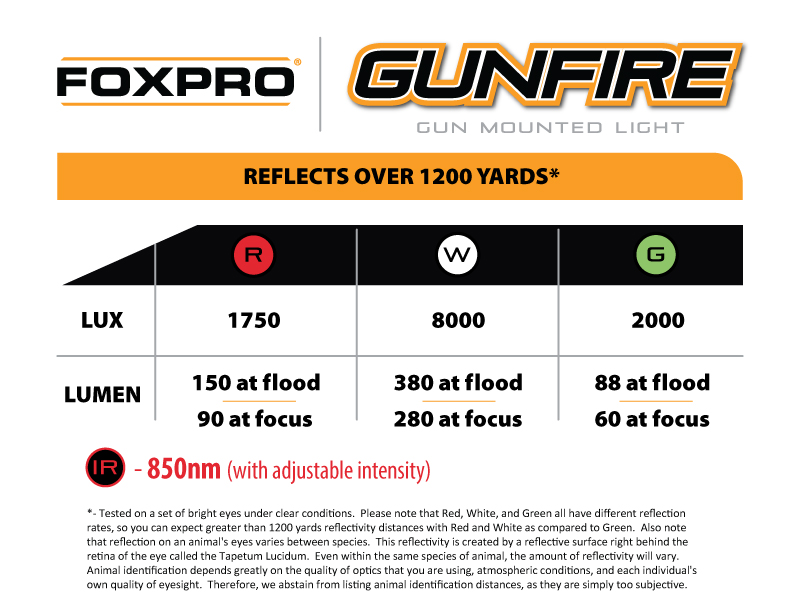 Product Videos
No videos available at this time
Gun Fire Hunting Light
Table showing specifications related to this item. The features are listed vertically in the left column and the corresponding values are shown in the right column.

| | |
| --- | --- |
| Weight | 1.20 lbs. |
| Warranty | 3 year LED replacement warranty, 1 year tail cap and accessories warranty |
2 Limited warranty does not cover damage caused by misuse, abuse, exposure to water, battery damage including leaked batteries, and all other forms of physical damage.
WARNING: This product may contain lead, a chemical known to the State of California to cause cancer and birth defects or other reproductive harm.
No videos available at this time
User Reviews
All submitted user reviews are displayed below. Scroll down to view all. To submit your own review, please click here.
Gun Fire
(
5 stars)
Greg in Northeast, usa on Jan 21, 2022
---
Works great with night vision scopes. Put it on a gun with a sightmark wraith and Works great much better than the factory ir light.
Gun Fire
(
5 stars)
Arthur Harris in East Texas on Dec 11, 2021
---
It's everything as advertised with excellent quality and materials.
Gun Fire
(
5 stars)
Hunter in PA on Dec 07, 2021
---
WOW! Foxpro did it again this GunFire light is incredible! I have been fox hunting for several years and my favorite light I ever had was the foxpro Fire Eye but once I got this GunFire it's amazing! As bright or even a little brighter then the Fire eye turns the dark into day with these two lights in my hand. One thing I was disappointed with in foxpro is how they don't had a good way to mount this light the plastic mount they sell doesn't work well. The light beam doesn't stay focused with my scopes point of impact. So I got a mount made by wicked lights with elevation and windage adjusted. Highly recommend that product with this light. I still gave the light a 5 start because the light it's self is absolutely amazing.
Gun Fire
(
5 stars)
@hunting_imar in Netherlands on Dec 04, 2021
---
This gunlight is by far the best in the market. The best quality in all aspects. For Europe I prefer this gunlight over nightvision when hunting fox or wild boar.
Gun Fire
(
5 stars)
Anonymous in Oklahoma on Nov 09, 2021
---
OMG bright. Lookout hogs and coyotes.
Gun Fire
(
5 stars)
Jordan Spezia in IL on Jan 29, 2021
---
Great product. Great service. Received quickly even during this crazy time.
Gun Fire
(
5 stars)
Evan Jerasa in Pennsylvania on Jan 28, 2021
---
I love the gun fire. It's great to be able to switch light colors without and issue. The light beam is amazing. I would recommend this light for anyone predator hunting.
Gun Fire
(
5 stars)
Jared B in Pennsylvania on Jan 26, 2021
---
I've bought many lights for predator hunting and I finally came across FOXPRO. I purchased the foxpro firefly and now I just bought the foxpro gunfire and these lights are amazing. The gunfire blows my mind with how good it is. Don't waste your time with any other company than foxpro!
Gun Fire
(
5 stars)
Anonymous in Pennsylvania on Jan 25, 2021
---
This is a great light will most likely buy another one !!!
Gun Fire
(
5 stars)
Hayden Baldwin in Unknown Location on Jan 17, 2021
---
This light is amazing. It shines far and I like how you can dim the brightness. Very recommended!!
Gun Fire
(
5 stars)
Anonymous in Unknown Location on Jan 12, 2021
---
Awesome light nothin but good things to say makes it easy to identify animals out at farther ranges
Gun Fire
(
5 stars)
Anonymous in Montana on Jan 11, 2021
---
Pretty impressed with the attention to detail on this light! Everything is smooth and quiet, no sound when turning on or off, dimming, or zooming. Very powerful when dialed in, was picking up reflective fence posts at 2200 yards.
Gun Fire
(
5 stars)
Tommy W. in Harford County, MD on Jan 10, 2021
---
Bright as hell! I've seen other lights and they just don't compare. Now, if I could just get a damn coyote to come in, instead of all these foxes 🤔
Gun Fire
(
5 stars)
Ashton Noblit in Pa on Dec 29, 2020
---
it's a great light. Easy to use and shines far.
Gun Fire
(
5 stars)
Anonymous in Arkansas on Dec 24, 2020
---
This product does exactly what they say it does. I have bought two of them. One is the IR, red, white and one is the Green red white. The IR is just as bright as the colored lights. You can see a long way. I bought this to upgrade a light that come with my ATN xsight 4K pro and there is no comparison. The only problem I have is the mounting options. You are limited with the options FOXPRO gives you as of right now. I'm sure there will be better options in the future but me personally I do not like the clamp like what is given in the kit. But as far as the light it is perfect that's why I give this product 5 stars based on the product itself.
Gun Fire
(
5 stars)
Anonymous in Nebraska on Dec 21, 2020
---
Amazing product! Must have for hunting!
Gun Fire
(
5 stars)
Alex Neitling in Unknown Location on Dec 15, 2020
---
The GunFire is a game changer- I was very impressed with the distance the light will reach. The ability to switch between IR and Red makes changing gun setups a breeze. Super happy with this product!!
Gun Fire
(
5 stars)
Alex Neitling in Villa Park, IL on Dec 12, 2020
---
Only one word to describe the performance of this light-- WOW! The IR/Red/White combo will easily reach 200 yards. Once again-- Great Product!!!
Gun Fire
(
5 stars)
Ryan Sines in Ohio on Dec 08, 2020
---
My new favorite! Didn't think I could be more impressed with a light after buying the FireEye but I was wrong. This light is the perfect addition to my hunting arsenal.
Gun Fire
(
5 stars)
Ross in Gilbert, AZ on Oct 27, 2020
---
I have been running a Sniper Hog Coyote Cannon for a while and this light is just a bright but allows you to easily adjust the beam diameter with a simple twist of the body. You also get red, green, and white at the flip of a switch, something the coyote cannon can't do. I've only used it on one outing but so far I'm a fan!