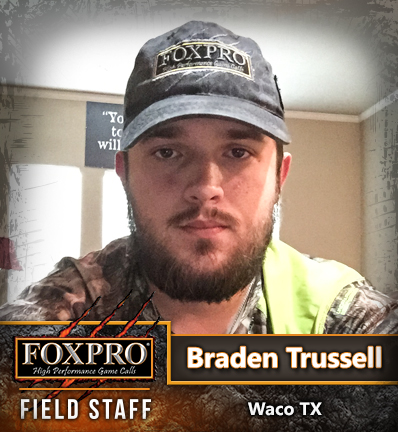 Location
Waco, TX USA
Favorite FOXPRO Sound
Coyote Pup Distress 3
Favorite FOXPRO Unit
CS24C
Weapon of Choice
22 Creedmoor
Favorite Species to Hunt
Coyote
Favorite Location
Texas / 101 Ranch / Rolling Oaks Ranch
Facebook
https://www.facebook.com/braden.trussell
Instagram
Not provided
YouTube
Not provided
Biography
Braden Trussell was born and raised in the Waco Texas area. He also resides in Waco with his father and fellow FieldStaff member Brian, mom Valetta, as well as little brother Brason. Ever since growing up in the central Texas area Braden had been attached to his father's hip wanting to be a great caller like Brian. That is what Braden considers to be one of his biggest blessings. He has been able to learn from one of the best to ever call predators here. Even as a little kid Braden can remember waking up before school to see a truck bed loaded with coyotes from his dad the night before. After a full night of calling at an early age with Brian and a few of his partners Braden knew he was hooked and soaked up the knowledge like a sponge which has greatly helped him in his understanding of predators today.

Braden placed in his first tournament at 20 years old with fellow Field Staffers Brian Trussell as well as Jimmy Banks. Braden enjoys traveling the great state of Texas North, South and West calling predators with great friends as well as family. Braden also enjoys hunting with some of his best friends and teammates for tournaments Cameron Kaufhold, Blake Simpson, and Austin Phillips. His favorite ranches to hunt in the state are the 101 Ranch out of Palo Pinto County and the Rolling Oaks Ranch in Flatonia Texas.

Braden used his first FOXPRO in the early 2000's with his dad, Brian. Braden has continued to use these products and has tremendously helped him out in hunting predators. Braden currently uses the FOXPRO CS24C daytime calling and uses the Truck Pro unit when calling at night. Braden is very excited as well as honored to be a part of the FOXPRO family, the leader of the industry in predator hunting and predator calls.
Upcoming Events/Semiars
No seminars or other events are scheduled for Braden Trussell at this time.
Featured Images
Braden Trussell does not have any featured images at this time.