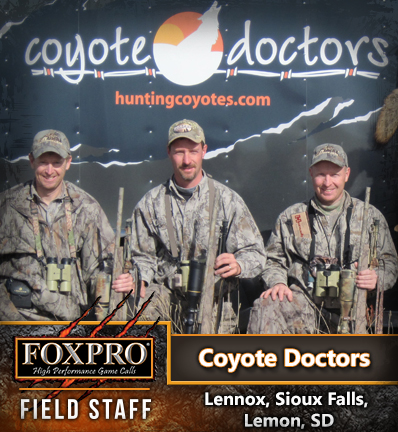 Location
Lennox, Sioux Falls, &amp Lemon, SD USA
Favorite FOXPRO Sound
Lucky Bird
Favorite FOXPRO Unit
FURY, FX3, FX5
Weapon of Choice
Vanguard Predator .22-.250, Leupold Optics, Hornady 55 gr. V-Max
Favorite Species to Hunt
Coyote
Favorite Location
South Dakota
Facebook
Not provided
Instagram
Not provided
YouTube
Not provided
Biography
Mendel Miller:

A native of O'Neill Nebraska, Mendel has been calling coyotes for nearly 25 years. After witnessing a pair of gorgeous white Sandhills coyotes racing to the call on his very first stand, he has been hooked on the thrills predator calling provides.

Mendel has hunted birds and big game in numerous states, but after attending veterinary school at Kansas State University, he had more time to focus in on calling coyotes with his brother Merris and fellow partner Paul Drayton. Once all three dedicated callers found themselves in South Dakota, it was natural that they would spend as much time as possible in the open grasslands of the western prairie.

After meeting up with editor Chad Remington at a hockey game in Sioux Falls, SD, the idea of sharing their passion for calling coyotes began to really take root. In less than four years the CoyoteDoctors concept has not only become a reality, but has produced two coyote calling DVD's that have set a new standard in the industry. With the exciting debut Coyote Overdose and the instructional follow up Prescription for Success, the Doctors have taken viewers from all over North America to the wide open plains to share their calling adventures.

The CoyoteDoctors have used FOXPRO electronic callers since they hit the market and rely on their dependable performance to bring coyotes into camera range in all kinds of weather conditions. "We hunt in temperatures from 90 to minus 30," Mendel said "and the FOXPRO always gives us the best chance to get a coyote in close. When you hunt where we do and the coyotes sometimes come from over a mile away, it's important to know your equipment is going to work."

Merris Miller:

Merris Miller was born and raised in O'Neill Nebraska and spent much of his time growing up hunting and fishing with fellow CoyoteDoctor Paul Drayton. The duo anxiously looked forward to the hunting season as they pursued grouse, deer, ducks, coyotes and anything else that happened to be in season.

The pair eventually went to college at South Dakota State University in Brookings, SD and continued to hone their skills with hunting trips in their free time. When Merris' brother Mendel moved to South Dakota, getting together for weekend coyote hunting trips soon became a regular event.

Eventually the idea of filming the coyote hunts for later enjoyment led the trio to start carrying a camera on their hunts. Merris explains, "As more and more friends saw our footage, we realized what we were doing really appealed to people. It was just a natural progression to start capturing all our hunts and making them into a marketable DVD to share with the general public."

"For us to hunt in western South Dakota, where the wind seems to always be blowing," Merris added, "our FOXPRO electronic caller is a critical part of our success. There are days when it's so windy we wonder if we are crazy, but the FOXPRO can cut through the wind and reach a coyote that we couldn't make hear us any other way. I know there are days we get more coyotes than we ever should, and we can thank FOXPRO for a lot of that."

Paul Drayton:

Coyote Doctor Paul Drayton grew up on a ranch just outside O'Neill, Nebraska. With coyotes literally howling outside his back door, it was only natural that Paul became hooked on calling them at a young age. While still in high school, Paul had his first success calling coyotes and has continued to perfect his calling techniques as he moved on to college and then to western South Dakota.

Now living in Mobridge, Paul can still step out his back door and listen to the coyotes howling on the edge of the Missouri River. Although Paul enjoys hunting all sorts of small game as well as deer, antelope and elk, calling predators is still Paul's favorite activity. As often as possible he would get out on the open prairie to call coyotes with fellow O'Neill natives Merris and Mendel Miller.

When the Coyote Doctors decided to get serious about making videos to share their experiences with fellow hunters, Paul took his predator calling to the next level when he volunteered to run the camera for the first video, Coyote Overdose. Being a part of making two videos which have been so well received by viewers from all over the country even gave Paul an idea on how to share his passion for calling coyotes with his family.

"I just decided to take the concept of taking you along on the hunt even further so I've even had Devon and Taylor, my two young daughters out with me," Paul commented, "there's nothing like sharing their excitement when they see a coyote coming to the call. The FOXPRO callers are so light and easy to carry, the girls can even carry it to the stand and feel like they are a bigger part of the hunt."
Upcoming Events/Seminars
No seminars or other events are scheduled for Coyote Doctors at this time.
Featured Images
Coyote Doctors does not have any featured images at this time.