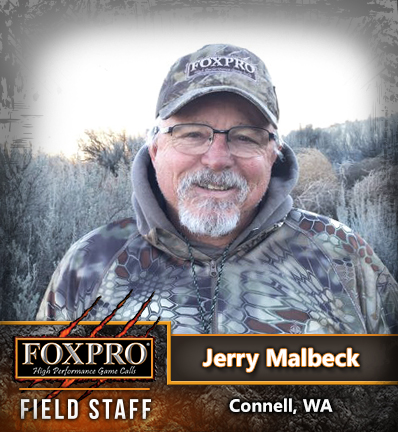 Location
Connel, WA USA
Favorite FOXPRO Sound
Den Mayhem.
Favorite FOXPRO Unit
CS-24C
Weapon of Choice
AR Platforms
Favorite Species to Hunt
Coyote
Favorite Location
Private Cattle Ranches
Facebook
https://www.facebook.com/profile.php?id=100010379612779
Instagram
Not provided
YouTube
Not provided
Biography
Jerry Malbeck has been a member of the FOXPRO field staff since the winter of 1998. He has participated in the research and development of the FOXPRO caller by field testing various models and a variety of sounds, testing the effectiveness in a true field environment. Jerry has been calling predators for five years, but has continued to prove himself year after year by the number of animals he has harvested (including over 100 in his first year).

Jerry is a fast learner and spends every hour he can in the pursuit of predators and countless hours in the field learning the habits of his quarry. Jerry has had the pleasure of sharing the stand with some of the gurus of Predator Calling, Verne Howey, Kirk Jessop, Jim Nesse, and Curt Barret are just a few.

He is a licensed trapper for Washington State, and a Washington State Nuisance Wildlife Control Operator. Jerry has been called upon by cattlemen, sheep ranchers, game farm owners, and the general public for the control work needed in his area. He has been called to do control work in Oregon and Idaho as well. Jerry has also been hired as a guide for many Washington state and out of state callers. His knowledge of predators has made him very successful while guiding, and resulting in successful hunts for his clients.

He can be found on the internet at such web sites as Go Go varmint Go, predator masters, The Coyote Gods, etc. He is always willing to offer advice and suggestions to his fellow callers. In his own words, "The FOXPRO has allowed me to call in and harvest many many coyotes . It's light weight, wonderful sound quality, and variety of sounds have made the FOXPRO an invaluable tool in my arsenal. The remote allows me to place the animal where I want it. This is great when on guided hunts. I can put the animal in front of my client and make their day a memorable one. Thanks Mike and John at FOXPRO. I would have a hard time doing what I do without your caller."

We at FOXPRO are proud he is a member of our field staff.

"I have had the pleasure to be one of the first field staff members since 1998. In my opinion, the FOXPRO caller is and has always been one step ahead of the competition. The Dillons and FOXPRO are second to none in customer satisfaction and service. The staff at FOXPRO are always eager to stay ahead of the demands set by their users and have always listened to the suggestions of the customers and Field staff members to provide a top of the line product to us all.

The FOXPRO has provided me with an arsenal of sounds I am unable to produce with a mouth call. The warranty is second to none as well.

The FX3 remote allows me to go undetected, and makes a days work much more productive and rewarding.

The staff at FOXPRO are real hunters and callers - they understand the wants and needs of the user and always strive to deliver what we ask for. Also, all of their field staff members are very highly regarded, accomplished individuals. They are well known callers who have been in the business for years and years."
Upcoming Events/Semiars
No seminars or other events are scheduled for Jerry Malbeck at this time.
Featured Images
Jerry Malbeck does not have any featured images at this time.