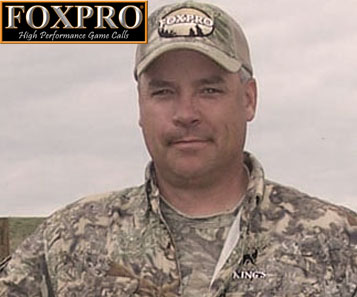 Location
Gillette, WY USA
Favorite FOXPRO Sound
Female Deep Howl
Favorite FOXPRO Unit
CS24C
Weapon of Choice
LRI Custom 6mm Comp Match
Favorite Species to Hunt
Coyote
Favorite Location
Red Desert, WY
Facebook
https://www.facebook.com/profile.php?id=100010162065864
Instagram
Not provided
YouTube
Not provided
Biography
Cal Taylor has been hunting big game and predators for most of his 54 years. "I feel fortunate to have grown up in the western U.S. and being around and involved in hunting my whole life." Cal is a big game outfitter, and guides big game hunts every fall in Wyoming.

Also an avid predator hunter, he has been employed by various county predator boards and private ranches as a coyote hunter/trapper/denner and is still employed by a Wyoming county where he has been for numerous years. "I feel fortunate to have learned from some of the best ADC men in the nation." "I started out by being around several local Government trappers and developed a keen interest in coyote hunting and trapping."

Later, Cal moved to southern Utah and became friends with a State employed trapper named John Swain. "That guy in particular probably taught me more about coyotes than anyone". I felt fortunate to develop that friendship, because most ADC men with a lot of experience are very guarded in their techniques". Since then Cal has been around many other good ADC trappers and the learning continues.

Cal has also been involved in several other venues of predator hunting.
Upcoming Events/Semiars
No seminars or other events are scheduled for Cal Taylor at this time.
Featured Images
Cal Taylor does not have any featured images at this time.