FOXPRO has set the bar, once again, with the SHOCKWAVE! This four speaker system has two horn speakers and two tweeters for excellent sound quality and volume capability. There are 2 external speaker jacks if you desire even more volume, an auxiliary jack to connect an approved device such as a Jack Predator Decoy, and a charge jack.
The SHOCKWAVE comes with 100 high quality FOXPRO sounds with the ability to store and access up to 1,000 sounds. You can operate the SHOCKWAVE manually or with the SHOCKWAVE remote control. The SHOCKWAVE remote control features a full color graphic LCD screen which displays your sound list or sound categories, has a barometer indicator, moon phase indicator, temperature indicator, battery level indicator, timer or time clock, FOXBANG technology and much more.
FOXPRO's SHOCKWAVE redefines what an electronic game call can do with several new FOXPRO innovations. FOXMOTION allows you to automatically fade the sound from the left speakers to the right speakers to help "sell" the reality of your call sounds. FOXFUSION allows you to mix and match any two sounds at the same time during your calling sequence. FOXPITCH allows you to manipulate the "pitch" of the sound in an effort to trigger a response. FOXDATA allows you to record real time information from each and every stand so you can access the data for future reference. The SHOCKWAVE is backed by a 5 year limited warranty and FOXPRO's unmatched customer support and is proudly made in the USA. For more.
The TX-1000 features a full color graphic LCD screen which displays your sound list or sound categories. It also has a barometer indicator, moon phase indicator, temperature indicator, battery level indicator, timer or time clock, FOXBANG technology and much more. FOXMotion allows you to fade the sound from the left speakers to the right speakers to help sell the reality of your call sounds. FOXFusion allows you to mix and match any two sounds at the same time during your calling sequence. FOXPitch allows you to manipulate the pitch of the sound in an effort to trigger a response. FOXData allows you to record real time information from each and every stand so you can access the data for future reference. The Shockwave is backed by a 5 year limited warranty and FOXPRO's unmatched customer support and is proudly made in the USA.
Feature Highlights
FOXBANG Automatically maps your caller to a predetermined setting after discharging your firearm. (See instruction manual for FOXBANG options.)
FOXMOTION Mimic moving prey by fading sound from left speaker to right one.
FOXFUSION Mix and match any two sounds of your choice.
FOXPITCH Lets you manipulate the "pitch" of any sound in an effort to trigger a response.
FOXDATA Activate FOXDATA and it records real time information (temp, barometer, moon phase, stand duration, shot time) from each stand. Over time you will be able to predict animal activity/hunting success based on hard data.
FOXCAST Virtually hands-free calling with FOXCAST sequence files.
AUTO VOLUME Automatically ramps up and modulates your volume.
Shockwave A Closer Look
The table below has item numbers and descriptions corresponding to the imagesdisplayed to the right. This is to help you become familiar with the Shockwave andthe features.
| | |
| --- | --- |
| ITEM # | DESCRIPTION |
| 1 | Left horn and tweeter speakers |
| 2 | Power on/off and manual volume control |
| 3 | Graphic display |
| 4 | Sound up / menu navigation button |
| 5 | Play / menu / select button / Mute (pause) |
| 6 | Sound down / menu navigation button |
| 7 | Right horn and tweeter speakers |
| 8 | Rugged ABS housing |
| 9 | Auxiliary device jack |
| 10 | Right external speaker jack |
| 11 | Mini USB port |
| 12 | Left external speaker jack |
| 13 | Charge jack |
| 14 | Speaker connector straps |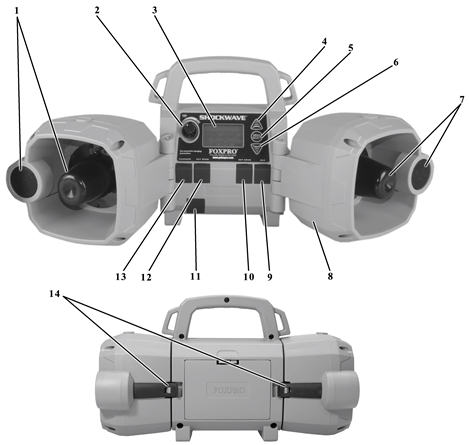 TX1000 Transmitter
The table below has item numbers and descriptions corresponding to the image displayed to the right. This is to help you become familiar with the TX1000 and the features.
| | |
| --- | --- |
| ITEM # | DESCRIPTION |
| 1 | Quick access preset buttons |
| 2 | FOXDATA button |
| 3 | Power on/off button |
| 4 | Scroll up button |
| 5 | Volume down button |
| 6 | Play / select button |
| 7 | Scroll down button |
| 8 | FOXPITCH |
| 9 | USER button |
| 10 | Lanyard loop |
| 11 | Recall button |
| 12 | Auxiliary button |
| 13 | Mute button |
| 14 | Volume up button |
| 15 | Back / menu button |
| 16 | FOXFUSION button |
| 17 | Mini USB Port |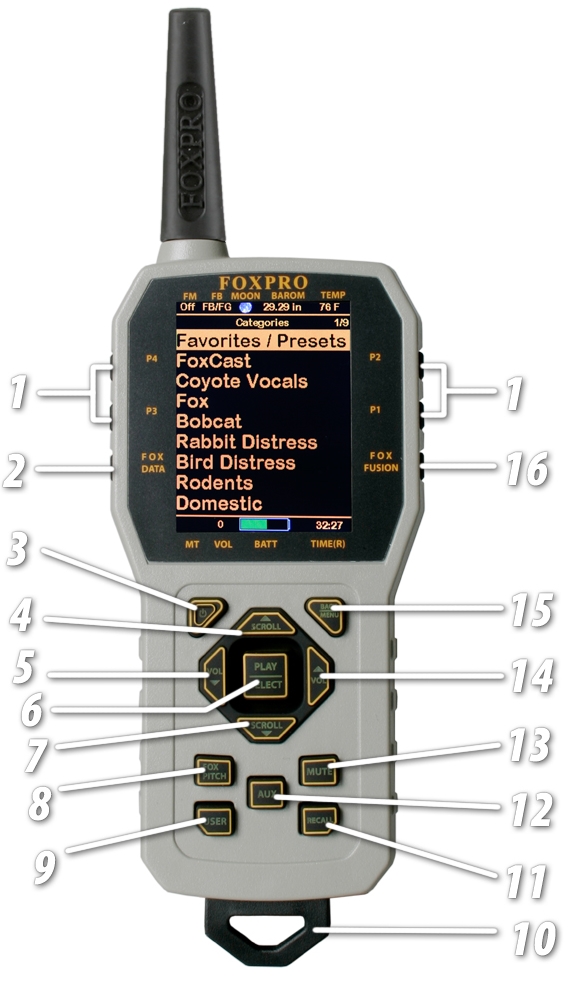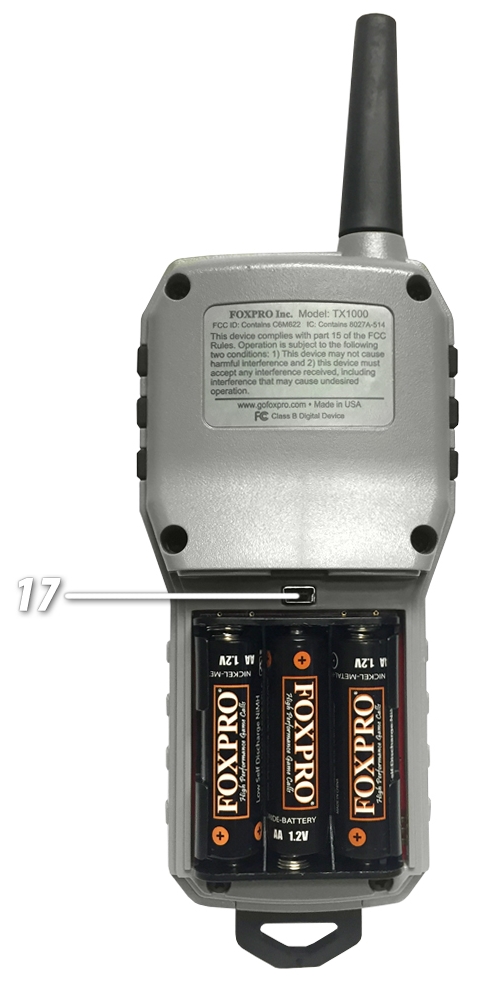 Product Videos
What's in the box?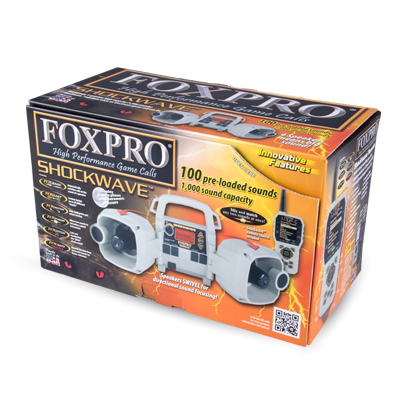 Factory Sound List
This table shows the standard sound list for this product.


Column one shows the sound position within the list start from 000. Column two shows the sound name. Column three shows the FOXPRO sound library reference.

| Position | Sound Name | Sound ID |
| --- | --- | --- |
| 000 | Coyote Locator | 207 |
| 001 | Coyote Group Yip Howls | C25 |
| 002 | Yipping Coyotes | C32 |
| 003 | Male Coyote Howls | C34 |
| 004 | Female Coyote Howls | C16 |
| 005 | Female Coyote Deep Howls | C29 |
| 006 | Male Coyote Long Howl 1 | C33 |
| 007 | Female Coyote Bark Howls | C15 |
| 008 | Coyote Pair | C26 |
| 009 | Female Coyote Long Howls 1 | C19 |
| 010 | Female Coyote Long Howls 2 | C20 |
| 011 | Female Coyote Challenge | C24 |
| 012 | Female Yodel Howl | C28 |
| 013 | Coyote Male Barks | C30 |
| 014 | Coyote Pair Yip Howls | C31 |
| 015 | Female Coyote Challenge Barks | C23 |
| 016 | Coyote Male Challenge Scream | 185 |
| 017 | Coyote Threat Bark Howl | 219 |
| 018 | Fem Coyote Sub | C35 |
| 019 | Female Coyote Whimpers | C17 |
| 020 | Coyote Pup Screams | C22 |
| 021 | Coyote Pup Distress 3 | C27 |
| 022 | Gray Fox Distress | 224 |
| 023 | Scream-N Gray Fox | 226 |
| 024 | Platinum Grey Fox Pup | C85 |
| 025 | Baby Red Fox Distress 1 | C75 |
| 026 | Red Fox Distress | 227 |
| 027 | Juvenile Red Fox Distress | C77 |
| 028 | Red Fox Rally | 221 |
| 029 | Mt. Lion In Heat | 370 |
| 030 | Mt. Lion Whistle | 373 |
| 031 | Lone Wolf | 320 |
| 032 | Wolf Pair Howl | 324 |
| 033 | Aggressive Bobcat | 380 |
| 034 | Canine Pups 1 | C00 |
| 035 | Canine Pups 2 | C01 |
| 036 | Baying Hounds | C03 |
| 037 | Kitten Cries | F00 |
| 038 | Kitten Distress 2 | F02 |
| 039 | Lightning Jack | L00 |
| 040 | Jackrabbit Distress | 233 |
| 041 | Dying Jack | L01 |
| 042 | Waning Jack | L07 |
| 043 | Eastern Cottontail | L57 |
| 044 | Bay Bee Cottontail 2 | L64 |
| 045 | Adult Cottontail | L55 |
| 046 | Cagie Cottontail | L58 |
| 047 | Lil Rabbit | L53 |
| 048 | CF Cottontail | L56 |
| 049 | Lils Cottontail | L59 |
| 050 | Snow Shoe High Pitch | L06 |
| 051 | Snow Shoe 1 | L03 |
| 052 | Raspy Woodpecker | B00 |
| 053 | Weep-N Woodpecker | B01 |
| 054 | Woodpecker | B09 |
| 055 | Hairy Woodpecker 2 | B06 |
| 056 | Finch Distress | B70 |
| 057 | Wood Ducklings | B78 |
| 058 | Cranky Male Cardinal | B84 |
| 059 | Blue Jay Distress | B75 |
| 060 | Titmouse Tantrum | B85 |
| 061 | Nutty Nuthatch | B86 |
| 062 | Ranting Red Bird | B87 |
| 063 | Lucky Bird | 290 |
| 064 | Flying Squirrel Distress | R02 |
| 065 | Vole Squeaks | R07 |
| 066 | Field Mouse Distress | R10 |
| 067 | Rodent Distress | 249 |
| 068 | Prairie Dog Distress | 247 |
| 069 | Groundhog Distress | 242 |
| 070 | Guinea Pig 2 | R01 |
| 071 | Baby Porcupine | N50 |
| 072 | Distressed Calf | M07 |
| 073 | Lost Sheep | 258 |
| 074 | Baby Pig Distress | H03 |
| 075 | Juvenile Pig Dist | H04 |
| 076 | Lil Piggy | H20 |
| 077 | Kid Goat Cries 2 | M00 |
| 078 | Whitetail Yng Dst | D06 |
| 079 | Whitetail Buck Fawn 2 | D02 |
| 080 | Antelope Fawn Cry | D55 |
| 081 | Elk Calf Distress | D30 |
| 082 | Bear Cub Distress 1 | 253 |
| 083 | Crow Fight | 270 |
| 084 | Dying Crow | 275 |
| 085 | Crow & Hawk Fight | 276 |
| 086 | Crows | 280 |
| 087 | Crows 2 | B52 |
| 088 | Magpies | B50 |
| 089 | Raven Flock | 533 |
| 090 | Raccoon Fight | N02 |
| 091 | Twittering Raccoon | N03 |
| 092 | Young Raccoon Distress | N04 |
| 093 | Raccoon Pup | N07 |
| 094 | Raccoon Puppies | N08 |
| 095 | Elk Chuckle | D31 |
| 096 | Elk Calves | 404 |
| 097 | Bugle-M-In | D32 |
| 098 | Courting Bugles | D34 |
| 099 | Moose Grunts | D45 |
Shockwave Digital Game Call
Table showing specifications related to the game call. The features are listed vertically in the left column and the corresponding values are shown in the right column.
Dimensions
5.75" x 12.25" x 7"
Weight
3.90 lbs.
Speakers
(2) Horn speakers
(2) Tweeters
Manual Operation
Yes
Play Modes
Repeat, Single, Jukebox
Charge Jack
Yes
External Speaker Jack(s)
(2) 3.5mm
Auxiliary Device Jack
(1) 3.5mm
User Reprogrammable
Yes
USB Port
mini-USB
Sound Capacity
1,000 (Comes with 100)
Internal Memory
8GB
File Compatability
MP3, WAV, FXP, and 24B (16B playback)
Power
10 AA Batteries (Not Included)
Run Time
3-7 Hours
Warranty
5 Years, Limited2
Released
November 2012
TX1000 Transmitter
Table showing specifications related to transmitter. The features are listed vertically in the left column and the corresponding values are shown in the right column.

| | |
| --- | --- |
| FOXBANG | Yes |
| FOXPITCH | Yes |
| FOXDATA | Yes |
| FOXMOTION | Yes |
| FOXCAST | Yes |
| FOXFUSION | Yes |
| FOXGRIP | Yes |
| Operating Distance | >100 yards3 |
| Dimensions | 3.18" x 1.17" x 8.78" |
| Favorites/Presets | 50 |
| Sound List View | Categories, Single List |
| Lanyard Loop | Yes |
| Illuminated Buttons | Yes |
| USB Port | mini-USB |
| Power | 3AA Batteries (Not Included) |
| Warranty | 5 Years, Limited2 |
1 Run times vary depending upon volume level, number of speakers being used (including external), temperature, and sound density. FOXPRO recommends the use of high-capacity rechargeable NiMH batteries for the best overall performance. Please note that alkaline cells are not recommended for use in temperatures below 32°F/0°C.
2 Limited warranty does not cover damage caused by misuse, abuse, exposure to water, battery damage including leaked batteries, and all other forms of physical damage.
3 Optimal range is had by ensuring clear line-of-sight between the game call and transmitter and elevating the game call off of the ground approximately 3 feet. Your results may vary.
WARNING: This product may contain lead, a chemical known to the State of California to cause cancer and birth defects or other reproductive harm.
User Reviews
All submitted user reviews are displayed below. Scroll down to view all. To submit your own review, please click here.
Shockwave
(
3 stars)
Anonymous in Unknown Location on Feb 17, 2022
---
So I love the call but I've been having issues with the call not working if I'm calling out in cold temperatures and it's starting to really piss me off.
Shockwave
(
5 stars)
Al O'Brien in Alberta Canada on Dec 12, 2021
---
I upgraded from Inferno & really like the sounds from my Shockwave. Only used a couple times but had great success with it. The crisp clear sounds make a difference & happy with it. I also purchased the rechargeable battery pack & holds a charge even in -15 Celsius. Only issue I have is after 5 stands in this temp controller says low battery change batteries. When I stop using for a bit this warning goes away until I use again. I'll replace them see how next round goes. Inferno controller lasts a lot longer.
Shockwave
(
5 stars)
Anonymous in Idaho on Dec 08, 2021
---
No comments to share.
Shockwave
(
5 stars)
@hunting_imar in Netherlands on Dec 04, 2021
---
This is the best digital call I know, (although some other FOXPRO calls might be even better). There is not many predators around in the Netherlands but we have millions of geese that need to be managed. The geese are not easily fooled and learn quickly. With the FOXPRO Shockwave I can call them in, use different sounds, quickly switch from one species of goose to another and many more awesome functions. This is why the FOXPRO calls are getting more and more popular in the Netherlands.
Shockwave
(
5 stars)
Jim R. in Clarks Summit, PA on Nov 26, 2021
---
I purchased this caller in January 2013 and it has been my best purchase from FoxPro. I was skeptical that it would be better than my 2006 FX3 or my upgraded FX5. It was not only better, but a game changer. We have taken 11 coyotes, 17 foxes and 2 bobcats with this amazing call. I upgraded to an X2S, but I find myself still using the Shockwave 99% of the time. I would highly recommend this call to anyone.
Shockwave
(
5 stars)
Andrew Machek in Texas on Jul 27, 2021
---
Works great. Sound quality is good enough and it gets plenty loud. Save money and buy the shockwave not the xwave, it's literally the same thing, I have both
Shockwave
(
5 stars)
Paul in shannonville , ON on Feb 13, 2021
---
frist time user with E game calls..This call has great sound . lots of options.called in 3 coyotes. the frist 10min of my hunt....very easy too use..looking forward too more hunts. keep up the great work..knock em down..
Shockwave
(
5 stars)
Chase in Washington State on Sep 27, 2020
---
I recently upgraded from my Inferno to the Shockwave. I have really liked the Inferno for the last few years, but this is leaps and bounds better. It has been a tough year calling coyotes for me so far. In one night of hunting I called in 3 coyotes, and killed one. The sound quality is outstanding. Foxmotion really helps stuck coyotes lose their sensibilities. I am looking forward to compiling some Foxdata to help make my stands more efficient. I look forward to setting up more stands with the Shockwave.
Shockwave
(
5 stars)
U.P PREDATOR.X in Upper michigan on Feb 19, 2020
---
I own a foxpro shockwave. Primos alpha dog and boss dog. Western rivers 360. Mojo triple threat. And the foxpro out performs the others. They all have their attributes but the foxpro is the one I stay with using. I have used it for 5 years and it has been through hundreds of hours of shear abuse and keeps on going. So I bought a second one without a second thought. The tx1000 remote is the best remote as for ease of use and options of any I've tried.
Shockwave
(
5 stars)
B. Freeman in Central Oregon on Dec 16, 2019
---
the Shockwave is truly the best of the best, volume is out standing and clearity of sound is truly outstanding . Would recemend it to all my hunting friends, you can't go wrong with this unit.
Shockwave
(
5 stars)
Dead Coyotes in Central Illinois on Jul 29, 2019
---
I have had this caller 2 seasons so far. Had issue with tweeter then woofer but was taken care of super fast. Thanks FOX PRO. This is an awesome caller. If i was to buy again, I would in a heartbeat. The remote is fantastic day or night. If i could change anything it would be to have the decoy light remote operated also and maybe a little more volume. My buddy says i'm nuts that its loud enough. but i always say if they don't hear it they won't come, but they usually DO. Keep up the innovations. We'll keep buying. LOL
Shockwave
(
1 stars)
Greg Heinemann in Minnesota on May 09, 2019
---
The came broken right out of the box. This is my second FoxPro. The first worked great for about a year and then a software issue arose that caused communication failure between the handheld and the call. When they work they are the best in the market but the quality is poor.
Shockwave
(
5 stars)
Anonymous in TEXAS on Feb 16, 2019
---
Absolutely the best call I have ever had and I have had a bunch. However I want ever use anything but FOXPRO. Amazing product... The Shockwave with a decoy is deadly...
Shockwave
(
5 stars)
Rick in cresson, PA on Jan 12, 2019
---
My first call was the fx3 witch at the time was and still is a good call. Buying the shockwave was the best investment in a predator call i could have ever made with the directional speakers, foxmotion, foxpitch, and all the other features in my opinion made this the most productive caller on the market for Fox, coyote and even an odd day crow call
Shockwave
(
5 stars)
Joey Strosnider in West Virginia on Apr 06, 18
---
It's lightweight, high volume capabilities matched with crystal clear clarity and the TX1000 remote make this best electronic caller on the market.
Shockwave
(
5 stars)
Anonymous in parts unknown on Apr 02, 18
---
Shockwave remote and caller is best of both worlds. If want to push play and call, it'll do that. But if you want a more feature rich call, it does everything you could ever want. FoxPro is the best there is period.
Shockwave
(
5 stars)
J. Benard in Houston,TX on Feb 19, 2018
---
First time taking the Shockwave out two fox came in inside of 3 minutes. Awesome caller with Killer sounds.
Shockwave
(
5 stars)
Eric Miller in Nappanee, Indiana on Feb 13, 2018
---
Foxpro is on top when it comes to predator calling!! I have owned a shockwave for about 4 years and I would never consider anything else!
Shockwave
(
5 stars)
Marcus in NW Missouri on Feb 05, 2018
---
Upgraded from an inferno to a shockwave and I am very happy with my choice. Called in coyote on second stand. Love the fox fusion and foxmotion. Can't go wrong with a foxpro
Shockwave
(
5 stars)
Derrick Hunt in Brackettville Texas on Feb 01, 2018
---
The FoxPro Shockwave is the only way to go when trying to harvest shy call coyotes/Bobcats in Texas. Customer service has always been topnotch as well.
Shockwave
(
5 stars)
Anonymous in Texas on Feb 01, 2018
---
Awesome ecall
Shockwave
(
5 stars)
Anonymous in Montana on Jan 30, 2018
---
I recently ordered a FoxPro Shockwave, along with a battery pack, and a Foxjack 3 decoy. The amazing thing is that it was all on my doorstep within just a few days. I live in Montana and FoxPro is in PA so that is impressively fast. Everything was well packaged and arrived in excellent condition. The quality of stereo sound out of the Shockwave never ceases to amaze me. A person just can't go wrong with FoxPro products and the customer service is the best anywhere!!!
Shockwave
(
5 stars)
Duckstopper3 in Massachusetts on Jan 27, 2018
---
I've used my Shockwave on a dozen stands and am still learning . I like the TX-1000 very much, but I have to be careful when wearing gloves that I don't hit two buttons at the same time. I've already shot my first coyote of the season with it this week.
Shockwave
(
5 stars)
Brian S.. in Ohio on Jan 26, 2018
---
I ordered the shockwave and couldn't be happier with it! And foxpro customer service is top notch! Very pleased with how things were handled. Will definitely be loyal to foxpro when it's time to buy another call down the road.
Shockwave
(
5 stars)
J.R. Wood in Sinton, TX on Jan 22, 2018
---
Works great. Super happy with this product. Will definitely buy it again.
Shockwave
(
4 stars)
Doonuld in Washington State on Jan 03, 2018
---
Shockwave faults: 1. Glue the twirling tassel on the end of the rod or it will fall off. 2. If there is no sound it may be the on/off switch. Access through the battery compartment and clean with a TV type contact cleaner. 3. It was just working but now it has failed, means that you have just lost AA battery contact in the holder. Purchase a Lithium battery pack, lasts longer and no more shutoff errors in the field. ** Only got a 4 star because no remote on/off, but an excellent remote and caller.
Shockwave
(
1 stars)
Jeremy in Morgan, UT on Jan 01, 2018
---
I received a brand new FOXPRO Shockwave for Christmas, when I first received the unit it fired right up. I spent a few hours trying to become familiar with this call, I had a Fury 3 prior to this and loved it. On New Years day I decided to take my family out on a hunt a few hours away from the house. We set up our stand around 7 am and fired up the old FOXPRO Shockwave and NOTHING, Nope not a thing. I walked out checked out the call and the screen was blacked out. or just non legible, I turned the knob off and the dark went away, when I turned it back on, it came right back. I spent the next 4 hours researching online about the issue and guess what no help anywhere, I then thought oh well I will register this with FoxPro and do a warranty. Well guess what my wife did NOT keep the receipt. (to be honest we NEVER keep receipts ever! it is the 20th century and everything is online, VERY POOR EXCUSE FOR A WARRANTY!) I only hope now Sporsmans will help! Shame on you foxpro!
Shockwave
(
5 stars)
Thomas Josephson in Central Pa on Jan 01, 2018
---
Foxcast , the remote and speakers put the Shockwave at the top of the heap.
Shockwave
(
5 stars)
Jeff in North East Missouri on Dec 27, 2017
---
I've only been able to go a few times but the sound quality is unbelievably real! I called in a pair of coyotes which I've never done before with any caller. I'd recommend their products to anyone! With the fox bang turned on you got to be careful not to bump the remote or it will switch on you, but it will tell you that in the manual. Awesome products I couldn't be happier!!
Shockwave
(
5 stars)
William Crist in Richwood TEXAS on Dec 11, 2017
---
I had a FX3 before I upgraded to the Shockwave. One of the biggest things I like about Foxpro is the coustomer service. They are great. Anytime I call and ask a question and they are on it. I really do like the shockwave and the new TX-1000 controller. It is very easy to use and very easy to see in the dark. The system seems to have a great range.
Shockwave
(
5 stars)
Stan in Keno on Dec 05, 2017
---
I have not hunted with this caller yet. I'm an looking forward to this season. This call has a lot more options than my fury which has as well been a great caller. I'll up date you guys when I get out there and put some dogs down.
Shockwave
(
5 stars)
Dtan in KyVEN on Dec 01, 2017
---
Just got new Showkwave. Have not had a chance to hunt with. U have used in back lot to practice and it does sound much better than my Fury
Shockwave
(
5 stars)
R&R Hunting in Louisiana on Nov 29, 2017
---
Awesome call and easy to use.
Shockwave
(
5 stars)
Anonymous in West Texas on Nov 28, 2017
---
The shockwave is well worth the money. I was hesitant at first because of the price tag. However, after owning 3 other foxpro calls over the last decade I decided to give it a try over the Thanksgiving holiday. 8 coyotes later I am pleased that I did. Excellent call.
Shockwave
(
5 stars)
Brian in Ontario Canada on Nov 18, 2017
---
Second stand with the Foxpro Shockwave and called in my first coyote of the year. Female coyote howl then baby cotton tail did the job. This is my third Foxpro upgrade and definitely the best so far. Very happy with its sound and the units ease of functions.
Shockwave
(
5 stars)
Louis van Schalkwyk in Skukuza, South Africa on Nov 13, 2017
---
No comments to share.
Shockwave
(
5 stars)
michael in pennsylvania on Nov 04, 2017
---
great sounding very portable and easy to use.
Shockwave
(
5 stars)
Chad Paul Aguirre in New Mexico on Oct 21, 2017
---
GREAT call. Had a few windy days and still was able to call some dogs in. Love the fox fusion capability and the ability to adjust speaker in the directions i need them in. Recommend it to anyone.
Shockwave
(
5 stars)
Bill in Regina, SK on Sep 23, 2017
---
I have successfully called coyotes, crows and just killed my first Elk that I called with my Fox Pro. I am pleased with my Fox Pro
Shockwave
(
4 stars)
James in VA in Unknown LocationVA on May 24, 2017
---
While the shockwave can be remotely controlled it cannot be turned on and off remotely. This has to be done manually. After installing new batteries and setting my shockwave in position and turning it on, three hour later as the sun was down the batteries were dead. You must turn the system on manually and immediately intend to use it.
Shockwave
(
4 stars)
Hamish Gardiner in Victoria, Australia on May 23, 2017
---
Excellent dispatch time, only used a couple times each times I have successfully baged a Fox very happy with quality of the product.
Shockwave
(
5 stars)
Homer in Idaho on Apr 17, 2017
---
Hands down the best overall call I have ever used. Great clarity, features are awesome and mixed with my decoy dogs, its lights out!!
Shockwave
(
5 stars)
Zach in Central OK on Apr 05, 2017
---
This is my second electric call but my first foxpro and when I started use this call I called in a double the first thing that morning will never use another call again
Shockwave
(
5 stars)
Anonymous in Westford ,New York on Mar 25, 2017
---
Good call purchased it late in the N.Y. Season but can't wait until the fall when the season opens up again
Shockwave
(
5 stars)
Trent in Southeast Kansas on Mar 24, 2017
---
Shockwave works great, sound is excellent, and customer service is great as always, couldn't ask for a better product from the Foxpro staff!
Shockwave
(
5 stars)
Crayson McBride in Union county, Oregon, USA on Mar 21, 2017
---
Best company in the world. I love foxpro and there game calls, mouth reeds and there apparel ! I just bought the shockwave and I have called in 3 coyotes out of 5 stands and put 2 coyotes in the truck! Best calls and best community service! I wanna thank jake and Logan for there fast and super helpful service with my experience buying one from the foxpro website! To be successful and get your money's worth go with FOXPRO!
Shockwave
(
5 stars)
TeamSneakyman in MD on Mar 19, 2017
---
Great call bought late 2-20-17 got to Devirginize my Shockwave went crow hunting 85 half day. Good volume looking forward to doing some Predator hunting.
Shockwave
(
5 stars)
Brandon in Northern Indiana. on Mar 17, 2017
---
Ordered the shockwave late in the season and didn't have the opportunity to try it out but I love how easy it is to operate and the sound selection is awesome. Makes it very easy for anyone to use. Hoping for good luck with it in the future.
Shockwave
(
5 stars)
Poor_Man_Hunting in Pennsylvania on Mar 16, 2017
---
Call and remote work awesome!!! A little hard to figure out all the new features but once figures out very easy to use...
Shockwave
(
5 stars)
Anonymous in Arkansas on Mar 16, 2017
---
First time to buy a Foxpro product. Came in the mail quickly. Shockwave unit didn't work. Called customer care, they sent another unit right away (along with a prepaid return label). Works great and great customer service! Looking forward to my 1st predator hunt in 2 weeks.
Shockwave
(
5 stars)
brian in fort branch, IN on Feb 28, 2017
---
This call is the real deal and sounds great! We primarily night hunt. The first 2 nights we took the shockwave out we made 6 sets, called in 5 coyotes and 1 red fox. Still learning the remote but seems pretty simple to operate. Worth every penny to upgrade!
Shockwave
(
5 stars)
Jeff Eickhoff in Minnesota on Feb 20, 2017
---
For those of you who are undecided about buying a FoxPro product. DO IT!!!! You will not be disappointed!! Everything about FoxPro products is great! From the sounds to costumer service. You will not be let down!
Shockwave
(
5 stars)
Bob in Saskatoon, Saskatchewan on Feb 13, 2017
---
I purchased my Shockwave 3 1/2 years ago. It's easy to use and it works great. I've had other brands but they were junk. The swivelling speaker design and the awesome remote are what sold me. Don't waste your time with other brands. I highly recommend the Foxpro Shockwave. I would like to see the Shockwave smaller though maybe the size of the Fusion.
Shockwave
(
5 stars)
Carol in North Dakota on Feb 01, 2017
---
We recently purchased for our son-in-law. He is very pleased!
Shockwave
(
5 stars)
Anonymous in Minnesota on Jan 26, 2017
---
Started with the inferno and upgraded to the shockwave. Very impressed. Called a fox and coyote my first night out. Best call I've used.
Shockwave
(
5 stars)
Wayne Mayberry in Concord Virginia on Jan 25, 2017
---
Foxpro representatives were knowledgeable and quick to make sure all my questions were answered. Quality calls backed up by quality customer service. They take my predator hunting as seriously as I do. A plus Foxpro
Shockwave
(
5 stars)
Anonymous in MINNESOTA on Jan 24, 2017
---
No comments to share.
Shockwave
(
5 stars)
Anonymous in Utah on Jan 22, 2017
---
Best Game Callers Ever Made....
Shockwave
(
5 stars)
Anonymous in Indiana on Jan 18, 2017
---
Very happy with my Shockwave. Fox Pro will always be my choice of game calls.
Shockwave
(
5 stars)
Billy Craft in Eastern USA on Jan 14, 2017
---
I truly love the Shockwave. The first night I used it the area came alive with coyotes howling all around me. The sound clarity is awesome. It is easier to use and program than I thought it would be. I am really happy with my purchase at this point and time.
Shockwave
(
5 stars)
Larry Larsen in Payson, Utah on Jan 12, 2017
---
I love the system and I wrote a review. I was kind of hoping you would include the Bag and Battery Charger system you advertised if I Purchased it from FOXPRO which I did and I expected it would be sent with my SHOCKWAVE.
Shockwave
(
5 stars)
LivinRed in Western USA on Jan 12, 2017
---
I really like the product, it worked just like advertised and is far better than the old system I have. But, could you recommend an instructional video on how to use the caller and the calling sequences I should try.
Shockwave
(
5 stars)
Steve Small in Texas on Jan 08, 2017
---
No comments to share.
Shockwave
(
5 stars)
Roger in Colorado Springs in Colorado Springs, Colorado on Jan 06, 2017
---
I purchased the Shockwave by FoxPro and am very impressed. The unit has more features than I will probably use but I specifically chose this model due to the sound quality. I chose FoxPro due to their customer service and because they are American made. I have a Spitfire model and while it is certainly an entry level unit, the Spitfire is very good. Keep up the good work.
Shockwave
(
5 stars)
Darren McKown in Northern MO on Jan 03, 2017
---
I recently picked up the Shockwave call. I have to say it has been the best unit I have used hands! The remote that comes with the system is great and makes switching between call sounds much easier! Can't go wrong with FoxPro!
Shockwave
(
5 stars)
Ed Pless in Idaho on Dec 16, 2016
---
Great product. Easy to use even for someone electronically challenged like me. Foxpro folks very easy to deal with. Great support.
Shockwave
(
5 stars)
Jeff Sayre in Southern California on Dec 13, 2016
---
I've had the Shockwave a couple weeks now and have had it out 3 or 4 times. I have to say it has exceeded my expectations so far. It's loud enough to cut through the winds in the high desert I live in and all the new FoxPro features with the remote are awesome. FoxBang has been a treat for a while now, but the other features are great especially FoxMotion I think the way it makes it sound like the prey or coyotes are moving around like they would be doing naturally gives you the upper hand. Also the directional speakers make it nice when calling two different areas is nice. I just can't say enough about how good the Shockwave has worked out for me so far.
Shockwave
(
5 stars)
Curtis in Battle Creek Michigan on Nov 29, 2016
---
Great Product so far.....customer service is great. I did a lot of research to look for what was best for me and FoxPro is simply just the best...Yes a little more price but I would rather have a quality product that will last me over the competitors that breaks after a season of use.
Shockwave
(
5 stars)
Brandon Sellers in Rimrock Arizona on Nov 07, 2016
---
I was so anti FoxPro for so long. I spent hundreds of not thousands of dollars on other e callers and had a real struggle of even getting any predators to come in. I've been watching furtakers and decided to break down and buy a shockwave... Best money ever spent!!!! This caller is awesome!! I've smoked so many yotes!!
Shockwave
(
4 stars)
Randell in Lindale ga on May 07, 2016
---
Nice and loud the farm sounds are very realistic some of the yote sounds are tinney or computery... Like nice call
Shockwave
(
5 stars)
Tyler in Elkader, IA on Jan 14, 2016
---
Love the shockwave best game call I've bought, definitely worth the money! our 3rd stand we called in a coyote. So simple to use and love all the features that are on the shockwave. Hands down best gaming call on the market!!!
Shockwave
(
5 stars)
Adam in Southcentral PA on Dec 29, 2015
---
I just purchased the Shockwave this morning and have never owned an electronic caller before. I took the caller out this evening to play around with it. On three sits, I called in 5 reds using the Foxcast installed red fox calling sequences. They took all the guesswork of my first attempts. Needless to say, I'm hooked. Thanks FoxPro for a great product.
Shockwave
(
5 stars)
Colby Lankford in Oregon on Oct 06, 2015
---
I have used the FoxPro Firestorm for 5 years now and decided to upgrade. This call has more features than I ever imagined and is extremely simple to use. I like how the sounds are now categorized based on species, scrolling through 200 sounds gets extremely old. Comparing this call to my firestorm it isn't much bigger like I thought it would be based on the pictures. Overall I haven't found anything about this call that I don't like. Also great design on the remote, the buttons are much easier to push than my old remote. Very happy customer!
Shockwave
(
5 stars)
Neil Grant in Victoria Australia on Jun 27, 2015
---
I have just received my shockwave and have been totaly blown away by the caller . I have been using a spifire for the past few years successfully but the Shockwave is something else .Removed from the box , inserted batteries and sat the caller outside on a fence post to hear the volume and quality of the calls . Within 60 seconds using jack rabbit distress the unit had called in a fox ! , using volume and altering calls we managed to call the fox to with in 40 feet .There was no cammo , no stand set up , just standing concealed against a tree facing a paddock .The quality and volume of the calls is second to none and the remote is very easy to use and understand .Brilliant product and the customer service I received from Zack Stains was second to none , ordering and having the unit posted to Australia was so simple .. a lot of companies could learn a lot from foxpros Customer service !! Rate the caller highly !!!!
Shockwave
(
5 stars)
carl moore in sterling city, TX on Feb 23, 2015
---
I recently bought the Crossfire while upgrading from a spitfire.. defiantly a step up. but I was hunting in the West Texas Big Bobcat contest this past weekend where my buddy had a shockwake and it blows the crossfire out of the water! That shockwake had a big hand in us winning second and 15,000 dollars! I will defiantly be switching to a shockwave!
Shockwave
(
5 stars)
Steve Fleming in st-eugene, ON on Feb 21, 2015
---
If you're reading those reviews is because you're wondering if this product is good or is it worth the money? or trying to justified whatever reason you have in mind. Don't do like me bying(trying) everything else cause it's less expensive not realizing that in the end you spend more than this ecaller is worth. Just by it now and save your money that you might spend on other caller and still end up with this one, it's the best thing you can find on the market. The foxpro shockwave is on top of the food chain, period
Shockwave
(
5 stars)
William Gregory in Wagram, NC on Feb 19, 2015
---
After 6 years with an FX5, I decided it was time to upgrade and increase the capabilities at my disposal. After much research I decided to go all in on a new Shockwave and accessories. Received my package directly from Foxpro with 148 sounds already loaded by category. After spending a couple days getting familiarized with the caller I headed out late afternoon in advance of a cold front for my very first stand. I had a Foxjack decoy hooked up to the caller and after getting settled in, began playing Eastern Cottontail. Though the speakers were oriented north it didn't take long before I spotted two coyotes approaching from the southeast at a high rate of speed across a wide open cut beanfield. They were completely locked into the caller and decoy combo. The lead coyote came to a skidding halt within feet of the Shockwave and as soon as he stopped I fired. 8 minutes on my first stand with the Shockwave and I had a beautifully firred up coyote on the ground. On my second stand I had a huge bobcat come in to the caller. Since he was out of season I just sat back and watched. He was thoroughly locked into the caller/decoy and provided 10 minutes of viewing pleasure. I can't say enough about the quality, features, and clarity of sounds on the Shockwave. The base is threaded for a tripod which extends the range of your remote and helps get your sounds out even further. Speaking of the remote, it's an awesome improvement over my old one and a pure pleasure to use. You can go forever with the rechargeable lithium battery pack, of which I purchased two. For windy days I also purchased an SP60 external speaker. I literally can direct sound in three separate directions away from my position. The large carrying case allows me to haul all of my gear in one convenient container. Unless you hunt the wide open praries out west, I can't imagine a better caller than the Shockwave. I would absolutely recommend this product to any serious predator hunter. You won't be disappointed.
Shockwave
(
5 stars)
Nathaniel Brookbank in Disputanta, VA on Feb 08, 2015
---
First night I took this call out, I called in a bobcat in a creek bottom on my first stand, two foxes on my second and third stands, and my last stand called up one coyote, and had 3-4 more howling from a distant cutover. My first impression was it looks smaller in my hands than it does online, however don't let the size fool you, this call can get loud! My favorite feature compared to other FoxPro calls I have owned is the remote. The categories make finding the right call very easy, and the buttons are user friendly. I have the NiMH rechargeable batteries and used the call for about 6-7 hours straight with the foxjack 3 and never saw the battery level decline. I couldn't be happier, unless I was out shooting fur with the FoxPro team, however owning the shockwave is the next best thing. Thanks for making such a great product!
Shockwave
(
5 stars)
Anonymous Reviewer in Salt rock wv on Jan 18, 2015
---
Got the shockwave in october2014 have used it several times.Really like the fox motion , and the fox fusion, and really like the foxcast. I can make my own calling sequences for calling coyotes. And the remote works well like it a lot better than the wildfire remote I can actually see this one thanks agian foxpro
Shockwave
(
5 stars)
Steve MacGregor in Lakewood, CO on Dec 10, 2014
---
Purchased a Shockwave last week, I am amazed how well this caller works. I took it to an area that is hunted pretty hard for small game, and big game, I set up, hit the "lighting jack" and with in 3 minutes I had four coyotes coming in hard. I missed my shots I think because I was totally taken off my game by how quickly those yotes came to the call. I gathered my gear, moved and set up again. With in 3 to 4 minutes I had a double come in and put the hurt on both due to the "Fox Bang" feature. I have never had coyotes come in this quick to a call, hand or e-caller before. This caller is outstanding the "fox motion", and "fox pitch" are really great features, they offer the user the ability to truly change up the caller. My last FoxPro was the one made out of the old Raovac 9volt Lantern body so the learning curve was a little tough but I'm running it pretty well now. This caller has already made my hunts much more enjoyable thanks for making a great product.
Shockwave
(
5 stars)
JOHNNY SCHMIDT in GRANTSBORO, NC on Aug 03, 2014
---
Recently purchased the Shockwave from Foxpro and without a doubt this is the ultimate in callers. I have owned the fx3, wildfire, and Fury. These are great callers as well, but going to the Shockwave is like having black and white t.v. then all the sudden getting a 1080p. It's truly awesome. My very first time using the Shockwave and dog down! Way to go foxpro and thank you for such a great product.
Shockwave
(
5 stars)
Michael Hafemann in Colfax, WI on Jul 06, 2014
---
After doing extensive research on different predator calls, I chose the shockwave and I'm not disappointed. Yes, it is pricey, however; well worth the money. Many reviews on other predator calls, for example, primos, ICOtex, Wildgame Innovations Flextone Echo, Extreme Dimension Phantom Predator Quest, Maestro Game Calls, etc.. (too name a few) have the same basic theme when it comes to critiquing the calls. The most common complaint, across the board, was poor sound quality (for example, with Primos, as the volume gets louder, the sound becomes more distorted and the quality of the different types of calls are unrealistic. Other common complaints with non-FoxPro predator calls were the range of the remotes were too short, speakers breaking, battery life was way to short, etc… The quality and crispness of the Shockwave is superb, even at the highest volume level. Qaulity and types of call are very realist. The range is truly 200 meter which is GREAT!! Using high quality lithium batteries lengthens the battery life. A number of reviews stated they wanted to save money, therefore; bought the inexpensive call. After using the inexpensive call they would actually state they wish they would have spent the extra money to purchase any of the FoxPro predator calls. Many would compare other predator calls to the FoxPro quality. That says a lot about the quality and reputation FoxPro has developed over the years. Even though I have yet to bag my first coyote, I have no concerns with the shockwave predator call; it's probably the location of the hunt, technique, and my limited experience with coyote hunting; it's just a matter of time. My only change to the shockwave would be too make the decoy compatible with different decoy toppers like the critter topper, the jack topper, etc… and make the base stand a tri-pod with adjustable legs. Other than that, I still give the Shockwave 5 stars, and I glad I read the reviews, did the research, and spent the extra money to buy a high quality product. Thanks FoxPro!!!
Shockwave
(
5 stars)
ananonymous in Undisclosed Location on Jul 06, 2014
---
Excellent call called in 9 coyotes at one time didn't get on because gun misfired but any how I shot a nice gobbler this mourning got it 10 yards away then smoked him with the Winchester
Shockwave
(
5 stars)
New Mexico in NMBowhunter on Jul 06, 2014
---
This caller is simply the best. First time out with it and called in a mountain lion here in New Mexico. So far it's called in 16 coyotes, too, in about four full days of hunting. The FoxCast feature has been a big help as I am just getting started in predator calling and having a professional's call cadence and sequence to work from is so nice. I've made a bunch of my own call sequences now, but the pre-programmed sequences give me structure to work from. Another good thing about Foxcast is the ability to set-it-and-forget-it. Being able to let it run and not fiddling with the remote has let me keep my eyes up and actively hunting. Coyotes come in quick, and I would hate to miss a shot because I was looking down. FoxCast is definitely a favorite feature. FoxBang has been a little more sensitive than I would like. I find that sitting on a stool with the remote on a lanyard helps, but you have to be careful with it. It's the last thing I turn on and the first thing I turn off in each stand so it doesn't get bumped. That said, it has called in second coyotes for me after the first shot already. One other item no one should go without is the integrated motion decoy. I bow hunt for elk, and have shot my biggest elk over decoys, so it was a no-brainier for me when I saw there was an integrated motion decoy available. I camo painted my caller and mount it 2 1/2 feet off the ground on a camo painted old beater tripod I had laying around. One time, I had two coyotes come into the motion decoy BEFORE the caller started calling! Shot one, missed the other and had never made a peep! Started the caller and got a third one in. Also, the mountain lion was just sitting there watching the decoy twirl around when I shot her from 100yds. Very good investment. And being on the tripod, coyotes have no problem making the decoy because its sitting up, and when they do make it, they come in on a string. What a rush. Finally, a few odds and ends to report. Love the remote. Have no earlier models to compare it to, but the thing fits my hand just right, I can use it without looking at it, and the buttons give a nice tactile feedback, even with gloves. The FoxMotion feature really adds to the call realism, you can appreciate it when you hear the wails fade and get louder. Haven't really toyed with FoxPitch too much, but it is in my custom FoxCast sequences, and I love how with FoxCast you can do all the programming once and then just select the sequence that feels right for that particular stand. And the ability to aim your speakers is genius. It is a feature that gets used literally on every stand. Lastly, I went ahead and bought some high-end NIMH rechargeables and love how long they last, while being more economical. Just about impossible to run the batteries down in two full days of hunting, and I have a full back-up set with me at all times, and they only cost me $40 on Amazon. All in all, wouldn't change a thing. Calls sound incredible all the way up to max volume, I have 160 calls loaded on my caller now. The thing just inspires confidence. My advice is don't skimp. Buy right the first time and don't live to regret your purchase. I'm looking forward to many years to come of successful predator hunting because of my Shockwave.
Shockwave
(
5 stars)
Nick Anderson in Sabinal, TX on Jul 06, 2014
---
The Shockwave is just plain amazing and the remote is SUCH an pleasure to use! I upgraded from a Fury GX7, that I've had since the first week that they shipped; and the Shockwave is a MAJOR improvement from a call that's been a trusty companion. After a month of using it, and guiding with it, I'm sold on the Shockwave and all the features. I was a little apprehensive about all the bells and whistles but they're really easy to use (thanks to the new remote) and they're actually as useful as the promos claim! It's a lot faster and easier to throw change-ups at animals that are hanging up. I really thought that all the features would be harder to use and not nearly as effective as the claims; but boy, was I wrong! All the claims about what the features do and the benefits they provide are 100% true! I, honestly, can not think of a single thing I don't like about it. The remote. Ahhhh, the remote - after years of selecting sounds with that rotary knob on the TX500, the tactile buttons and the folder system make finding and selecting both sounds and features a dream! Even thick hunting gloves are no problem with the remote. If you've been using one of the other remotes, and you switch to the Shockwave, you'll think the cost was worth it JUST FOR THE REMOTE! The ability to categorize sounds into different folders is a huge bonus because I can have ALL of my sounds on the call at one time, instead of taking the time to swap out sounds for different seasons and different hunting. As a ranch manager and hunting guide, I may be calling predators one day and calling turkey the next; calling waterfowl in the morning and doing a little predator management before the evening hunt. Now, I can toggle from one hunting style to another with a couple of clicks of the select button - without a run to the laptop or fiddling with an annoying rotary dial Thank you FoxPro! The speakers are just phenomenal. The sound clarity and volume are a big improvement over the Fury; and the ability to direct both speakers in one direction is a big plus- especially on windier days and when calling into thick cover. At first I was a little put off by the size of the unit, since it's a little bigger than my Fury; but it really hasn't been an issue. The size is just a function of having those 2 big cones and there's no wasted space - I checked. I use a tripod as a base, most of the time, and I've found that I can set it by a tree or bush, turn both speakers forward and sort of wrap it around the tree. The result is a small footprint that hasn't bothered even the most educated coyotes. I guess if I had any complaint it's the lack of a camo option. The housing is a little shiny and, on a bright sunny day, it has a noticeable (and annoying) shine. I don't know why the camo seems to take so long to arrive as an option. The easy solution was a rattle-can camo job with ultra-flat paint. No big deal. Bottom line - if you're looking for the best e-call on the market, you JUST found it!!
Shockwave
(
5 stars)
Oklahoma/Texas panhandle in Dalton on Jul 06, 2014
---
I got this call in droughts have always been a mouth call guy. However I got this call in hopes to give me an edge for I do a lot of predator hunts I had a decoy on it but first stand I ever used it on I had a coyote came up at a sprint right to my call I had to yell at him to keep him off my exspensive new call. Fortunately I got the coyote but my decoy wasn't as lucky so expensive call but worth every penny In my book
Shockwave
(
5 stars)
Jean dack in maywood, NE on Jul 06, 2014
---
I bought this call a month ago and have taken several coon,coyotes,and one bobcat already with it. I took the wife out for her first hunt in a coyote calling competition last weekend and only made 8stands and called in 5 yotes and killed four. Three of them were with a shotgun. This call is really in my opinion the best call on the market .fox pro really did a great job.
Shockwave
(
5 stars)
Joe C. in Undisclosed Location on Jul 06, 2014
---
Just purchased the Shockwave after seeing it at a seminar held by Abner in PA. Used it for the first time on 2/2/13. Second set using the shockwave and black jack decoy brought in a nice female coyote after 20 minutes of calling, she was locked on the sound and decoy - dog down! I've used other competitors calls in the past with no success, this call is the one to buy. Easy to use with great sounds and volume ! Thanks Abner
Shockwave
(
5 stars)
Anonymous Reviewer in on Jul 06, 2014
---
Dear FoxPro,
I bought a new Shockwave in December of 2012 and it is the best electronic caller ever. The sound is excellent and the battery life is outstanding. Only charged the battery once. I have taken it on 12 different stands and i usually spend at least an hour on each stand and the battery indicator is showing 3/4 charged. The volume is terrific, and being able to move the speakers around is so great.
I bought the call through AllPredator Calls and they were so helpfull. And when i contacted you guys you were so helpfull too. I'm so glad that everybody talked me into waiting on the Shockwave. As i said earlier that i have been on 12 stands and i have called in four coyotes and killed 3. The fox bang works great. Just love the call. I use an Stag AR-15 223 with a nikon 3x9x44 scope and it a real coyote getter using Hornady 55gr. V-max bullet.
Again thanks so much!
Shockwave
(
5 stars)
Pete Hauer in Maryland on Jul 06, 2014
---
I was fortunate to spend 2 days hunting with Abner and the Foxpro crew as we filmed a MD fox hunting show for their FurTakers series. We used the Shockwave caller exclusively throughout these hunts and I was very impressed with this caller. The volume, sound quality and ability to swivel the speakers made this call most useful in the real world of predator calling. You are able to directionally call to multiple woodlots in front and to the sides while minimizing animals sneaking in through the rear of the calling set.
"FOXPITCH" allowed us to turn up the pitch on some bird and baby rabbit distress calls and it clearly got fox moving when they hung up out of range. "FOXFUSION" and "FOXMOTION" allowed us to both mix predator and prey sounds as well as move the sounds from left to right speakers for very realistic scenarios. This unit is very user friendly and I love the way the remote groups sounds by type. Simply, it is everything we have been asking for all rolled into one amazing caller. I've tested many FOXPRO callers over the years and this is by far the best caller I've used. In pretty short order, we had 8 red fox killed on film, and the video will back up my review. FOXPRO has knocked this caller out of the park!
Photo 1
Photo 2
Photo 3